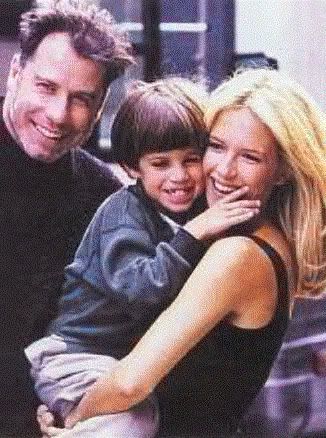 There have been rumours circulating for years that John Travolta's son Jett has an undiagnosed case of autism, which the Travolta family have refused to acknowledge to the media. One of the Travolta's neighbors has been interviewed by Hollywood, Interrupted, and as a father of a 4 year old autistic child, he is not happy with the way the Travolta are shunning their own son because of his disability:
"I don't think it's a stretch to call their treatment of Jett child abuse," Ocala, Florida restaurant manager Tim Kenny tells Hollywood, Interrupted. Kenny claims he met Travolta at his restaurant in February, and, after "comping" the movie star and his daughter a meal per restaurant policy for celebrities, he asked him, "as one autistic child's father to another," if he "was doing anything special in terms of therapy" for Jett. Aghast, Travolta responded, "Well, we involve him in the arts." Then, he offered to send Kenny a book, and high-tailed it out of the restaurant.

"If I ever received a Scientology book from him [Travolta], I'd find him, and throw it back at him," says Kenny. "Scientology is keeping him from acknowledging his son's autism. They see it as a weakness. That's what the space aliens are telling him I guess."

Joking aside, the Kennys are "disgusted by" Travolta. They claim that Travolta has turned down invitations to participate in autism fundraisers, and most recently refused to participate in a local celebrity golf tournament if a connection to autism advocacy was promoted. The organizers of the charity tournament scheduled at the Golden Hills Country Club in November are alleged to have changed the billing from an autism event to the more generic "fundraiser for disabled children" to accommodate the star. Calls to event organizer, the Family Resources Coalition, were not returned by post time.

The Kennys also claim that Kelly and John "let Jett sit in front of video games all day eating junk food, while they eat the best organic food money can buy. They exclude Jett from all social events because they are embarrassed."

"Once," reports Kenny, "when Kelly took him to the movies, Jett started to have a meltdown and Kelly pointed at the nanny and ordered, 'Take care of it.'"

"Jett does not speak at all," confirms Kenny. "He has not even been taught how to communicate. We struggle every week to pay for our daughter's therapy. How dare he [Travolta] ruin his own son's chances of recovering! We want to get the word out on this."
Apparently this is not the first time that alarm bells have rung about the Travolta's behavior towards his son's autism before. Other celebrities familiar with autism, as well as the Autism Society of America, have expressed their frustration at how the Travoltas are sweeping their son's ailment under the carpet. The reason for their denial may stem from the fact that Scientology does not recognise autism as a disorder, nor will they go anywhere near using drugs to treat the psychological illness. Autistics in Scientology are usually known as "degraded beings" who brought the affliction on themselves. Kelly Preston has gone as far as saying in the past that Jett suffers from Kawasaki Syndrome like disease because of "environmental toxins", with Jett reacting badly specifically to carpet cleaning chemicals.
As I am not a doctor by any stretch of the imagination, I've Googled Kawasaki Syndrome to research the disease Preston claims her son suffers from. I've compared it to a couple of more medical sites and Preston's explanation sounds like bullshit. Autism symptoms and Kawasaki Syndrome symptoms meet nowhere in between, one is a neurological affliction, whilst one is a disease with physical manifestations that can be treated. I can only assume that Jett wasn't upset at the carpet cleaning chemicals Kelly was using in her home. It sounds like a more likely explanation for him to become upset by the loud sound of the vacuum cleaner.
If speculation over the Travolta's ostracising their son from society because of autism is true, then they need to be investigated and have that child placed in the care of responsible individuals who will provide proper treatment for this poor boy. Jett does not deserve to live his life like this because of his parent's crazy beliefs.
My family attended a few Jehovah's Witnesses meetings for a while when I was younger, as my mother had lost faith in Catholicism and thought that the group were friendly people who were profoundly devoted to God. I had to get a back operation when I was a teenager that if I didn't have would have rendered me a hunchback for the rest of my life. The Witnesses told my mother that if I were to go through with the operation (where I had to take out my own blood a few weeks beforehand and then have it transfused in my body in case a lot of blood was lost during the procedure), that I would go to hell and be essentially banned from the group. My mother looked at them, told them they were nuts, and further informed them she would go to hell with me.
Needless to say we're back to being Catholics, but my mother chose me over her beliefs at the time – just like any other loving parent should do for their child. It is sad that a couple could be brainwashed into thinking such hogwash and then choose to ignore their child just to save face publicity wise.