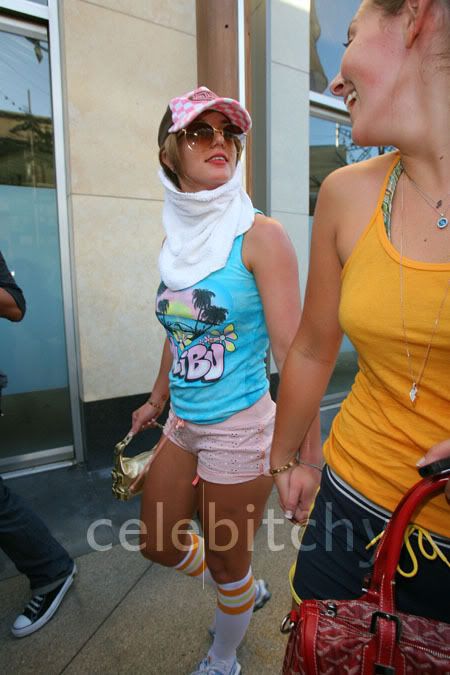 Britney finally ditched those weeks-old fishnets with the big 'ol holes in the them to don an outfit that makes her look like a neglected 80s Barbie doll. Gone is the trashy cowboy hat and smell brown boots, and she seems to have at least temporarily abandoned the slutty country hobo look for a Jane Fonda workout outfit that falls flat.
She wore pink flower-embossed micro shorts and a blue tank with a goofy beach scene and "Malibu" written under it. A weird towel was draped around her neck and she donned a pink and white checked cap over a brown wig. While one would hope that knee high tube socks and sneakers mean she's going to the dance studio, the photo was captioned "Britney Spears and a friend seen out and about in Los Angeles, California."
The latest Britney news is that she's making a pop dance album, which is what she's good at. One of her producers says that it won't be personal at all, and she'll keep it upbeat. It is expected to be out this September.
Hopefully she was recently dancing, although that's no excuse for that outfit. Pictures from Splash News and FlynetOnline.