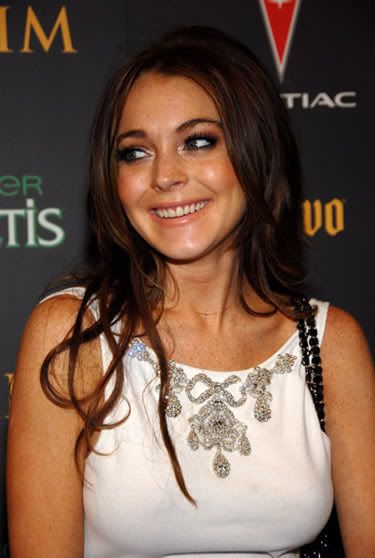 Danny Masterson was DJing at a club in LA, and refused entrance to Lindsay Lohan, who was waiting outside. Lohan called her ex, Wilmer Valderrama who was inside the club, to plead her case but Masterson stood firm, saying that he didn't approve of Lohan's lifestyle!
On Sunday night, Danny Masterson wouldn't let her into Kid's Cotton Club, his weekly jazz night at Guy's. Lohan resorted to calling ex-BF Wilmer Valderrama, who was inside with Jamie Foxx and Mekhi Phifer, to ask him to get Masterson to let her in. According to our source inside who witnessed the whole thing, Valderrama obliged, telling his "That '70s Show" costar that his Lohan beef was vodka under the bridge. But Masterson wouldn't budge, saying he didn't want her in because he doesn't respect the way she lives her life—and that Paris Hilton isn't welcome either. How did the (underage!) Lindsay respond? According to the crowd that witnessed it, she screamed at the top of her lungs and threatened to call the cops. Eventually, however, she simply left with her tail between her legs.
Masterson seems to be rather strict about who he lets into the club, and LA.com reports that he tries to make Sunday nights a glamorous tribute to NYC's jazz scene:
"It's a night to pretend we're sophisticated when really everyone's a douche bag," he said. He also gave us some tips for getting past his velvet rope. First and foremost, Danny demands to see your pearly whites. If you're not smiling at the door, you're not getting in. He also says guys must wear a suit for entrance and that he'd rather rowdy frat dudes look for another venue to party in. Girls can show up in whatever they'd like, but he finds that those in casual duds act introverted all night and then come back the next week wearing a dress.
As Egotastic points out, maybe Lindsay didn't get in because she was wearing those god-awful leggings with a hoodie. We bet if she converted to Scientology instead of following Kabbalah, she would get on Masterson's good side.
Lindsay retreated to the East coast and got in everywhere she tried. She is shown at the Maxim 2006 Hot 100 Party last night in New York, and at the The Entertainment Weekly/Matrix Men Upfront Party on Tuesday night.