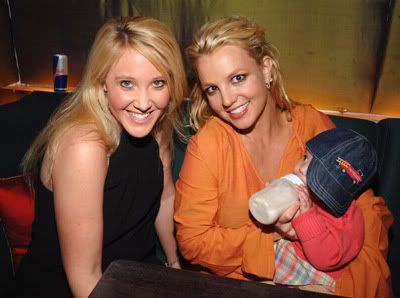 Baby experts have chimed iin on Britney Spears' parenting techniques. A dietician criticizes the pop singer for admitting that she feeds her eight month-old son, Sean Preston, ice cream to help him sleep:
BRITNEY SPEARS has been criticised by a leading dietitian for feeding her baby son ice-cream. The pregnant pop star recently revealed she uses the sweet treat to help the eight-month-old get to sleep. She said, "He loves ice cream – it makes him sleep better." But British diet expert SARAH GOSNAY claims too much of the sugary snack can be bad for babies and is more likely to keep SEAN PRESTON awake than send him to sleep. She says, "Up until the age of five children need some high calorie foods in their diet to help them grow but they also need balanced meals and to be set healthy patterns for the rest of their lives. What you eat as a child affects what you eat as an adult. "Ice cream is high in saturated fat, the cholesterol producing type of fat, as well as sugar, and should really be a treat food for a child. "I don't like the sound of 'it makes him sleep better'. That sounds like he's having ice cream regularly in his diet, a habit that is going to be hard for Britney to change.
Of course ice cream should only be an occasional treat for baby, and not a regular before bedtime snack.
While Britney might not have broken the law for putting her son in a forward-facing baby seat with loose straps, she certainly didn't ensure his safety.
The "Car Seat Lady," an expert on "infant passenger safety," has confirmed what everyone has said about the picture of Britney driving with Sean slumped over in the back seat of her convertible – the straps were way too loose:
"The straps are way too loose. That seat is not going to be able to protect the baby because she's not using it right," said Dr. Alisa Baer, a national expert on infant passenger safety known as "The Car Seat Lady."
"It's toward a gross misuse" of the Britax seat, Baer said after examining a photo of Spears ferrying her son in the back seat of her Mini Cooper convertible.
Baby Sean Preston was riding in a forward-facing car seat – which was "in compliance" with California law, Spears' rep said…
"One year old is a bare minimum to keep a child in a rear-facing seat, and older is recommended," said Baer. "Babies' neck bones are still stretchy … and their heads account for about 25% of their body weight."
That controversial photograph of Sean Preston slumped over in his forward-facing carseat has prompted California lawmakers to introduce a bill that would eliminate grey areas in the state's carseat law. Under the proposed law, all babies under one would be mandated to ride in rear-facing carseats regardless of their weight. The NY Daily News jokes that the new regulation would be called "Britney's Law."
Britney was in NY the past few days, and seemed to bring Sean Preston with her everywhere. This is rare for a celebrity mother, and you can't say she doesn't love the little tyke. She just needs a bit more guidance on how to care for him.
Britney is shown above having a "girl's night out" at Tao in NY yesterday, and at a Lucky magazine event, below. She is also shown shopping in NY. [via] and [via]