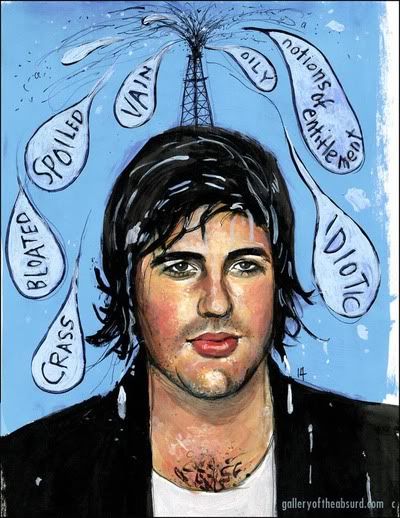 The NY Post reports on the video on TMZ you've most likely seen in which Brandon Davis goes on a creative drunken rant on Lindsay Lohan. Paris Hilton and Caroline D'Amore giggle in the background, but Paris doesn't add much except to say that Lindsay's movie bombed. Near the end of the footage she asks Davis "Whose movie bombed?" to get him to say "firecrotch" yet again.
Davis repeatedly refers to Lohan as "firecrotch" and makes bizarre declarations about her personal hygiene and private parts, all while Hilton eggs him on.
Perhaps most grotesquely, Davis sneers of Lohan, "I think she's worth about seven million, which means she's really poor. It's disgusting. She lives in a motel."
But Lohan found a unique way to exact revenge upon her former friend Hilton at Bungalow 8 early yesterday morning. She was spotted making out with Paris' ex-boyfriend, Stavros Niarchos, when she wasn't hanging out with Barton and pirate-costumed fashion designer John Galliano. Take that, Paris!
As we've mentioned here, Davis decided not to be friends with Paris a while ago and claimed it was because Paris was a racist, citing her use of the "N" word and bigotry against Jews. The Post notes that Davis is a hypocrite because he jokingly asks in the video if Wilmer Valderrama is "in a mariachi band."
Davis dated Mischa Barton for about a year until she broke up with him in the spring of 2005. People say Barton was annoyed by the tight control the oil heir's family had over his finances, and how he had to ask for money for everything. He was most recently tied to Camilla al-Fayed, the daughter of Harrods owner Mohamed al-Fayed, but it's doubtful that they're still together based on the way he's been acting.
The Gallery of the Absurd has a new illustration of Davis as shown above, picturing the bloated oil heir with unflattering adjectives spewing forth from his oversized head.
The video reminded me of college, in which liquored-up do-nothings would talk smack about each other after going out to clubs. No one cared what my friends had to say, though.
Davis is rather gross and stupid, but you have to admit that "firecrotch" is a pretty clever nickname for Lohan and we will enjoy referring to her as such in the future. As the NY Post notes, she was seen yet again with Stavros Niarchos, Paris' ex. She also spent the night a few days ago with Paris' other ex, Paris Latsis, but he must not have been on hand for a quick revenge screw when she needed him.
Here's a non-censored and slightly different version of the video. The paparrazi are calling Davis "Stavros"!
Someone added a classical intro and "Firecrotch" title. So great.
And here is Paris on the night in question, in which she attended Janet Jackson's 40th birthday party [via]
Update: Paris' publicist has responded to the incident, emphasizing that Paris was not the one bashing Lohan.