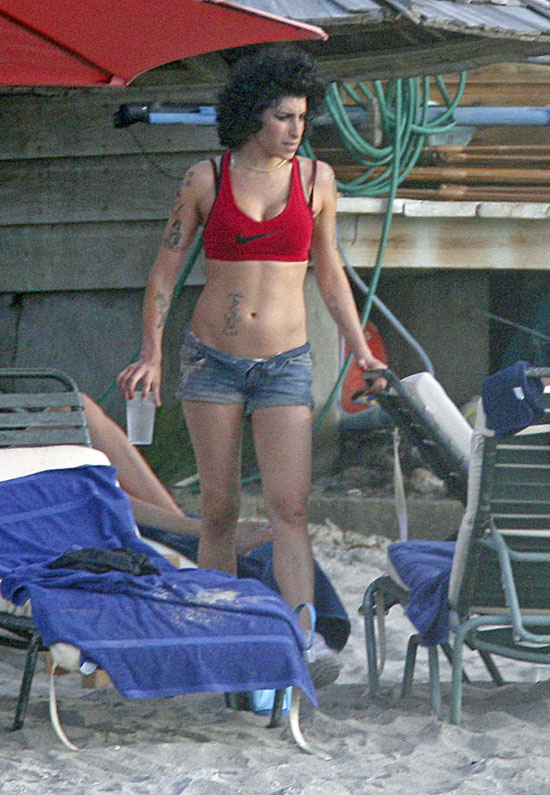 Amy Winehouse was making great strides in the Caribbean the past few months. She's been seen doing yoga, horseback riding, playing topless scrabble, and frolicking on the beach. This was a huge step forward for a woman who was known for wandering around the streets of London in the same dirty ballet shoes and attacking anyone who got in her way. Much of Amy's progress was thought to have been attributed to her forced separation from her husband, Blake, who was sent back to jail after failing a drug test. She hasn't had access to the hard stuff and apart from some minor setbacks she's been doing welll.
Blake has now been paroled and Amy is planning to jet back to London to see him. Prior to his unexpected release, she was looking at homes on St. Lucia and was thought to be planning to stay there away from the bad influences in London. Now she's returning to see the guy who turned her onto hard drugs.
AMY WINEHOUSE will finally return to the UK next week in a desperate bid to save her marriage. Again.

Her hubby BLAKE FIELDER-CIVIL left jail yesterday — I know, again — and insisted their divorce was still on.

The Back To Black singer did not even know he was being freed. And as news reached her in St Lucia — where she has been holidaying since December — she pledged to fly home and patch up her on-off-on-off-on relationship.

A pal revealed: "Hearing Blake was out brought lots of emotions back for Amy.

"She feels like she was the last to know he was getting released and that hurt. She is desperate to see him again and wants to work things out. She still loves him."

Blake walked free from Edmunds Hill prison in Suffolk at 10am yesterday and was handed his trademark trilby and hugged by his delighted mum, Georgette.

He will now undergo a drug rehab programme.

Jailed for 27 months last July for assault and trial-fixing, Blake has already left prison for rehab once but was sent back in December after failing a drug test.

Blake filed for divorce from inside last month after seeing Amy — who he wed in May 2007 — grow close to other men on the sunshine isle.

Asked about divorce plans yesterday, he said: "It's all going ahead — but I don't really know what will happen. It's just nice to be on the outside again. Now I am going to get over my drug habit."
[From The Sun]
Why does Blake say he's "going to get over his drug habit"? Doesn't that make it sound as if he's been using in jail this whole time?
Hepefully Amy has new friends and people with her in the Caribbean who will convince her to wait until Blake completes his rehab at least. This guy is poison to her and even if he doesn't entice her to use the stress of having to deal with him again could send her over the edge. She doesn't need to be around that. We all expected her to OD in London and instead she moved to a warmer climate and went on an extended much-needed vacation. She has the resources to stay there, and she can even work in a nearby recording studio. She should just forget about returning and leave Blake there to his own devices. We all know that's not going to happen though, and she'll run right back to him. Maybe Amy has changed enough that she'll be able to see him for who he is and will have the strength to step away again, but I'm not holding my breath.
Amy Winehouse is shown in St. Lucia on 1/7/09 and 1/26/09. Credit: Bauergriffinonline