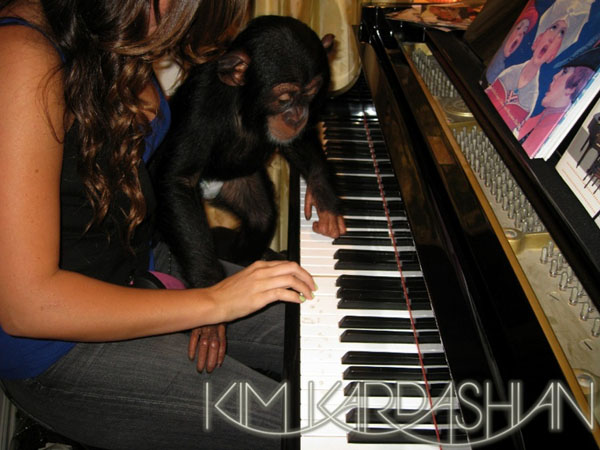 Kim Kardashian outraged a lot of people when she stupidly posted photos on her blog last week of a three year old chimpanzee she said her family adopted. All she basically said about it was "We got a Monkey!!" [sic] and what amounted to "isn't she cute?" Kardashian posted the entry which made it seem as if her family had a new, permanent, less materialistic member on February 20, a full four days after the high profile chimp mauling incident in Connecticut. Now Kardashian is backtracking, and claims that the young chimp was "rented" for just one week and that the footage will be featured on her family's reality show, "Keeping Up With The Kardashians." She says she didn't mean to insult anyone by making it seem as if they were getting the chimp right after the whole world learned how dangerous it could be, and says she "cried" when she heard the news about how a woman was put in critical condition when by a longterm family pet mauled her. Did Kardashian just forget seeing that on the news or did she think it wasn't relevant to her own adoption of a chimp, since she had a "monkey" and that's different, right?
Kim Kardashian has issued an apology for posting photos of her new chimp Suzy on her Web site the same week a simian mauled a Connecticut woman.

"I understand my timing was not appropriate and it was insensitive of me, so I want to explain," she blogs. "The pictures I posted are from six months ago when we were filming season three of Keeping Up With the Kardashians. I had held onto these pictures for months and preset them to run the month before my show was going to air, to give you guys exclusive glimpses into season three.

Look back at Kim Kardashian's best booty shots

"My mom has been begging Kourtney, Khloe and I to settle down and have kids, so we thought it would be funny to rent a baby chimpanzee for a week and leave her with my mom! We don't still have Suzy, she was just rented for a week! You guys will see what happens this season with Suzy!

"What happened to the woman that was attacked by the chimpanzee was devastating!" Kardashian says of 55-year-old Charla Nash, who was attacked last week and remains under sedation at the Cleveland Clinic in Ohio (police shot and killed the chimp).

Adds Kardashian, "My mom and I saw it on the news and heard the 911 calls and we both cried!"

Before signing off, she writes, "Our family is praying for everyone involved in that traumatizing attack. In no way did I mean to insult or offend anyone by posting these pictures."
[From US Weekly]
If the producer want to do the right thing they will cut all the footage of the chimp and won't air it. It's irresponsible to make great ape adoption seem somehow cute or fun, especially after that woman in Stamford was nearly killed by one. As I mentioned before, it's also cruel to the animals. Chimps are meant to be in the wild and shouldn't become house pets. You know producers will never do that though, because they probably have some antic-filled footage and will make the chimp seem seem adorable. Maybe Kim Kardashian isn't as much at fault in this instance as the show's writers. It probably wasn't even her family's idea. Still, she should have known better than to publicize it at the worst time possible.