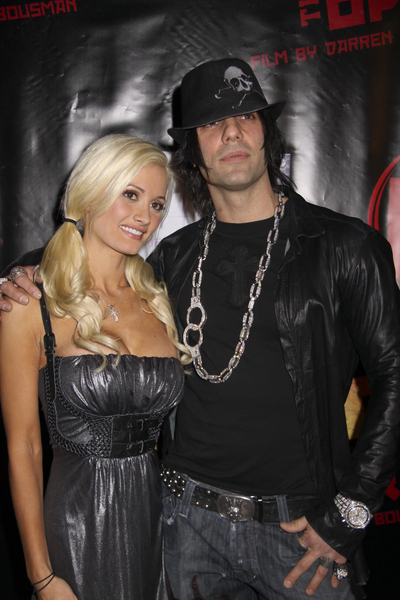 A young girl loiters around a senior citizen, desperate for marriage and babies. When she realizes that an 82 year old man might not be keen for marriage and babies at this late stage, she decides to leave for a man exactly half his age. Sadly, a conflict of schedules got in the way of their love.
The couple had been dating since late last year after Madison moved out of the Playboy Mansion following her breakup with Hugh Hefner.

"She was very much in love with him and they're still very close friends," says a source close to the couple. "But it was a conflict of schedules. She felt she couldn't devote 100% of her time to him in Vegas, at the expense of her own career and her goals."

Madison, 29, and Angel, 41, had been living together in his Las Vegas home since December, but she has recently moved out and is staying with family.

The source went on to say, "It was a tough decision for her to make, but she wanted pursue her career. She still has very intense feelings for him."
Holly and Criss have been officially dating for four months, and in the time honored tradition of the Paris Hilton-Benji Madden union, she liked to talk to the press frequently about how much they were in love.
Holly planned to propose. She made Criss a little paper ring to wear.
She quit her awkward job with Hugh Hefner so she didn't have to commute to Vegas anymore to be with her new love.
Criss met her parents, her first boyfriend to do so. I guess Hugh didn't want to meet parents that were young enough to be his children.
And they did this all in a public forum, which can be kind of awkward. Anyone who has ever declared within hours of meeting someone that they're 'the one, I'm in love' before discovering in the next fortnight that they are decidedly not, feels a fool. It's cute when after ten years of marriage you declare that you knew right away, but you just look silly doing it any time beforehand. Maybe you can do it on your wedding day, maybe, but no sooner.
I'm sad these two couldn't make it work, they seemed like a couple made in reality show heaven.
Photo is of Holly and Criss on 11/6/08. Photo credit: PRPhotos