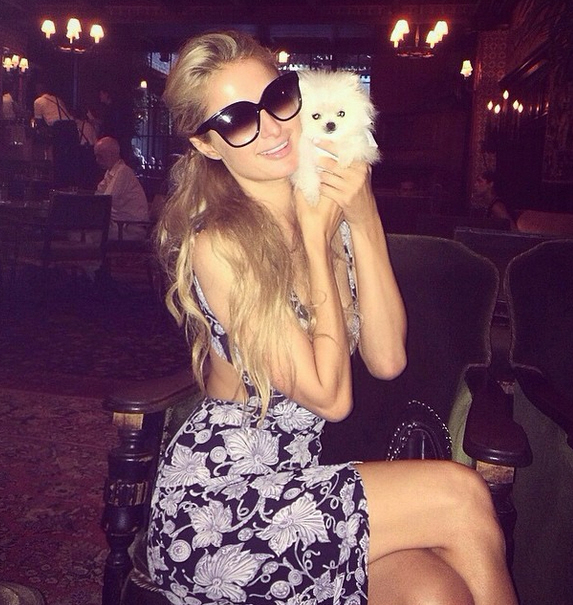 Paris Hilton is a well-known animal hoarder. At various times, she's had more than a dozen dogs, plus rabbits, ferrets, hamsters, guinea pigs and more. Very few of her animals, past and present, have been rescues from an animal shelter. Actually, I don't think she's ever been to an animal shelter. All of her animals are bought in pet stores, and then she doesn't spay or neuter them, so she has, like, second and third generation animals. She's also been accused of animal cruelty before, because while she loves her animals, she sometimes forgets about them, leaves them in closets or accidentally starves them. Depressing, right?
Well, Paris has a new dog. She bought a Pomeranian puppy which is such a specialty breed (apparently?) that Paris had to order the puppy from a Canadian middleman and the puppy had to be shipped from South Korea. E! News says: "The seller, Joanne Pauze, did not reveal how much Hilton paid for the dog and added that it was worth $13,000." I think this is a special kind of Pomeranian that is, like, extra-tiny. His former owner says that he's 2 pounds and already fully grown, and as you can see in Paris's photos, he fits in one hand.
I cannot imagine paying $13,000 (probably a lot more to account for shipping) for one tiny dog. There are seriously so many animals in shelters. For less than $100, you could get a dog who was already spayed or neutered and probably housebroken too. Plus, I personally prefer big dogs. The only smaller breed dog that I've ever really liked is Lhasa Apso, but even then… I wouldn't buy one in a pet store.
Photos courtesy of Paris Hilton's Instagram, Fame/Flynet.