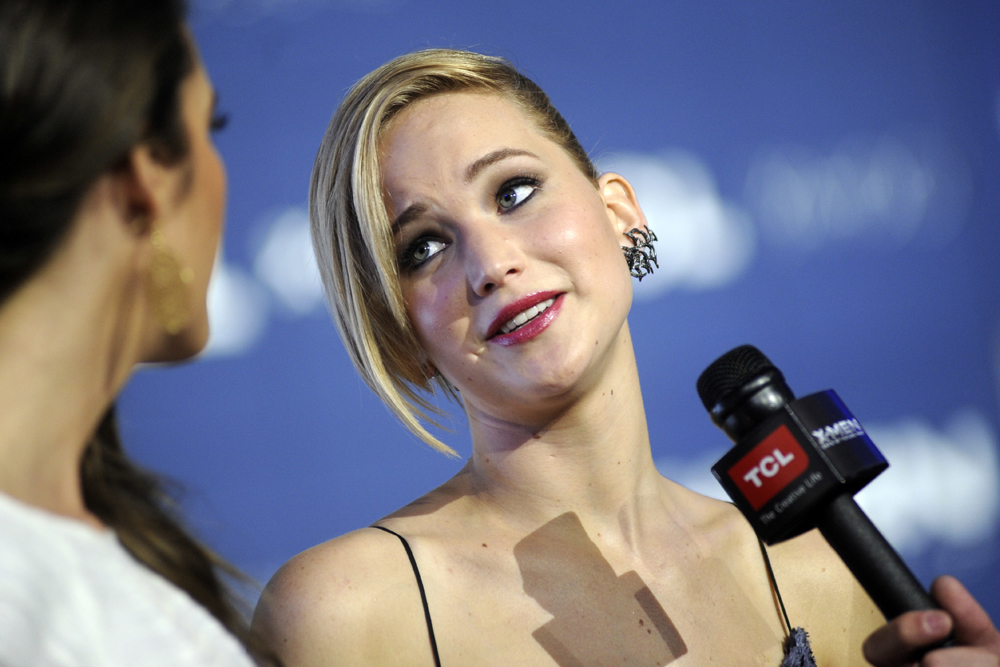 On Sunday, we talked about Jennifer Lawrence's newest batch of Miss Dior ads. I will stan for JLaw until the end of time, but these ads go nowhere. They feature an airbrushed and dead-eyed JLaw. She's so vibrant in real life that I'm convinced the dead eyes are added in post-production. Dior has released a new behind the scenes video. In doing so, they've further broken my heart (Fredo). Jennifer says, "A powerful woman is someone who exudes confidence and can be tough but fair and kind. And also knows how to get what she wants." All of this is true, but this video doesn't translate to the words:
I expected the video to be more dynamic than the stills. Jennifer speaks of the "effortless" and "timeless" quality of the adverts. Well … mannequins are timeless in the sense that they never change. So she's not wrong. She's also reading a script. Dior, please do better next time.
There are new photos of JLaw (capped in a beanie) shopping in Malibu. You can see them here. Even in those exclusive photos, JLaw is alone. That is to say, she's not shopping with her new boyfriend, John Mayer Chris Martin. People has a handy explanation for why Jennifer was shopping all by her lonesome. Why? Because Chris puts family first:
Since splitting from Gwyneth Paltrow in March, Chris Martin has continued putting family first.

But with Jennifer Lawrence now in his life, the Coldplay frontman has made fitting in quality time with his new love interest look as easy as his conscious uncoupling from Paltrow, 41.

"Jen has made a few visits to his Malibu house," says a source. "Chris seems very respectful of Gwyneth and feels more comfortable spending time with Jen away from his family."

Lawrence, 24, and Martin, 37, also stepped out for a romantic date night at Beverly Hills eatery La Dolce Vita on Sept. 8, where an onlooker says the new couple "were super cute together and laughed a lot."

On weekends, though, the singer has been all about his kids Apple, 10, and Moses, 8.

"Gwyneth and Chris take the kids for brunch or dinner together every weekend," says the source. "He and Gwyneth still share responsibilities when it comes to their two kids."

At the Hungry Cat restaurant in Santa Monica on Sept. 13, "they were very friendly to each other," an onlooker tells People about the pair, who did not wear their wedding rings. "They looked like a happy family."
[From People]
Someone wants us to know that Jennifer may have Chris for dates at the Chateau, but she hasn't met Chris and Gwyneth's children. No danger of Doritos-dust contamination just yet. Thank you, mysterious Goop source.
Here are some photos of Chris landing at LAX last week. I never noticed his heart-shaped tattoo until now. Weird.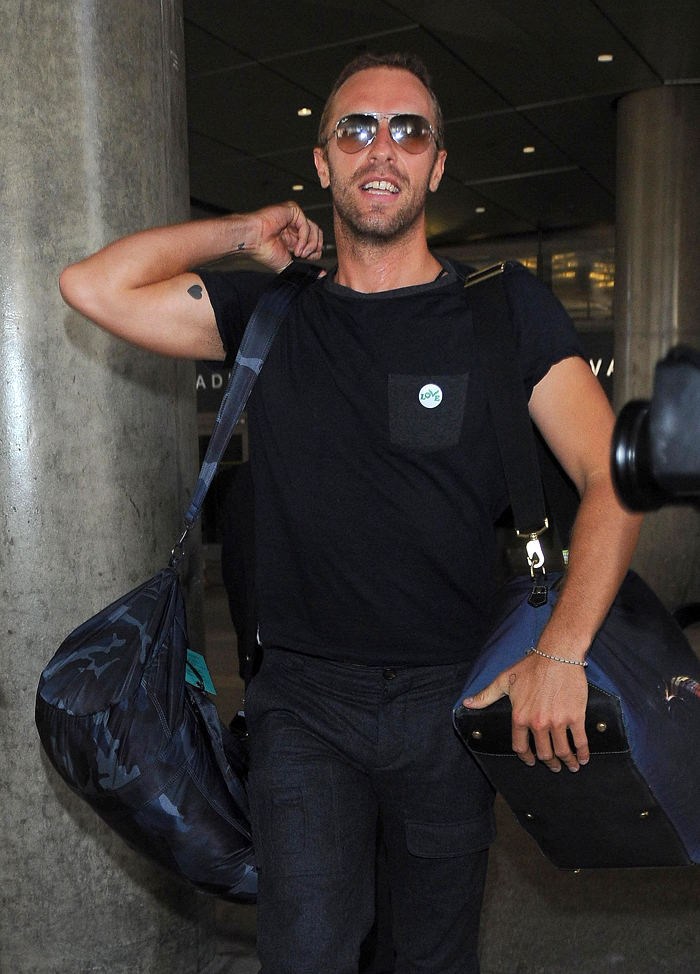 Photos courtesy of Fame/Flynet & WENN