I think the best part of the Martin Lawrence coupling is that I have an excuse to revisit some slightly dated Jennifer Lawrence photos. This really was a great coat from Dior. No wait. My favorite part is hearing about their quiet relationship and vineyard dates but never receiving photo evidence. No acknowedgement at all from either JLaw or Chris. The only person who has confirmed that this relationship exists is Gwyneth Paltrow. That's funny.
The fact that Goop has sent out her posse and talked about how happy she is for Chris — this tells me the coupling is real. Goop also sent a source to E! Online to counteract the anti-Goop talk. Goop reportedly raves about what "a good match" JLaw is for Chris. Why? Because "There are actually some amazing similarities between Jennifer and Gwyneth and how they view life and career, and so Gwyneth knows that ultimately Jennifer has the power to make Chris happy in the long term." HA.
This week's issue of Us Weekly has a new installment of Martin Lawrence fan fiction:
Chris Martin used to do it for Gwyneth Paltrow, but now Jennifer Lawrence is the muse that inspires him.

The Coldplay singer has fallen hook, line and sinker for the American Hustle star and is said to be writing songs for her.

Chris, 37, is churning out the material while spiriting Jennifer, 24, away on cosy getaways for two, Us Weekly is reporting.

"He writes her songs and loves taking her to private romantic spots," a source told the publication. "Chris is sweeping Jen off her feet. That's his thing."

It's certainly having a swaying effect on Jennifer, who saw Coldplay's concert in the UK and was mesmerised by Martin.

"Jen was blown away at his London show. His music is absolutely part of the attraction," the source told Us Weekly, adding: "The better she gets to know him, the more she likes him."
[US Weekly via Daily Mail]
Vom. Some of you got upset when I said that "lots of celebrities like bad music" when it comes to Coldplay. I stand by that statement, which is only an opinion. Coldplay is like elevator music to me. How do you feel about JLaw possibly inspiring a new Coldplay era? I guess if Chris starts writing lyrical masterpieces about pizza and fart jokes, then we'll know this Us Weekly story is true.
By the way, I still don't get it …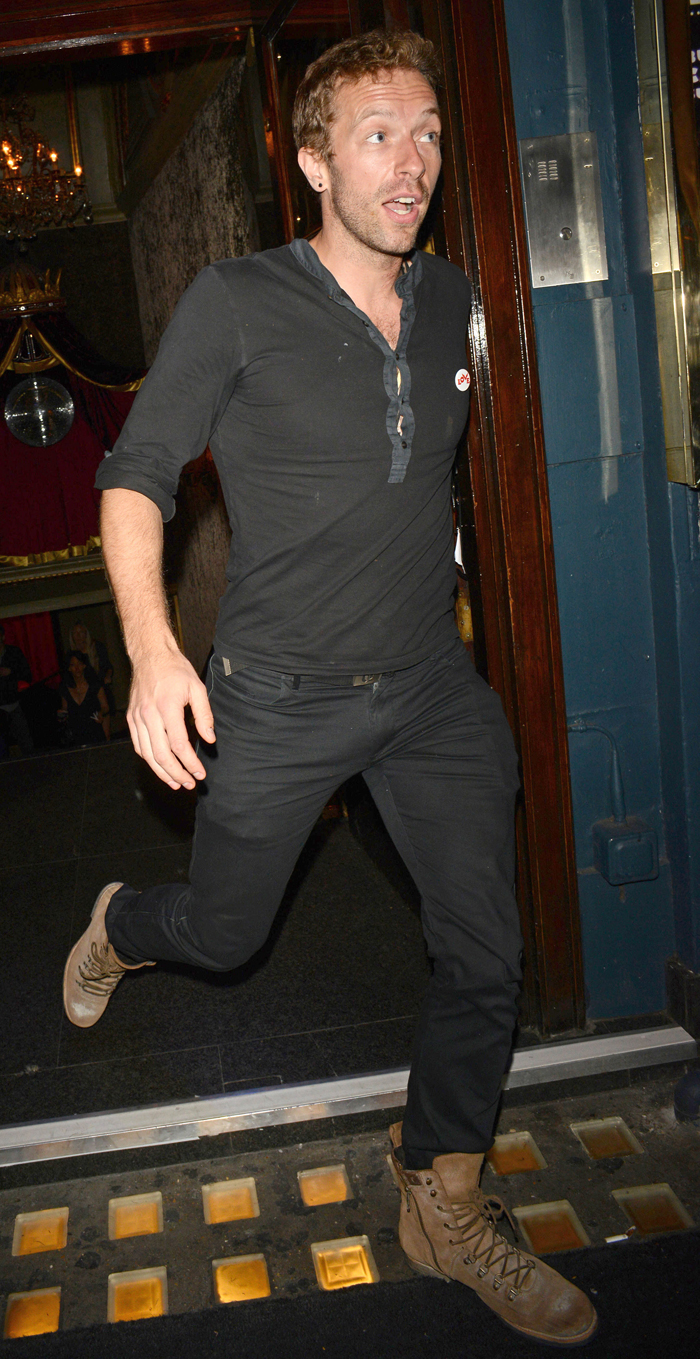 Photos courtesy of WENN