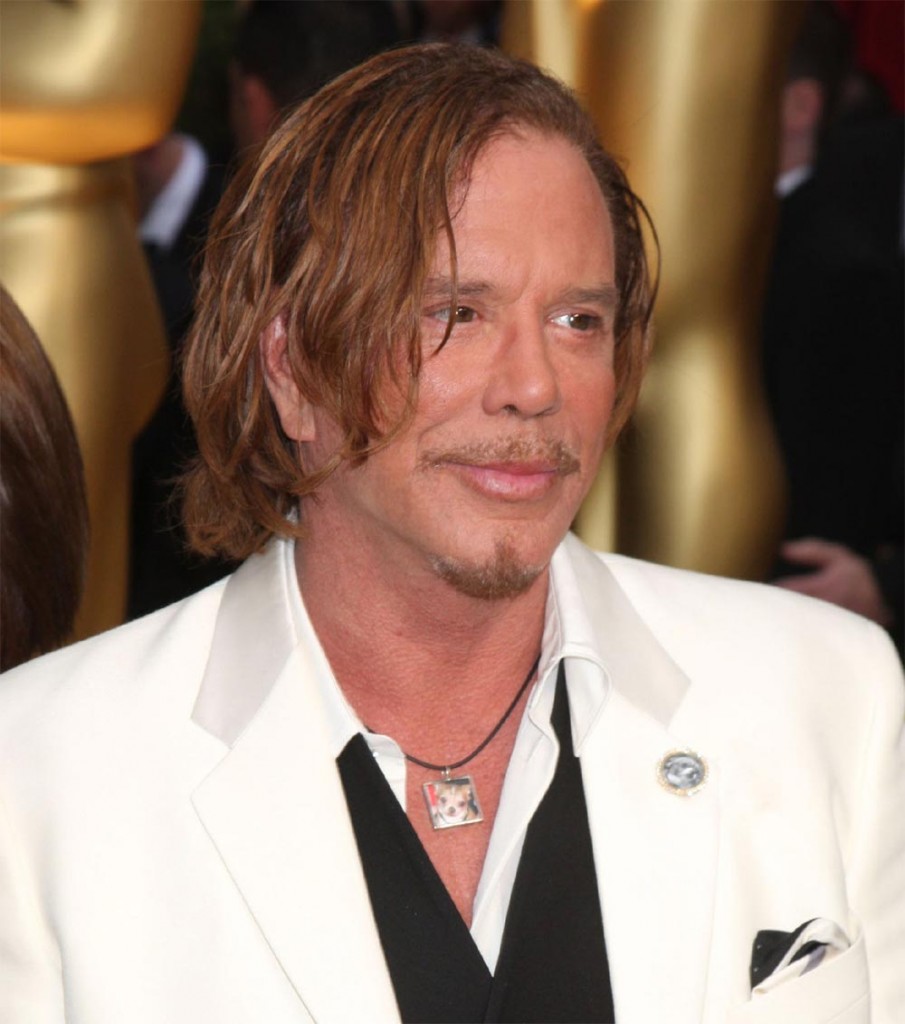 A NY woman who designs custom jewelry in her spare time was inspired to create a special necklace featuring Mickey Rourke's beloved dog, Loki, when she heard that the chihuahua had passed. Betina Wassermann works during the day as a marketing manager and makes custom-made pendants as a hobby. She lost her beloved dog four months ago, and made herself a pendant with the photo of her dearly missed pooch. Wasserman was so touched by the story of Rourke losing Loki that she made one for him too and sent it off to his NY publicist. Not only did Rourke personally call her to thank her, he also proudly wore the pendant to the Oscars. Wasserman is being overwhelmed with requests for similar pendants on her website, but she says she'll only create custom work and will not reproduce the Loki necklace. How nice is that?
Queens girl Betina Wassermann may have been the biggest winner on Oscar night – and she's never been in a movie.

When Mickey Rourke walked the red carpet in his white Jean Paul Gaultier suit, he was wearing an eye-catching accessory – a necklace charm that featured a picture of his Chihuahua, Loki, who recently died at age 17.

Wassermann, a full-time marketing manager who does crafts on the weekends, designed Rourke's chic canine locket.

"I'm just some girl from Queens who crafts on the weekends. When I saw it at the Oscars and Ryan Seacrest commented on it, I thought I was going to have a heart attack," said Wassermann. "That necklace got more press than frickin' Fred Leighton million-dollar diamonds!"

The Flushing gal had sent the double-sided photo charm, made out of glass and silver, to the actor's New York publicist on a whim.

She was inspired to create the necklace by the loss of her own pooch – and wears a similar one every day.

"I lost my dog, Igor, four months ago, and I'm still crying myself to sleep. I need to see a psychiatrist," said the 40-ish designer of her Chinese crested.

"So when my colleague told me Loki died, I knew I had to make one for him. I knew how much he loved his dog and it was so horrible to lose her right before the Oscars."

She was on a mission.

After a mass e-mail to her friends and copious Google searches, someone turned up the contact information for Rourke's publicist. Off went the necklace. And a day later, she got a voice mail that she would play over and over for all her friends.

"He says, 'Hi, I'm Mickey Rourke,' and I thought I was going to throw up," she recalled. "Then he said that was such a kind gesture and then he says, 'I got it on and I ain't takin' it off.' "

And he didn't.

Rourke wore the necklace to the Independent Spirit Awards and the Oscars.

"This gift was meant purely because I love dogs," Wassermann said. "It means, 'I love you, Mickey Rourke . . . and I just lost a dog, so this is all about good karma.' "

Wassermann isn't in the jewelry business just for fun. She sells her $30 glass-and-silver necklaces at local flea markets and craft fares and, about one a month, on her Web site, wickedworld.etsy.com.

"Now I'm getting orders for everyone's deceased pooch," she said. "It's ridiculous!"
[From NY Post]
I'm such a softie, and this story made me get misty-eyed. I want to give Mickey Rourke and Betina Wasserman hugs and puppies.
Mickey Rourke is said to be looking for another dog that he is planning to name "Oscar." Loki is irreplaceable but sometimes a new friend can help with the grieving process.
Rourke is shown with his Loki pendant at the Independent Spirit Awards on 2/21/09 and the Oscars on 2/22/09. Credit: WENN