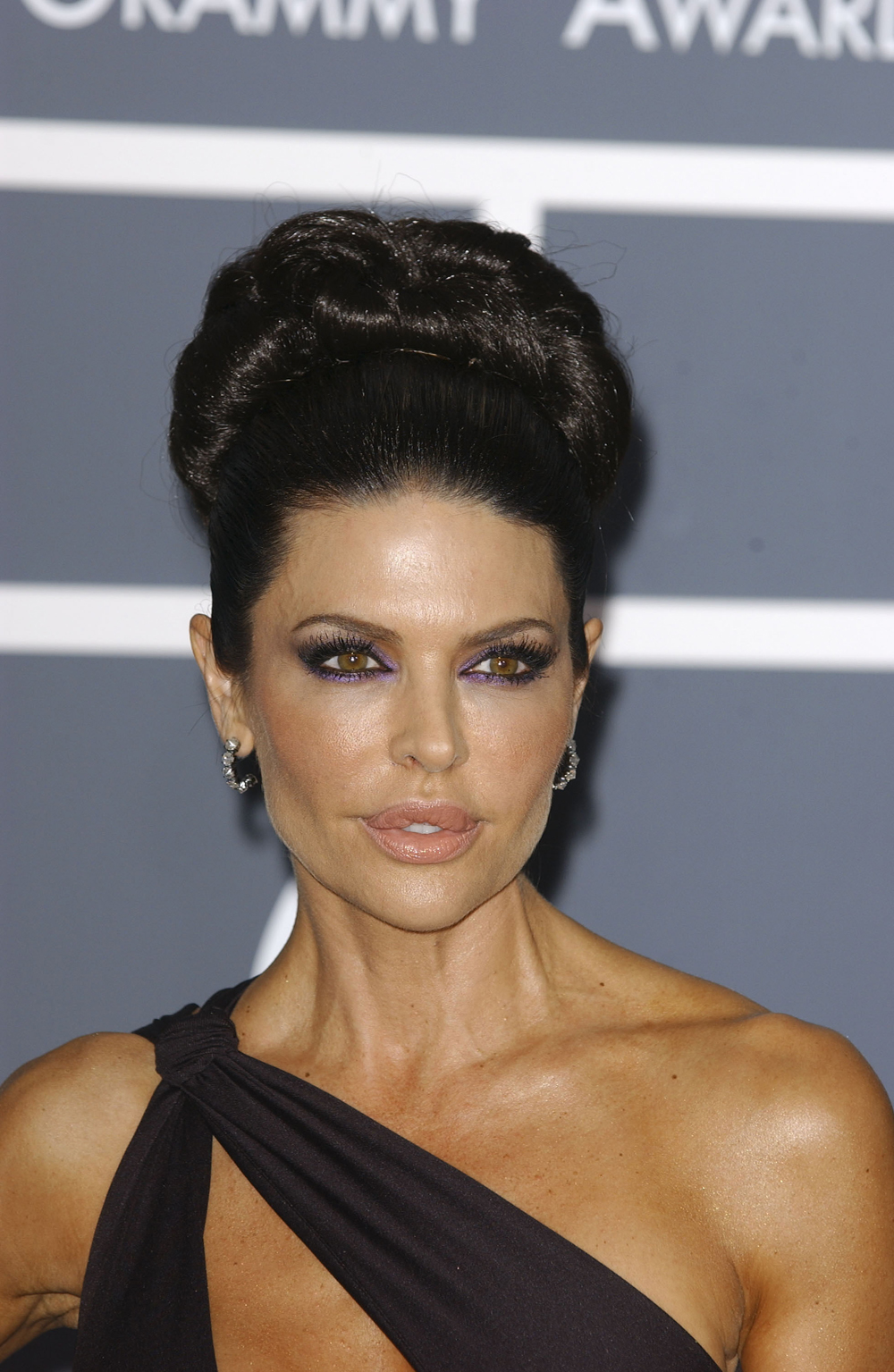 Lisa Rinna is easily one of my most hated celebrities. For all I know she is the nicest person on the planet, but I am completely incapable of hearing anything she says on TV because I cannot get past her lips. I don't know how she even manages to keep her head upright. The balance of weight is all off. Her head should constantly be falling forward like an old ragdoll.
Ironically, even though Rinna's had almost as much plastic surgery as Jocelyn Wildenstein, she had the audacity to yak on and on to People magazine about how she encourages everyone to embrace their natural bodies and be proud of them. Great advice – unless you've had so much obvious surgery that doctors now go at you with a hacksaw instead of a scalpel.
Lisa Rinna is most comfortable in the nude, which may explain why the 45-year-old doesn't understand why there is so much stigma attached to not having a perfect body.

"While I'm definitely a product of this mindset, I don't get all the fuss our society has over people's weight," actress Lisa Rinna told PEOPLE Tuesday night during Kate Somerville's skin care launch at the Four Seasons Resort in Palm Beach. "I am more comfortable being nude than hosting an event like this."

Added Rinna, who is set to pose nude on the cover of Playboy's May issue: "It is best to be moderate. I focus on fitness, eat healthy, and am lucky that I am not anorexic and my weight stays the same."

In fact, the actress believes she looks better now than she did at 34 when she posed for Playboy while pregnant.

"I want to encourage other women to be proud of their bodies no matter what age or size," said Rinna, looking toned in a short floral, bejeweled Bluemarine dress.
[From People]
I'm sure Rinna does have a good body, but I find it doubtful that she accepted it just as it was. It's unlikely that someone who's had so much obvious surgery up top hasn't had work done below the neckline too. I cannot understand how Lisa can possibly think her lips look good. They're such a ridiculous distraction. It seems like she must have had something permanent done, because otherwise, why would she keep getting a temporary filler over and over again when she looks so terrible? Well, that's the logical thought. I get the feeling Lisa probably thinks she looks amazing, face included. I'm pretty sure her lips have their own gravitational pull. If you get within four feet of her, there's a decent chance you'll get sucked in.
You should accept your body at any age and any size. That's great advice. You also should accept your natural lips, even if they don't look like two hotdogs parting ways.
Here's Lisa and her lips at the Grammys on February 2nd. Images thanks to WENN.com.