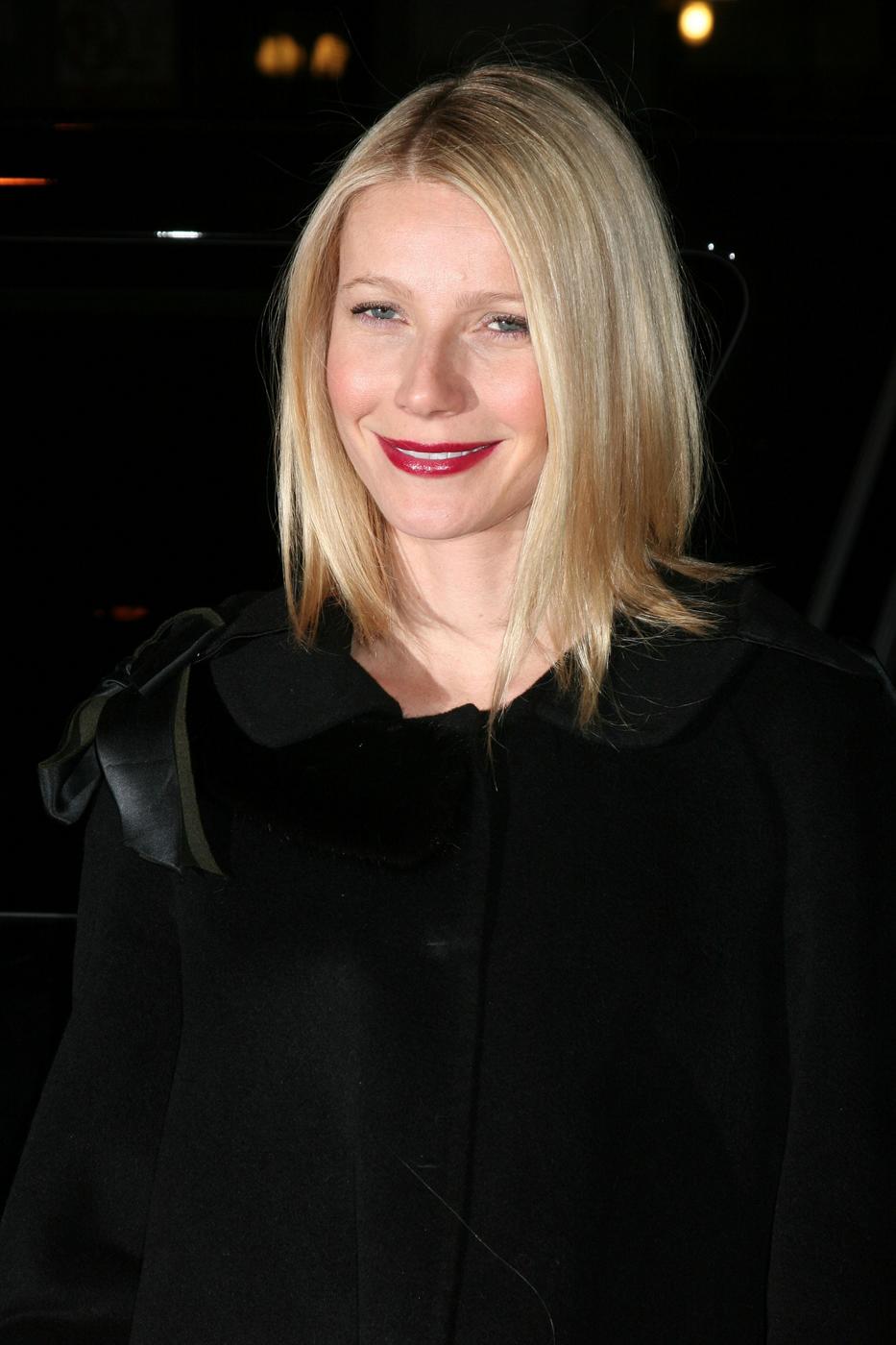 Gwyneth Paltrow just can't take a hint. In fact it seems like she can't even take a hint when someone takes that hint, smashes it up into a ball and then throws it in her face. (Note by Celebitchy: I realized this metaphor was very similar to a line written by DListed on this same subject. JayBird swears she did not see that article at all before writing this though. Great minds want to ball things up and throw them in Gwyneth's face.) People hate her ridiculous "GOOP" website. Sure, there must be a few fans, but by and large the site has been skewered by every article written about it. It's pretentious, it's out of touch, it's haughty, and it's oblivious. All in all, it's utterly intolerable.
But Gwyneth, of course, is still defending the site, and saying that it's everyone else who's got the problem, not her.
Gwyneth Paltrow hit back at critics of her lifestyle newsletter and website GOOP.com

At a charity event in New York she hosted for Bent On Learning, Paltrow told People:
"I think the people who are criticizing it or criticizing the idea of it, don't really get it, because if they did, they would like it…"

Paltrow said she believes some of the barbs simply stem from the fact that she's doing something new and different. "I think that people like people to stay in their 'box' – they like people to stay how they are comfortable seeing them."

Paltrow says she decided to launch the Web site, which carries the tagline, "Nourish The Inner Aspect," "because I felt like I had a lot of really useful information that I was privileged enough to get, because I have this amazing, super, fortunate life."
[From the Huffington Post]
People not liking her site doesn't mean they don't get it. We get it just fine. We just don't like it. Gwyneth is implying that anyone who doesn't like the site isn't smart enough to understand it. That's a great way for her to try to deflect any of the much needed recognition of how loathsome her site is. It's not that complicated Gwyneth, we get it. But your site is still useless and arrogant.
Gwyneth just sent out her latest GOOP newsletter, with snooty recommendations on where to stay and eat in Paris. A few highlights:
…There are two schools of thought regarding l'Ami Louis: one is that it is an overpriced place for tourists and the other is that it is one of the best, most venerable bistros in Paris. I am firmly in the school of the latter. It is small and wood paneled with an ancient oven and a sicko wine list. Every time I go, I see a former French president or the like, and I leave so full that I walk back to the hotel.

…This is a little teahouse off the beaten track in the sixth arrondissement. It is a great place for a light lunch or a perfect cup of sencha.

…Don't let the nautically themed room put you off. The seafood is fresh and wonderful.

…Lina's is a chain but you wouldn't know it, biting into their famous turkey club. Fresh and delicious, it's the perfect inexpensive meal to have while walking through the streets of Paris.

…Although I occasionally try the "new" spot or an old-new spot, I always keep coming back to the Ritz. The place is just beautiful and the service is pretty flawless for France. Yes, it costs an arm and a leg, but it's worth it.
[From the Huffington Post]
There are few things as important to me as a "perfect cup of sencha." The whole site is just ridiculous snobbery, yet Gwyneth is trying to appeal to normal, everyday folks who could not possibly afford such things. So it seems like her entire website serves as nothing more than an opportunity for her to gloat and shove her lavish lifestyle in our faces, while we're supposed to nod and smile and thank her for so graciously sharing this little bit of herself with us. We are ever so fortunate to have been graced by Gwyneth, even if we have to settle for email.
The New York Times wrote a piece about how hated GOOP is, and made some great points.
In September, Ms. Paltrow appeared on "Oprah" to show off her post-pregnancy workout routine, then proceeded to mystify audiences by appearing with Mario Batali, the chef, in the PBS series "Spain … on the Road Again," where she drank soy milk and followed her quasi-vegan diet while others pigged out on pork. A few months later, Publishers Weekly announced that she had sold a cookbook proposal about the pleasures of cooking for the family. Then, it was announced that she was partnering with her (and Madonna's) trainer, Tracy Anderson, to open a gym in TriBeCa.

The enterprise attracting the most media sniping right now? Goop.com, a lifestyle Web site and e-mail introduced in September that hits subscribers' in-boxes on Thursdays with tips like "police your thoughts" and "eliminate white foods." The site's name is derived from Ms. Paltrow's initials, and its slogan, "Nourish the Inner Aspect," positions it deeply in the New Age realm.

Recent issues have offered tips on family harmony from a leader of the kabbalah community, cozy mothering anecdotes (and the revelation that her children call adults "grownies") and a graphic regimen for detoxifying the body. Ms. Paltrow has recommended expensive hotels, restaurants and jewelry and offered tips on getting reservations at two of the Momofuku restaurants that don't, in fact, take reservations. She has also given out recipes for banana-nut muffins, steamed peas and garlic bread. While the site does have its loyal fans, many critics find the enterprise fatuous and a bit puzzling.

"Why is it called Goop?" a writer for The Globe and Mail in Toronto sniped. "Perhaps 'Any Old Load of Rubbish' and 'Learn From Me, Ungrateful Peasant' were both taken."
[From the New York Times]
As Gwyneth recently told UK Elle "'F – – – the haters!… I am who I am. I can't pretend to be somebody who makes $25,000 a year.'" Yes, how could she possibly lower herself by pandering to people who make $25,000 a year? That would be much, much more repulsive than her instructions on how to eat, how to live, and how to be as perfect as Gwyneth and her "amazing, super, fortunate life."
Here's Gwyneth arriving for the Bent On Learning event at the Stephan Weiss Studio in New York City yesterday. Images thanks to Pacific Coast News.