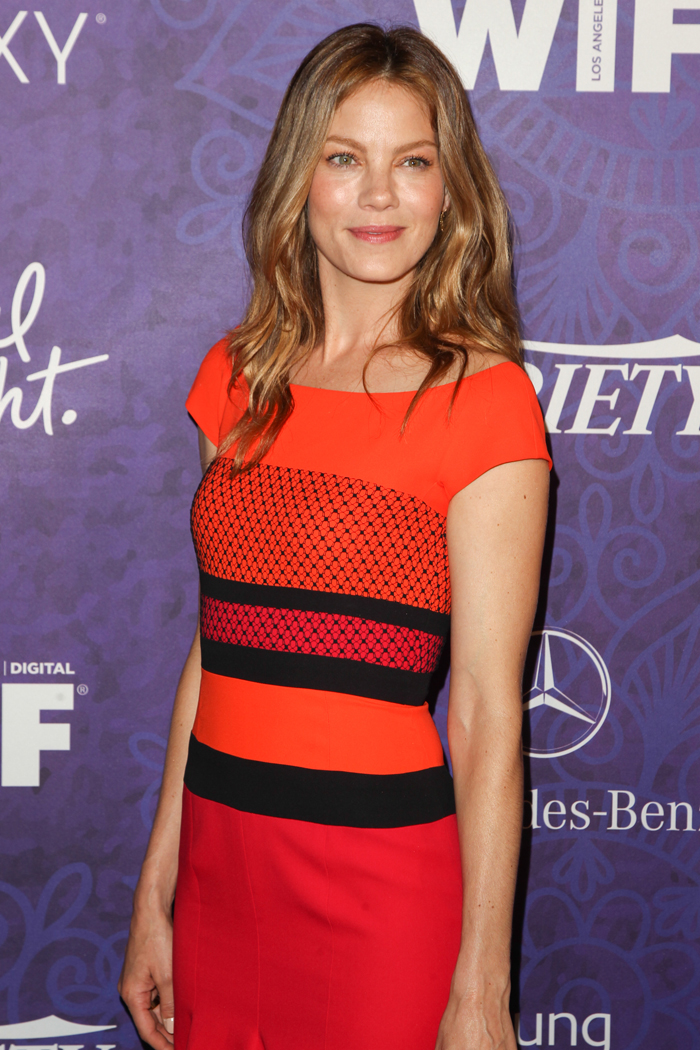 Michelle Monaghan is one of those actresses who gets a lot of work but isn't quite a household name. Maybe soon. She played Woody Harrelson's wife in True Detective. Michelle also stars in a new indie flick, Fort Bliss (you can see the trailer here), where she plays a soldier returning from deployment. The film's promotional material presents Michelle's soldier character, Maggie, as the "ultimate working mother." Maggie returns from a 15-month deployment and struggles to reconnect with a 5-year-old son who barely recognizes her. Her ex-husband complicates matters by trying to gain full custody. The film sounds like a heartbreaker.
I think most working or non-working mothers are the "ultimate" at what they do. But I understand this movie's message. Not all mothers have to leave their children for a year (or more) to deploy or mobilize. Female soldiers do so on a regular basis. Reacclimation to society is difficult for male and female soldiers. I've known several military families. People think the hardest part of deployment is when the soldier is away. Not so. After the initial happy reunion, learning how to live with a virtual stranger is hard for everyone. There's a new person in the house with weird new habits. It's rough. Michelle talks about her character's struggle in relation to all working parents:
The "right" answer to the work vs. staying home dilemma: "I think the right answer to that dilemma is whatever the mother or the career woman wants to do. I think this movie poses a much broader question, as you were talking about, about the mother leaves her family to go to work — she's a bad mother. The fact that we judge a mom's parental choice as opposed to not judging a father's parental choices at all when they have to leave for work — it's just so archaic, really. It doesn't seem fair to me. I do love that this film tackles that question."

On playing such a layered character: "I really appreciated how torn she was, really conflicted between two worlds. You can imagine the confusion, and the strength, and the vulnerability, and the tension that all that can become. [I spoke] with a lot of female vets, soldiers who were also moms, talking to them about their experiences. They spoke to me with great candor about their struggles, their challenges and that really informed the emotional journey of this character."

On soldiers returning home: "A lot of soldiers who return home, they are very emotionally depressed for good reason. It's not just easy for them to flip the switch. I really just connected to their story and my passion to tell their story with as much emotional truth as I possibly could. From a personal standpoint, I, too, am a working mom, and I do things sometimes here and there away from my kids, and certainly not to the extent as soldiers do — that's an extreme case."

On reconnecting: "I don't leave for fifteen months at a time. I've left my daughter up to a month without seeing her, and it is hard when you come back. I don't cut the bread the way she wants. [laughs] You know. Or she no longer likes scrambled eggs. She likes maple syrup with her oatmeal and not honey anymore. Those are little things. It takes time to reconnect, but I think there's something that's even more important beyond that — it's that while it may be hard to reconnect on some small level here and there, on a greater level I think it's also very honorable and an important thing to be a good example to your child. If you love your job and you're proud of what you do, then to be able to express that and for your child to be able to witness that is just important. Just because you can't be there a hundred percent of the time doesn't, of course, make you a bad mother."

On humanizing soldiers: "Whether you're male or female, it's a constant struggle to balance your career and parenthood. People will relate to it on that level. They'll also be enlightened about an aspect of the war that very few people consider. I think there's a real disconnect between civilians and people in uniform, and I think that the story helps humanize the soldiers' experience. Not just the soldier themselves, but, really, the sacrifices the entire family makes when one gets deployed for any number of months."
[From Screen Invasion]
Michelle says a lot of smart things here. Her words seem like common sense, right? Yet we're still dealing with a huge void in 2014 on how working mothers are treated as opposed to fathers who work outside the home. Journos still ask these questions to actresses. Dudes don't have to deal with same stuff (although they're usually asked how they beef up for a role) in interviews.
Oh … Michelle also has an upcoming movie, Playing It Cool, with Chris Evans (and Anthony Mackie) on the horizon. I didn't have the heart to mention it in a separate post. It looks laughably bad. This is the movie where Chris dresses up as a snow-wizard astronaut for some unknown reason. Here's the trailer. I'm sorry.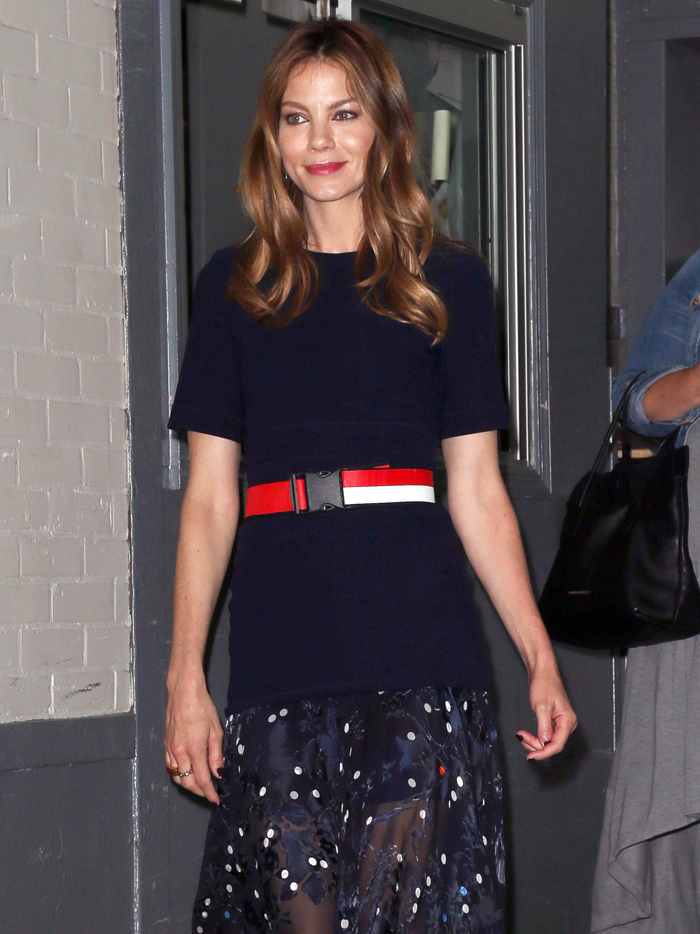 Photos courtesy of Fame/Flynet & WENN