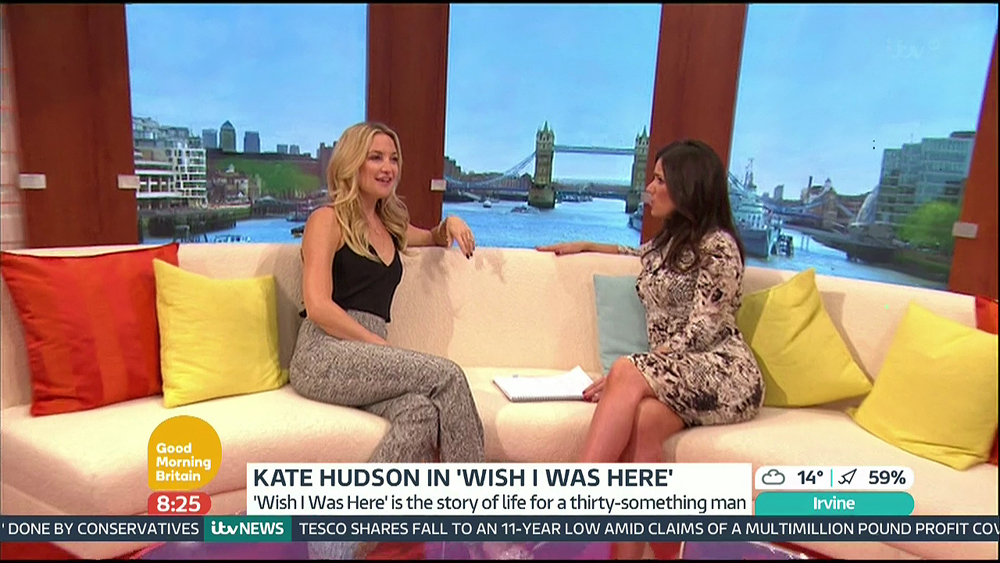 Kate Hudson and her Ungaro ghost pants are have been busily promoting I Wish I Was Here in the UK. She stopped by the Good Morning Britain show in a different pair of ghost pants. These pants are still black and white, and they remind me of the television static in The Ring. Scary.
As I mentioned before, Kate plays a working mother in her new movie. Zach Braff plays the stay-at-home dad. Kate also has plenty of real-life experience as a working mother of two sons. She talked about how hard it is to parent: "There's always a bit of guilt." Of course there is guilt. Guilt at not doing things correctly. Guilt at not putting the baby down at the correct time to promote a regular bedtime. Guilt at not picking the baby up at the precise moment they wake up for a 3am feeding. Guilt at leaving for work. Guilt at not leaving for work to provide for a fancier stroller. You know the drill, moms:
She's a working mom & "a guilty one": "I think you always have a little bit of guilt that you could be doing more. It doesn't matter if you're a stay-at-home mom or working mom. I think the daily process of raising your children; you always feel like 'Could I have done that differently? Could I have made a different choice? Was that the right time to discipline?'"

Her love of dance helps everything: "It's so easy that your kids become your whole life that sometimes you have to remember what you were individually and what drives you with happiness. For me its dance it's just one of those things. Sometimes I realise I haven't been dancing much and I don't understand what's wrong with me or I don't understand why I'm feeling one way and then it will just hit me 'Oh I need to dance."
[From ITV - Good Morning Britain]
The dance obsession seems a little silly, right? I think Kate is simply referring to having a cherished hobby to call one's own. It could be dancing, knitting, running, or video games. Everyone has to have their special pastime to keep themselves sane. Kate loves to dance. It helps the mommy guilt.
Kate abandoned her ghost-pant collection and flew back to the states in stonewashed jeans. These jeans went out of style a decade ago, but Kate still pulls them off.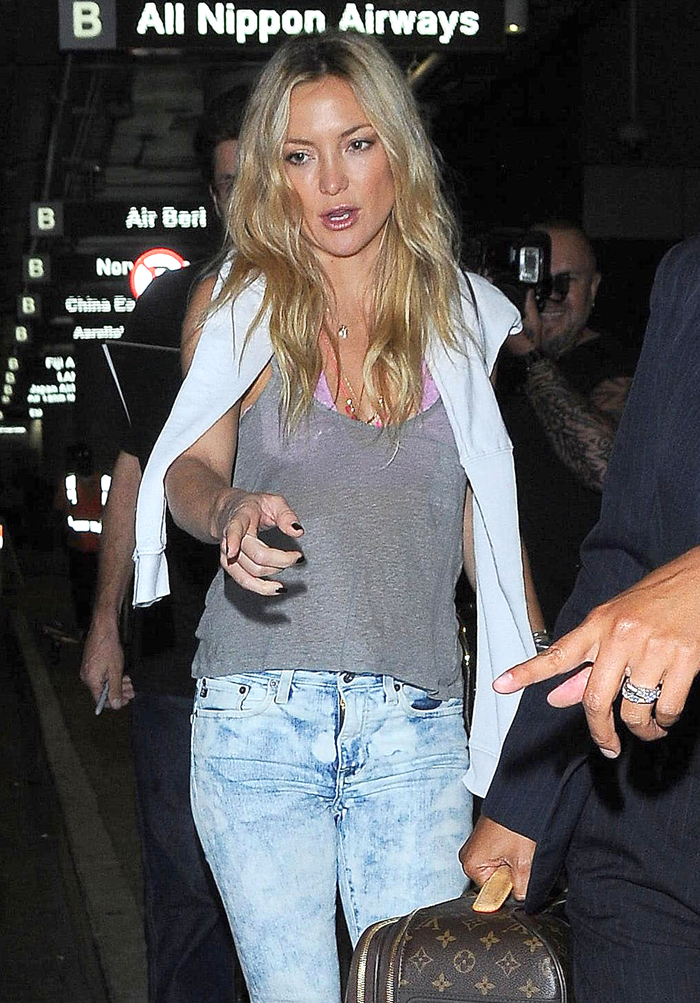 Photos courtesy of Fame/Flynet & WENN