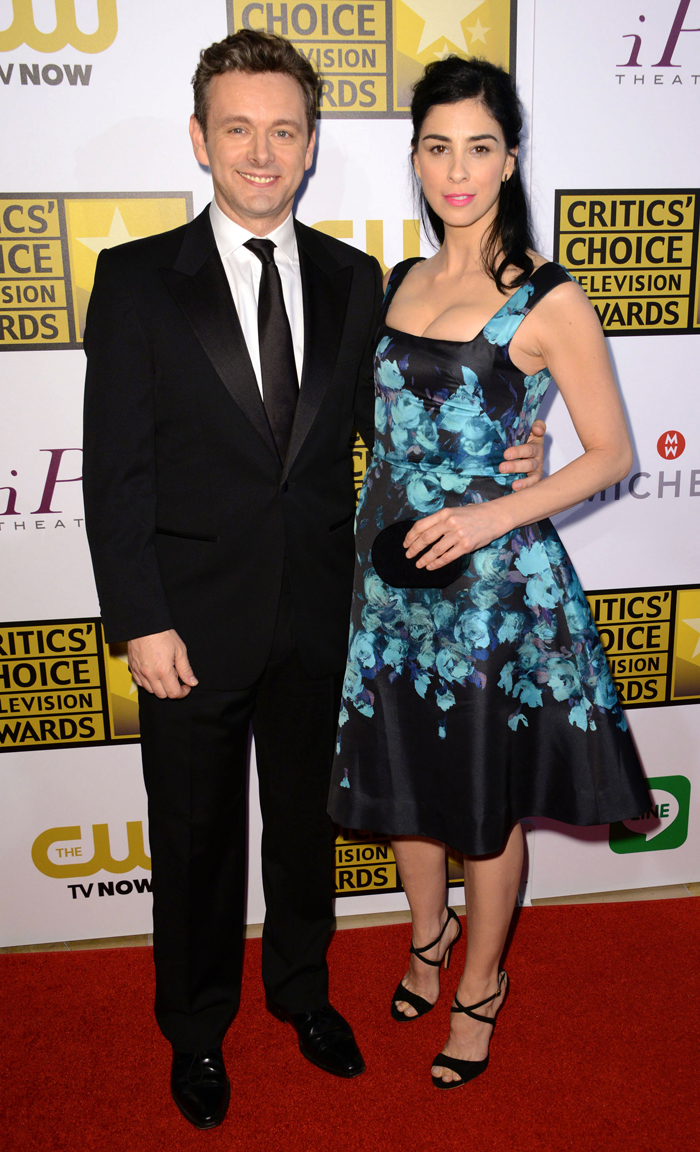 Sarah Silverman and Michael Sheen have been dating since February. They met on the MoS set, and Kaiser thinks Sarah was terribly miscast. Sarah joked in the Emmys press room about how the show's creator had her in mind, and when she started hitting it with Sheen, "it really solidified it. Or maybe not."
Speaking of miscast roles, Dustin Rowles at Pajiba points out that Sheen has always dated out of his league. He has dated Emmy Rossum, Kate Beckinsale, Rachel McAdams, and more. He and Rachel dated for over two years and (probably) broke up because he fears marriage. Good news: Sarah feels the same way about getting hitched. Star ran a story last week about how she wanted to pull Sheen down the aisle. Sarah tweeted, "Just read that I wanna get married which is hilarious b/c I will never get married." She then added, "Why would I want the govt involved in my love life? Ew. It's barbaric."
Sarah visited Howard Stern on Tuesday. Howard decided to push the marriage issue because that's what he does. He also asked how she deals with Sheen's relationship with Beckinsale (they have a daughter together). Sarah handles the questions well:
How she takes her medical marijuana: "Edible pot is a real commitment. [The vape pen] is great! I can just take a little puff. I don't drink, or anything, so it's just like having a glass of wine. I'm a lightweight. I buy some stuff and it lasts me six months."

She's not jealous of Beckinsale: "I love her. She's hilarious… She's really cool. They're really funny together."

Does she feel weird about Michael's stunning exes?: "No it's more like, 'Look at all these beautiful women and he loves me.' It's more like that, like 'Wow!'"

How does someone make a lifetime committment & not marry? "Just be in love everyday! I'm 43, and I still don't feel ready."

How about kids? "I have always been baby crazy … I'm going through such a crisis in that way because my whole life I've been like, 'Ah, I'm not ready, I'm not ready, I love kids but someday' and now it's like, 'I'm 43′ and I still don't feel ready! It's such a huge decision. How do people make this decision so fast like it's nothing? It's your whole life!"
[From HowardStern.com]
If I was a guest on Howard's show, and he started asking me how I felt compared to my boyfriend's stunning exes … it wouldn't be pretty. That's Howard though. He can't resist asking slightly offensive questions. Sarah is gorgeous too. I think because she's a comedian, people tend to not think of her as "pretty." She goes for the shock-reaction with a lot of her jokes. Anyway, I think Sarah and Sheen are well-matched if neither one of them wants to marry. If she really wants a baby, then she'd better get on that at age 43. My guess is that she doesn't really want one.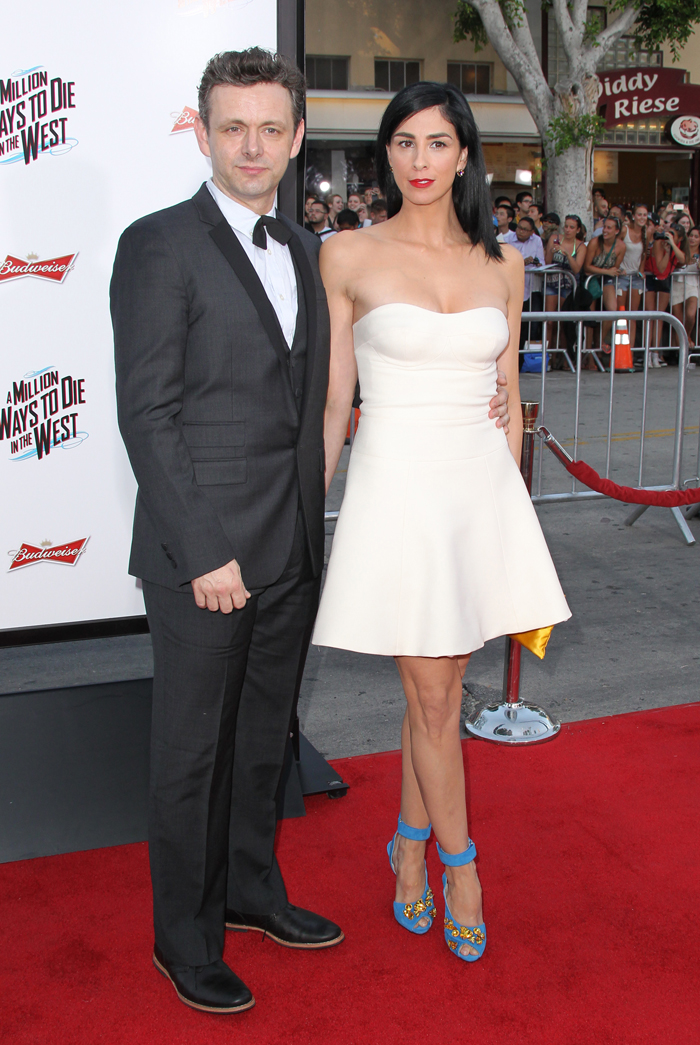 Photos courtesy of Fame/Flynet & WENN