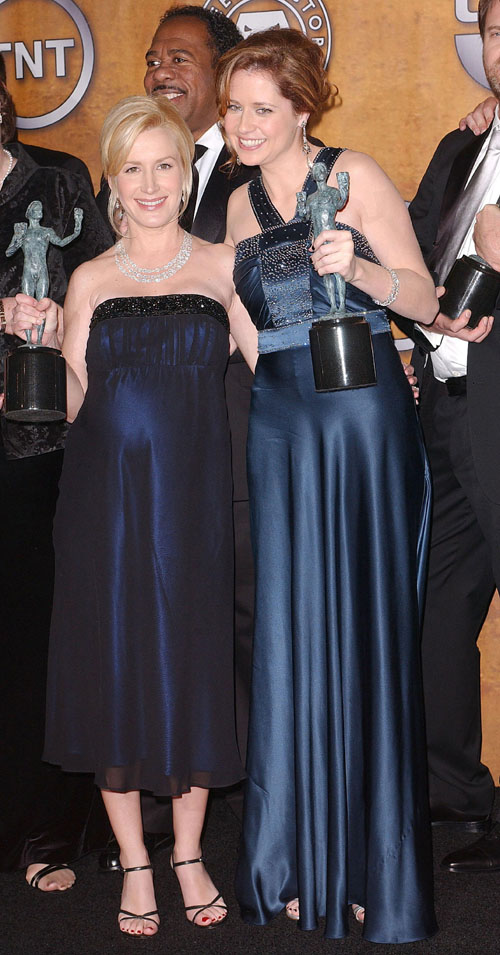 You would never know it by watching their characters on TV, but two stars of the hit comedy "The Office" are best friends. Jenna Fischer, who plays sweet receptionist Pam, and Angela Kinsey, who plays Angela, the prim, cat-obsessed backstabber, have been helping each other through some pretty rough times over the past year. Sources say the women have leaned on each other through divorces, back injuries and even childbirth.
Actress Angela Kinsey of "The Office" is leaning on her BFF, co-star Jenna Fischer, for strength and support after separating from her husband of eight years, sources tell The Enquirer.

But not only is Jenna helping Angela cope with the split from her hubby – TV writer Warren Lieberstein – she's even sharing the care of her 9-month-old daughter, Isabel Ruby!

"Angela has no better friend in the world than Jenna," said a source close to the hit NBC sitcom. "Jenna is there for her 24/7, and that includes baby-sitting for Isabel."

Jenna's devotion to her pal should come as no surprise. She participated in Angela's prenatal yoga classes and was even by her bedside when she gave birth to little Isabel on May 3 of last year.

For Jenna, helping Angela in her time of need was a no-brainer. Angela had been there for her after a bad fall in May 2007, in which Jenna fractured her back in four places.

"Angela was with her the entire time after the fall," said the source. "She sat with her for hours in the hospital. She was even at her side when she went through physical rehabilitation!"

Angela also stood by her friend's side when Jenna split with her husband of nearly six years in early September of 2007.

"It was a very difficult year for Jenna, breaking her back and then splitting with her husband," divulged the source. "She went through a lot of pain. Angela helped Jenna through both her ordeals."
[From The National Enquirer print version, March 9, 2009]
It's nice to know that there are some normal women in Hollywood who have each other's backs when things get tough. So often we read about feuding actresses in the tabloids. I guess it's more exciting to read about, but you know what? It's about time there were some stories about grown, mature women who take care of each other. I'd like to think that there are a lot more women like that than ones who backstab each other. Even in Hollywood.
Jenna Fischer and Angela Kinsey pose together at the 2008 Screen Actors Guild Awards. Photo credits: WENN.com