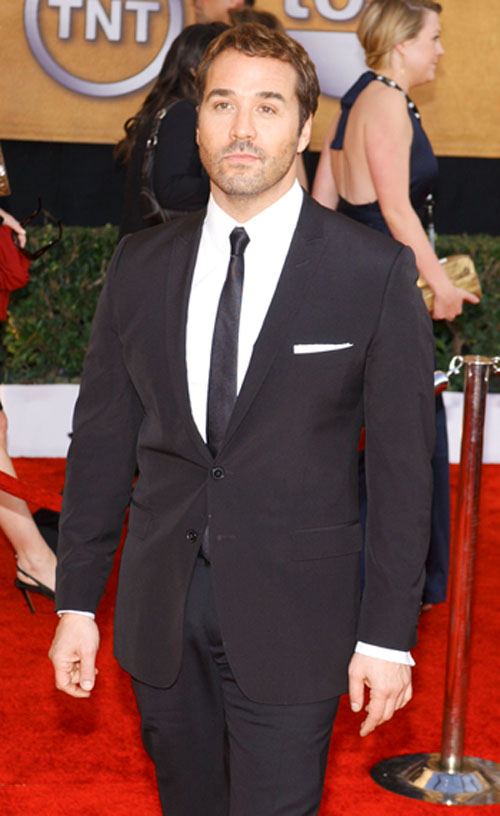 Jeremy Piven at the Screen Actors Guild Awards in January. Photo credit: WENN.
Entourage star and Emmy-award winner Jeremy Piven was called into a hearing with Actors Equity today to testify regarding the circumstances leading up to his leaving the production of "Speed the Plow" by David Mamet. If you recall, Piven was about halfway through his Broadway run with the show when he abruptly left, citing mercury poisoning as the cause. Apparently, the Piv has a thing for sushi – so much so that he claims to have toxic levels of mercury in his system. The producers of the show didn't buy it- and they filed a grievance against Piven with Actors Equity.
Jeremy Piven showed up for his grievance hearing lodged by the Actors' Equity Association for leaving his Broadway play — Speed-the-Plow — mid-run, because of excessive, mercury-laden sushi.

The Actors' Equity Association could not reach a ruling today in the hearing, so now it looks like they might be headed to arbitration.

Jeremy Piven's reps have just come out swinging, boasting that during the grievance hearing over his aborted Broadway play, the actor's union sided with him. And Jeremy's reps want you to know, a doctor with connections to two hoity-toity colleges backs him up.

Producers for "Speed-the-Plow" will have to now convince an arbitrator Jeremy's doctor's note claiming mercury poisoning was bogus. In the statement, Jeremy's rep says Piven was so sick he could have had a heart attack if he didn't drop out of the play. So Jeremy did, despite "glowing reviews."

Piven's rep says Jeremy was examined by a "Harvard-educated cardiologist affiliated with Yale." End of story!

And there's this. Piven says he is "pleased with the Obama administration" for seeking an international treaty to reduce Mercury pollution.
This story just gets weirder and weirder. What will happen if Actors Equity rules against Piven – will he be liable for any losses the producers experienced by him dropping out of the show? And if Piven is victorious, will he start flaking out like this on the set of Entourage, too? For now, it does look like Piven's got his bases covered, with a well-respected doctor vouching for him. It'll be interesting to see how this effects his career from here on out. Personally, I want to know just how much damn sushi this guy was eating!
Note by Celebitchy: According to the National Enquirer, Piven hasn't given up the raw fish:
At the Beverly Hills Hotel post-awards bash, "Night of 100 Stars"… [Jeremy Piven scarfed down lots of raw fish when he wasn't hitting on every gorgeous girl in sight.
[From The National Enquirer, print edition, March 9, 2009]
Here's The Piv leaving a shopping trip at Barney's New York earlier this week. Hope he's not heading out for sushi. Photo credits: WENN.