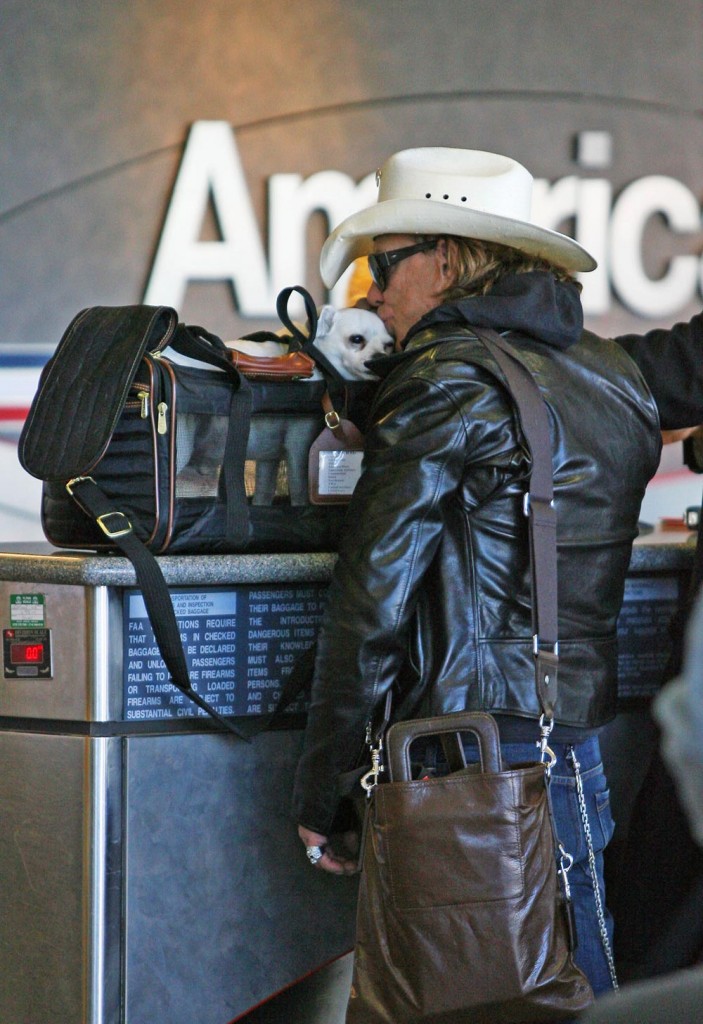 Mickey Rourke was said to be looking for a new dog to replace his beloved chihuahua, Loki, who passed last week at the age of 17 right before the Oscars. Rourke wore a little pendant to the event with a photo of Loki. It was custom made for him by a jewelry designer from NY, who has one for her own departed dog. Rourke got choked up on red carpet at the Oscars when he talked about Loki. He said that he would rather have more time with her than have an Oscar:
"It's bittersweet. I said to myself I'd rather have Loki for another two years than an Oscar. And I told her that. But she stayed as long as she could, you know."
Rourke was spotted out at LAX yesterday with a new white chihuahua. Photo agency Bauer-Griffin says the dog is named "Jaws." Rourke was said to be considering the name "Oscar" for a dog, but he either decided against it or that was just a rumor.
I was surprised Rourke didn't take home the Oscar, although he was neck and neck with Sean Penn this awards season. Rourke won the BAFTA, Golden Globe, and Independent Spirit Awards while Penn took home the SAG and Critics Choice Awards, which are generally better at predicting the Oscars. Penn also seemed to benefit from the controversy over Prop 8 banning gay marriage (hopefully temporarily) in California.
Rourke might not have received his industry's highest honor, but he's definitely earned their respect after a hard fought comeback. We look forward to seeing more of him on the big screen, and to seeing more photos of his adorable dog.
Update: thanks to all of you who pointed out that Jaws is not a new dog and that Jaws appeared with Rourke in a PETA ad out earlier this yea.
Thanks to Bauergriffinonline and photographer Matingas for these pictures.