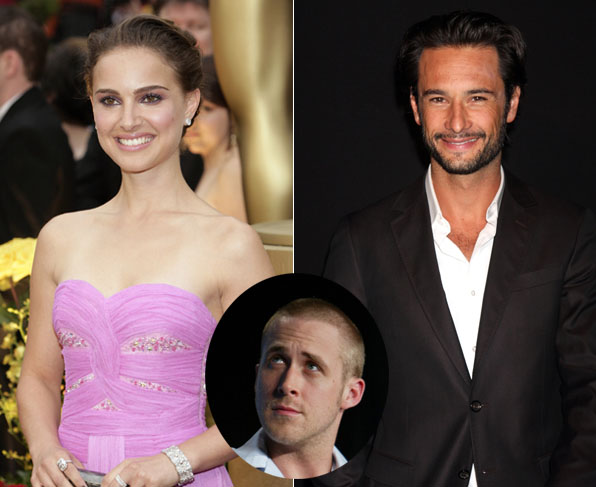 Natalie Portman, 27, is one lucky woman. She's said to have been dating Brazilian heartthrob Rodrigo Santoro, 33, for the past month. Gorgeous Canadian Ryan Gosling, 28, would also like a chance with Portman. Earlier this month, there was a rumor that the two had been casually dating for a few weeks. So which is it, Natalie, are you choosing Ryan, Rodrigo or keeping your options open? In Touch has the story:
Since splitting with rocker Devendra Banhart in September, Natalie Portman has not just one, but two suitors trying to win her heart. She has been dating Brazilian actor Rodrigo Santoro "for about a month. They are trying to keep a low profile, but he is a very sweet guy," says a friend. Ryan Gosling, after splitting for a second time with Rachel McAdams, is also very eager to date the 27-year-old. "Ryan is texting her all the time and asking her to hang out," says the friend. "He'd really love to be seeing her, too. Nothing has happened between them yet, but he certainly hopes it will."
[From In Touch, print edition, March 9, 2009]
Natalie goes for dark-haired South American guys with scruff. She was last dating folk singer Devendra Banhart, who is Venezuelan-American, and had an on-off relationship with hot Mexican actor Gael Garcéa Bernal for a while. I think she'll stick with Rodrigo, which is definitely not a hardship. It's a shame for Ryan, though, who is also a real catch. There are plenty of women who will be happy to know that Gosling is still single. In the mean time I would love to see Portman settle down. It's early in the relationship and she's young, but I can't help but think of how cute her kids with Rodrigo would be. She has plenty of time yet.
Rodrigo Santoro is shown on 2/17/09, 1/23/09, and 12/15/08. We don't get enough photos of this guy. Natalie Portman is shown at the Oscars and Ryan Gosling is shown on 7/8/08. Credit: WENN.com