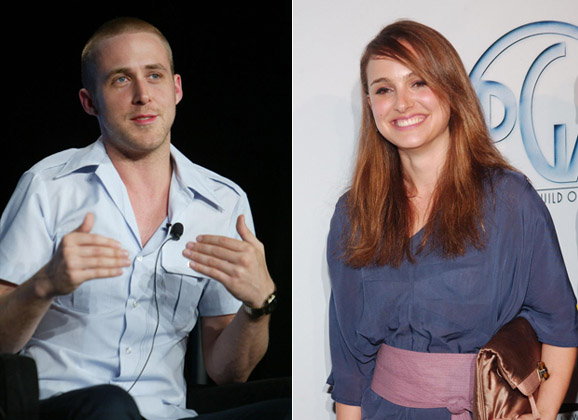 As we reported a few weeks ago, Rachel McAdams and Ryan Gosling are no more. Rachel allegedly moved on first, into the arms of hottie Josh Lucas. Now LainyGossip is reporting that Ryan Gosling has got someone on the down-low… Natalie Portman!
From what I've seen of Natalie Portman's dating record, Ryan would definitely be a step up. But that's what makes me question Lainey's report. Natalie seems to go for the vegan-rock-star-hipster types like "Venezuelan folk singer" Devandra Banhart. Natalie seems to be strangely similar to Drew Barrymore in her taste in men. Which makes me think that a clean-cut, Oscar-nominated Canadian heartthrob might overwhelm her. But, really, who would kick Gosling out of bed? Read Lainey's suspicions:
Dreams come true?

Let's not get ahead of ourselves…but at the very least, there's a spark. More than a spark.

Ryan Gosling and Natalie Portman!

As I reported exclusively on eTalk last night, my sources say they met a few weeks ago at one of his DJ nights through a mutual acquaintance. Am told he was rather assertive, asking for her number right away. Since then they've apparently been flirt texting and hanging out with friends, and casual dvd nights undercover, not in any particular rush towards anything serious but they say they are super cute when together, very relaxed vibe and, as girly boo boo as this sounds, supposedly he's crazy about her but is "happy not to push".

…Still early days, so let's not overheat. You know how it works in Hollywood. Things flash away so quickly. So maybe just a little squeeeeee under your breath for now. Save the loud one for if and when it really blooms.
From Lainey Gossip
They would be a really cute couple, and I hope it's for real. The Rachel McAdams-Ryan Gosling round-robin had gone on too long, and it's good that both of them are getting some space. Isn't it interesting that both Ryan and Rachel both seem to have specific types? Ryan likes cute, petite brunettes, and Rachel like dimpled blondes. So sweet. A little vanilla too? Perhaps.
Ryan Gosling is shown taking a walk on 1/5/09, credit: Fame, outside the gym on 11/18/08, credit: WENN, and speaking about the 'ENOUGH' Project at the 4th Annual Center for American Progress' national conference in DC on 7/8/08, credit: WENN. Natalie Portman is shown at the Producers Guild Awards on 1/24/09. Credit: Fame