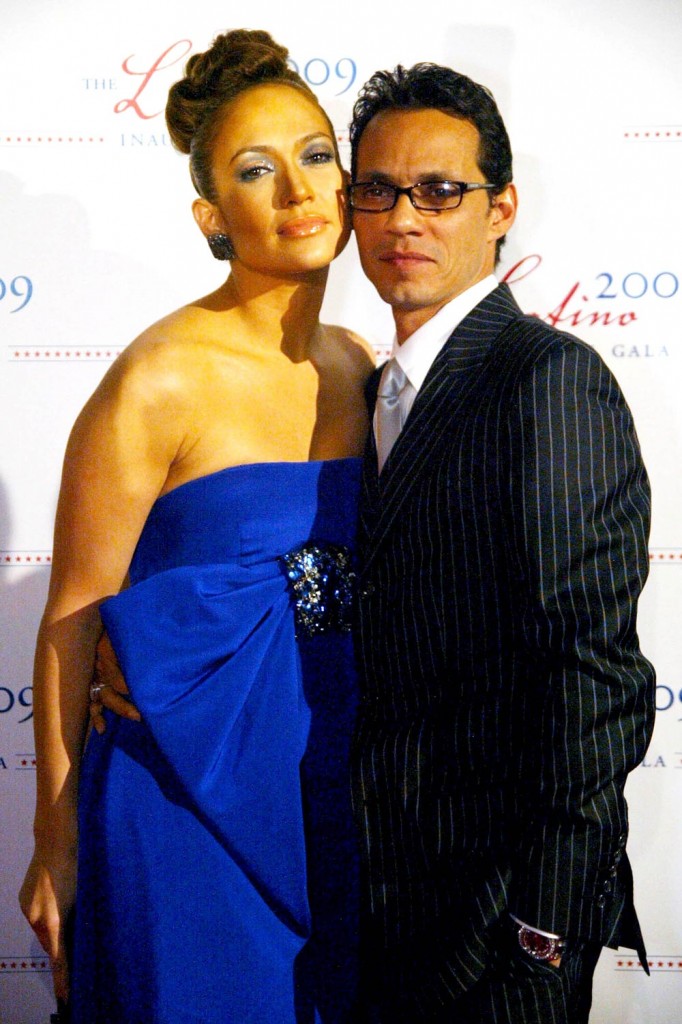 Jennifer Lopez and Marc Anthony showed off their twins, Max and Emme, for the first time in a rarefied spread for People Magazine last March that is said to have earned them $6 million. They posed in couture and included photos of their twins' high end nautical-themed nursery, which many experts said wasn't safe for babies. The photo shoot also included a picture outside their Long Island mansion in which Lopez and Anthony laughed maniacally while posing with two high end retro-style black matching strollers. The "prams" are among the most expensive in the world and retail for nearly $3,000. The stroller maker, Silver Cross, featured the photo of Lopez and Anthony with their product on their official blog and apparently in some some print work for the company. I found a cache for this now-removed entry on the official Silver Cross blog which refers to the People photo.
Jennifer Lopez Chooses Silver Cross for Max & Emme

Jennifer Lopez will be the envy of Long Island when she's out and about with her new baby twins, thanks to the two beautiful Onyx Black Silver Cross Balmoral prams she has taken for the pair (see above). Silver Cross was invited to the world exclusive first photoshoot of the new Lopez twins.

Little Maximiano and Emelina (Max & Emme) will enjoy the greatest comfort in the iconic British classics that Jennifer ordered from exclusive baby boutique Petit Tresor. The twins were pictured recently at home with their proud mum and dad, along with their beautiful new hand made Silver Cross carriages. The babies are the first children for pop diva Lopez, and the fourth and fifth for her partner, salsa songwriter and singer, Marc Anthony.
[From Cache of Silver Cross' official blog, original entry now removed]
Lopez and Anthony aren't pleased with being made the unpaid spokespersons for the stroller company and are suing Silver Cross for $30 million.
The supercouple filed the suit in a California District Court on Wednesday against Silver Cross Ltd, claiming the company, which has outlets in the U.S. and U.K., used a photo of them to help sell a baby stroller.

According to the lawsuit obtained by Access Hollywood, the entertainers claim the company used a photo of the couple using a Silver Cross Balmoral Pram Carriage stroller to help sell the product on the company's Web site and "in various print and electronic media and newsletters," the suit reads.

They claim Silver Cross "knowingly and intentionally misappropriated and used the names, images, likenesses and photographs of Lopez and Anthony to market and sell Defendants' line of high-end baby carriages throughout the world," the suit continues.

The couple added in their suit that the "defendants have sought to illegally capitalize on Plaintiffs' hard work, reputations and world-wide celebrity and recognition."

Jennifer and Marc have eight complaints listed in their lawsuit, including violation of civil code, misappropriation of the common law right of publicity, false designation of origin, dilution of common law trademark, copyright infringement, unjust enrichment, accounting, preliminary and permanent injunction.

In addition to asking for more than $5 million in damages on six of the eight claims, the couple have asked for attorneys fees and profits associated with the sale of the baby buggy.
There are two schools of thought on this. On one hand of course Anthony and Lopez shouldn't be used to sell a product without their permission. They get paid millions for endorsements. On the other I wonder if they even bothered to send Silver Cross a cease and desist before deciding to sue them. Surely if they had their lawyer send a strongly worded letter then the stroller maker would have removed the material, apologized, and issued a statement that no endorsement was ever provided by the couple. It just sounds very heavy handed and you wonder if they exhausted their other options before suing. Celebrities get used for unpaid endorsements all the time based on the things they wear, use, and are photographed with. It goes with the territory and there are more diplomatic ways of handling it than suing.
Jennifer Lopez and Marc Anthony are shown at the 2009 Latino Inaugural Gala on 1/18/09. Credit: WENN.com