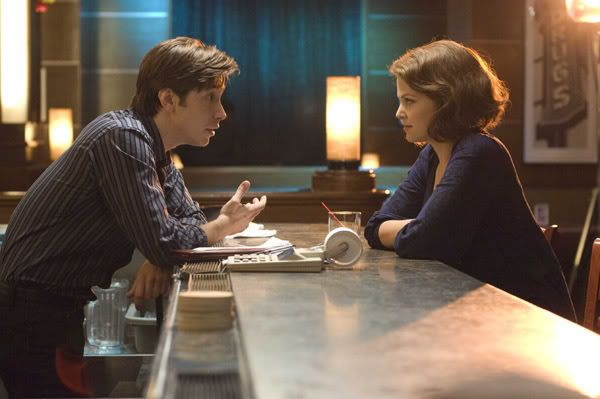 Two years ago, we covered a story that the Motion Picture Association of America was considering banning smoking in all but R-Rated movies, unless the person portrayed was an actual historical figure who smoked. This was based on a recommendation from the Harvard School of Public Health, and it was a controversial one that didn't come to pass.
Some argued that there are characters who are likely to smoke and that it looks conspicuous to have them drinking but not smoking. Others thought it was a good idea as smoking shouldn't be glamorized on screen as it was in the past. Screen legend Humphrey Bogart died at the age of 57 from lung cancer after years of making smoking look romantic on screen. Many of you thought that banning smoking in all but R films is too extreme, though, and said that friends and family were more likely to influence you than a character in a film.
Recent film He's Just Not That Into You has come under fire from the American Medical Association for showing characters smoking. The AMA says the movie not only portrays smoking, but that it uses blatant product placement for specific brands. They're demanding that filmmakers reveal if they were paid to include shots of the easily recognized packs. A spokesperson for American Spirit cigarettes, which are shown in the film, says that they weren't contacted about the product placement, that they don't condone it and that they definitely didn't pay for it:
The American Medical Association Alliance said it intends to lodge an official complaint on Thursday with Warner Brothers and its corporate parent, Time Warner, over "disturbing images of specific cigarette brands in this youth-rated movie," said Melissa Walthers, director of the health advocacy group's effort to reduce teenage smoking.

Among other things, the group wants Warner publicly to certify that it received no payment for the product placement and is asking all Hollywood studios to ban filmmakers from showing specific tobacco brands in their work. "There is absolutely zero artistic justification for this," Ms. Walthers said in a telephone interview, adding that various studies estimate that smoking in films prompts 200,000 young people annually to start smoking.

"He's Just Not That Into You," a PG-13 hit which has sold more than $100 million in tickets worldwide since its release on Feb. 6, does not depict anyone smoking, and there is a prominent story line placing cigarettes in a negative light. A character played by Jennifer Connelly leaves her husband (Bradley Cooper) not because he cheated on her — which he admits to her that he did — but because he lied about quitting smoking.
But there are numerous shots of Natural American Spirit Lights, easily identifiable by their bright yellow box. The alliance, the 27,000-member volunteer arm of the A.M.A., also spotted a "highly recognizable red Marlboro carton," although a person who worked on the film disputed this.

As for the story line discouraging smoking, Ms. Walthers said, "It doesn't really matter if the story line is negative or not in terms of the impact on kids."

Ms. Walthers has an ally in the fight that may strike some as unusual: Santa Fe Tobacco, the maker of Natural American Spirits. "We respect artistic license, but we have to agree that our cigarettes should not be shown in films," said Mark Smith, a spokesman for Santa Fe Tobacco. "It is something we absolutely do not condone." He added: "We were never contacted about using our brand in this film, and we sent no product."

"He's Just Not That Into You" came to the studio a year ago after Time Warner ceased operating its New Line label as a stand-alone unit. As it struggled to absorb New Line projects — some of them in disarray — scrutiny of "He's Just Not That Into You" by Warner's standards department came later that usual in the production process, according to two studio executives who asked for anonymity because they were not authorized to speak publicly about the matter.

The Motion Picture Association of America in May 2007 said it would consider portrayals of smoking alongside sex and violence in assessing the suitability of movies for young viewers. Meanwhile studios, under pressure from health groups, have been trying to pressure filmmakers to trim tobacco sequences from their movies, but have balked at an outright ban, citing the need for artistic license.
[From The NY Times]
I can get very sick from secondhand cigarette smoke so anything that discourages people from smoking is welcome, but I also see where filmmakers are coming from. They want to portray people accurately, and people smoke. Producer Drew Barrymore smokes, a lot of her friends are likely to smoke, including actress Jennifer Aniston, and she probably doesn't see why she shouldn't show that in her films. To her, it's representative of what people she knows are doing. It's not something she probably even thinks twice about including in a movie. Maybe she'll be more thoughtful about it now, though.
For those of you who have seen the film, did they show smoking in a positive, negative or neutral light? How often was it shown? It sounds like they showed smoking but also discouraged it, given the quote that "It doesn't really matter if the story line is negative or not in terms of the impact on kids." That comes across as a little extreme from the AMA, but you understand their concern.
Photos thanks to Allmoviephoto.