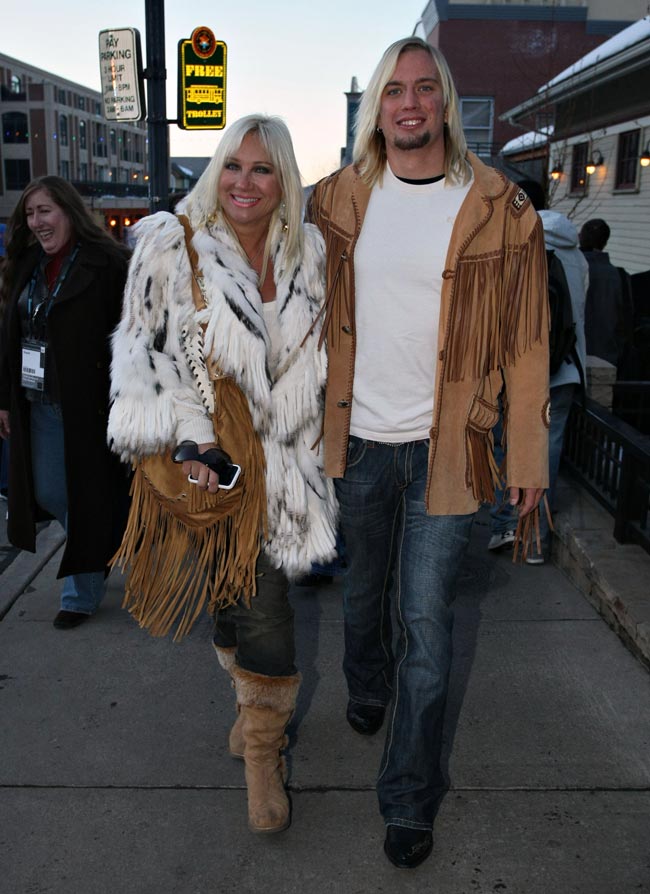 John Graziano was left in a permanent vegetative state with literally part of his skull missing (warning on that link) after Hulk and Linda Hogan's son, Nick, got in a car accident in August, 2007 when drunk and drag racing on a public street. Instead of expressing their remorse that their son so carelessly endangered his passenger's life and left him irreparably damaged, Nick and Linda issued a statement that John wasn't wearing his seatbelt. The Hogan family continued to talk smack about the victim afterwards, calling him a negative person and making obnoxious statements that the accident was God's will.
Nick spent 166 days in jail after pleading guilty to reckless driving, but many thought it was not enough. He's out now and the first thing he did was head to Vegas to celebrate.
Victim John Graziano's father is now under police custody after cops caught him in a sting trying to hire someone to kill his wife, John's mom. This made me inappropriately crack up because the idiot paid an undercover cop $2,100 plus a $13 pizza gift card to kill his wife in a car accident. I know it's wrong to laugh at that, particularly considering his poor son's state, but why did he throw in the pizza gift card?
Today I received an e-mail from Linda Hogan's PR person informing me about this, with a completely unnecessary statement from Linda. She also used it as an opportunity to slam the family. According to a local newspaper, Linda is also claiming that she was threatened by this guy, which police of course can't confirm:
Linda's statement, e-mailed to me:
"Any threat from Ed Graziano would and is being taken very seriously. We all prey [sic] for John's recovery. This kind of behavior is why John turned to us as a loving family and we made him one of our own. God Bless John." Linda Bollea
News report, in which Linda claims she's being threatened too:
Clearwater, Florida — Ed Graziano is behind bars accused of trying to hire someone to kill his wife. But Linda Bollea apparently believes Graziano wanted to hurt her too.

Bollea's publicist tells 10 Connects "people around the case" have told Hulk Hogan's estranged wife Graziano also made threats aimed at Bollea. After hearing about the possible threats Bollea's publicist described her as "scared to death."

Bollea issued a statement Thursday night saying "Any threat from Ed Graziano would and is being taken very seriously."

A spokesperson for the Pinellas County Sheriff's Office could not confirm the alleged threats aimed at Bollea, but they did detail Graziano's apparent attempt to kill his wife.

Authorities say Graziano paid $1,100 in cash, a $1,000 personal check and a $13.06 Westshore Pizza gift card to have his wife murdered. According to detectives, Graziano wanted his wife killed in a car accident.

A tipster told officials about Ed Graziano's plan and an under-cover detective posed as a "go-between" to a "hit-man" as they investigated the case. The Pinellas County Sheriff's Office learned about the plot in December and also notified Debra Graziano as a precaution.

Thursday, Ed Graziano was arrested at his home in Palm Harbor and later booked into the Pinellas County jail. He's expected to make his first court appearance on Friday.

On August 26th, 2007 Ed and Debra Graziano's son John was seriously injured in a car crash with Hogan's son Nick Bollea.
STFU Linda Hogan! Your son and your family caused this family enough pain and suffering with your careless actions and words. Now that they're going through more problems, you want to rub it in!
Linda never should have issued a statement about something that didn't concern her. Now she's only made this story get national attention and brought more shame on that family. What a nasty piece of work that woman is.
Linda Hogan and her barely legal boy toy are shown at Sundance on 1/17/09. Credit: Fame