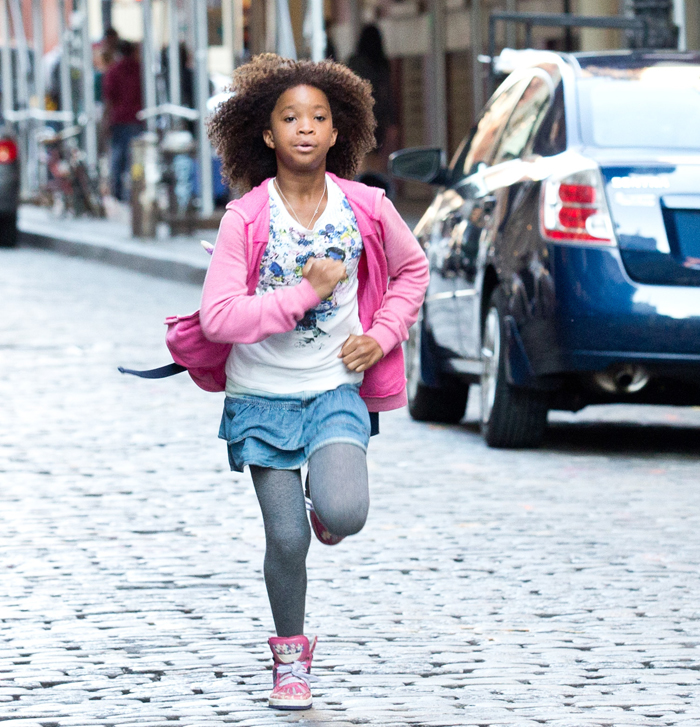 Quvenzhane Wallis is only 11 years old and has appeared in two Oscar nominated films. She's also the youngest person nominated for a best actress award (Beasts of the Southern Wild). She had a tiny role in 12 Years a Slave yet still left an impression. Quvenzhane has many years ahead of her in Hollywood, but she must first navigate the dangerous waters of child stardom. I think she'll be fine, don't you? Quvenzhane seems very mature, and her mother accompanies her on red carpets and film sets. I remember watching Quvenzhane on the Oscar red carpet a few years ago. She was an incredibly poised young lady who didn't seem fazed by the flashbulbs and glitz. She gave an equally elegant interview to the New York Times to promote her leading role in the Annie remake.
Her acting process: "I work with my acting coach to help me get into character and do pronunciation drills and tongue twisters to help me deliver lines. I envision the script as a story in my mind, memorize the entire thing and have it play out. It helps me figure out where my character needs to go."

On maintaining work & playtime: "You have to be serious, but you also have to make your own time to have fun. I tell jokes, I laugh with the people on set, I play with the director. Then I try to pay attention and see what I have to do."

How she weeps on cue: "When I need to cry, I think of very sad things, mostly about animals. My favorite animal is a polar bear. They're going extinct, and I really don't want that to happen." She can also burp on command.

On whether her 3 siblings covet her success: "They each have their own thing, ma'am."
[From New York Times]
Quvenzhane also says she always eats maple-and-brown sugar oatmeal before work. She seems like a mini grown-up with great style, but I appreciate the detail about burping on command. That's an important acting skill! In all seriousness, I believe this young lady has many years of acting ahead of her. She'll probably put both Cameron Diaz and Jamie Foxx to shame in the Annie remake. The late Roger Ebert described little Quvenzhane as "a small force of nature." This little girl, now a tween, will go places. I love that she thinks of polar bears when she has to cry on set. She's so dignified and composed, and I don't see her falling into any of the usual teen-actor trappings.
Oh, and I want this purse. It's custom made from Poochie & Co.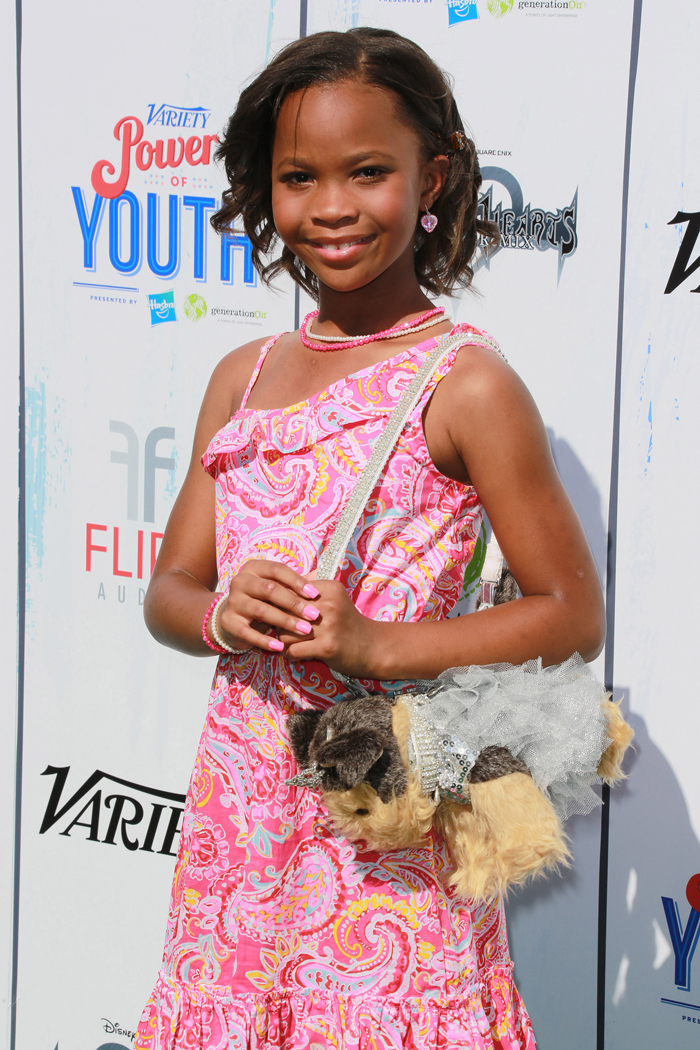 Photos courtesy of WENN