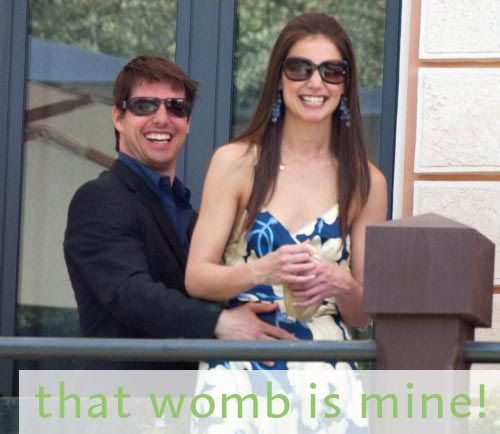 In yet another disturbing chapter of the TomKat saga, Mike Wallace of the National Enquirer reports that Scientologists plan to commandeer Katie's baby for three days after its birth. What's more, the baby will be isolated for a day after it's born. Despite reports that she's spending 8 hours a day being indoctrinated into Scientology, Katie has come to her senses and is questioning this counter-intuitive practice:
furious KATIE HOLMES warned fiancé/daddy-to-be TOM CRUISE that she'll absolutely refuse to allow Scientologists to commandeer her newborn at birth for what their church calls "Processing a New Mother" – a bizarre ritual which involves separating mother and child for three days, allowing only minimal contact! As her time approaches, sources say, Katie's becoming hysterical over the idea that her baby will be controlled by the sect's handlers from the moment he/she enters the world. In a raging confrontation, Katie told Tom she flatly rejects Scientology's edict that newborns should be left totally alone for the entire first day after birth.
Any human who's not brainwashed would agree that it's harmful and cruel to leave a newborn baby alone at any time, especially on its first day in the world. It's also quite difficult, if not impossible, to breastfeed if you don't start up within the first three days after birth. This is wrong for so many reasons.
Scientology is a cult that ruins lives, even the most vulnerable ones, to rake in big bucks.