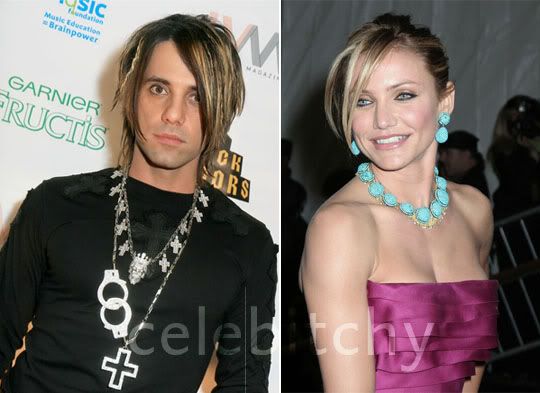 Cameron Diaz, 34, was seen out on a date in Las Vegas on Monday with magician and illusionist Criss Angel. Angel, 39, is the creator and director of "Criss Angel Mindfreak," a A&E and Discovery Channel series that has shown him walking on water and appearing to float in front of a live audience.
Diaz and Angel walked arm in arm into the Cirque de Soleil Love performance after a romantic dinner at Prime steakhouse at the Bellagio.
After the final curtain, the pair headed backstage and greeted the cast until just before midnight before leaving through a side door and disappearing into the night in Angel's car.

Diaz and Angel, who has been linked to Minnie Driver, previously met up on Saturday night at the VH1 Rock Honors and later partied at the Jet Nightclub with Diaz's BFF Drew Barrymore. Diaz had been scheduled to leave Las Vegas on Sunday with her friends, sources tell PEOPLE, but decided to extend her stay through Tuesday.
Diaz has been linked with actors Djimon Hounsou and Tyrese Gibson since her high profile breakup with Justin Timberlake. Criss Angel dated Minnie Driver for a few weeks last year, and it was said that she broke up with him after hearing that he was flirting with Paris Hilton.
Diaz and Angel may have been comped at the Cirque Du Soliel show. Angel will perform in a magic-themed Cirque Du Soliel to open at the Luxor in 2008.
Cameron recently said the equivalent of "don't hate me because I'm beautiful." She described her last two years as very difficult and "hell" and said "why should there be prejudice against someone who's had some success in films and looks a little better than average? It's all in my genes, so don't hold it against me."
Yesterday a report came out that she is dating Uma Thurman's ex, Andre Balazs. The last I heard Balazs was going out with Naomi Campbell.
Angel is show in the header and linked image below at the VH1 Rock Honors afterparty on 5/12. He kind of looks like a douche to me, but I haven't seen his show and didn't know who he was until today.
Diaz is shown at the Costume Institute Gala on 5/7.
Picture of Angel from WENN. Picture of Diaz from Photorazzi.