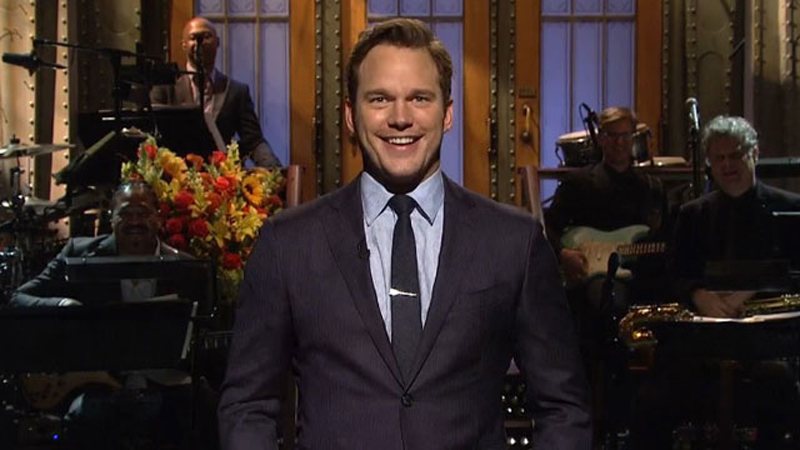 A little bit of Chris Pratt goes a long way. This weekend's 40th season premiere episode of SNL contained the correct ratio of Prattness. This allowed the star of Guardians of the Galaxy (a hit with da ladies and 2014's top-grossing film so far) to strut his stuff. Ariana Grande popped in musical guest, and she was okay. We'll probably see tabloid stories about how she acted like a backstage diva. This episode was mostly about Chris poking fun at his own physicality in hilarious ways. If you missed the show, Pajiba posted all of the skits, and I'm including some highlights here.
The Pratt Opening Monologue was notable not for content but for Pratt's infectious enthusiasm. Anna Faris got a little word in, and Chris pulled out his guitar to comical effect: "I know I'm not half the singer that Ariana Grande is, but I am technically three times her body weight. So the math works out."
The "Booty Rap" skit featured rough language as Aidy Bryant and Chris rapped their way into bar-induced courtship. They laid waste to pop music's current booty obsession (Nicki Minaj's "Anaconda" with some of Meghan Trainor's "All About That Bass" mixed in). Chris' bewildered facial expressions at his own lyrics sell this skit.
The "Marvel Can't Fail" skit was my favorite part of the episode. Marvel really could sell anything to the moviegoing public, including Bus People, Pam 2: The Winter Pam, and Some Shopping Carts. The best moment was where Chris walks down the Guardians hallway like a a bada** with Princess Leia hair.
This "NFL Intros" skit skeward the league to over its handing of the Ray Rice situation. Various cast members and Pratt introduce themselves (as Ravens and Panthers players) by the crimes they've committed. Chris Brown gets a mention too. The SNL writers went hard.
The "He-Man and Lion-O" skit was so dumb, but that was the point. Chris used his real abs to play the ultimate beefcake action figure. Crotch patting and wall smashing happen. Ariana briefly enters the scene as She-Ra.
I'm including photos of Chris with Anna Faris at the iHeartRadio festival last week. These two are so effusive with their red carpet PDA, which makes me wonder. If they ever split, I'll cry for real.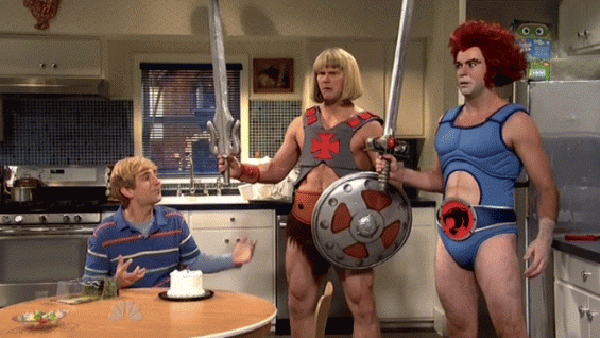 Screencaps courtesy of NBC & Hulu, photos courtesy of WENN