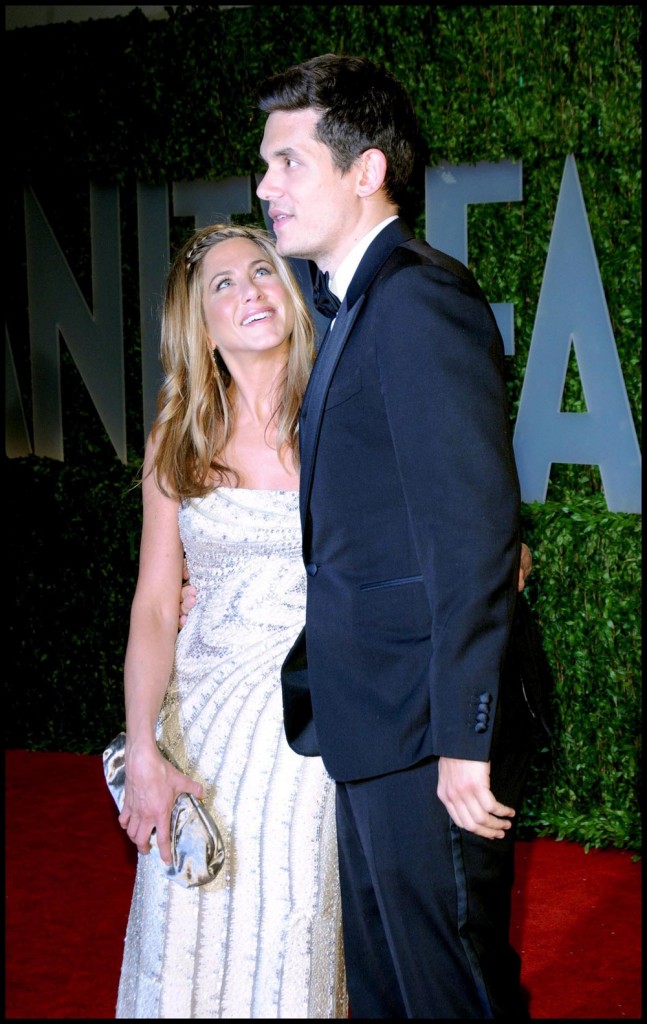 First of all, I think this story is totally made up. It is way too funny to pass up, though, so you'll forgive me for repeating it. Jennifer Aniston and John Mayer were supposedly spotted in a sex shop buying accessories for their personal use. When it was time to check out, Aniston approached Mayer as if she didn't know who he was and they went through one of those "do you come here often?" scripts. You can see this happening with these two, even though it's probably fiction:
Jennifer Aniston sashayed into The Pleasure Chest, Hollywood's elegant sex shop, with hunky Young Stuff John Mayer in tow – and it looked like sparks were flying, romance-wise. As Jen smiled demurely at intriguing items offered by the naughty fun emporium, say My Spies, John fanned the flames by selecting: A bedside lock-box containing a copy of the Kama Sutra; handcuffs; a G-string with matching candy bra; and a "Dare Me" coupon book. As the love stud headed to the checkout counter, Jennifer slipped outside for a quick puff – then stepped back in, sidled up to John like he was a total stranger, and purred huskily: "Do you shop here often?"…. Not missing a beat, the crooner crooned: "No, but I've noticed a lot of beautiful women shop here."… Totally into the role-play, he asked Beautiful Stranger: "What are your plans for the day?" Smiling sweetly, she replied: "I'm going to a children's party." He grinned. "I'm great with kids." Then, playing it brilliantly, he asked to carry her bags! The star-crossed strangers left the store together.
[From The National Enquirer, print edition, Mike Walker's column, March 9, 2009]
Doesn't this sound completely likely and yet kind of suspect? We'll probably never know if it's true.
In related news, Aniston is now in Paris with Owen Wilson promoting Marley & Moi. She hangs all over him just like she does with Mayer so it looks like that's her new thing now. I guess we can interpret it as not being clingy and just showing support in her way. She didn't do this with Pitt on the red carpet at all, but if she wants to hug people now good for her.
Photo credit: WENN.com