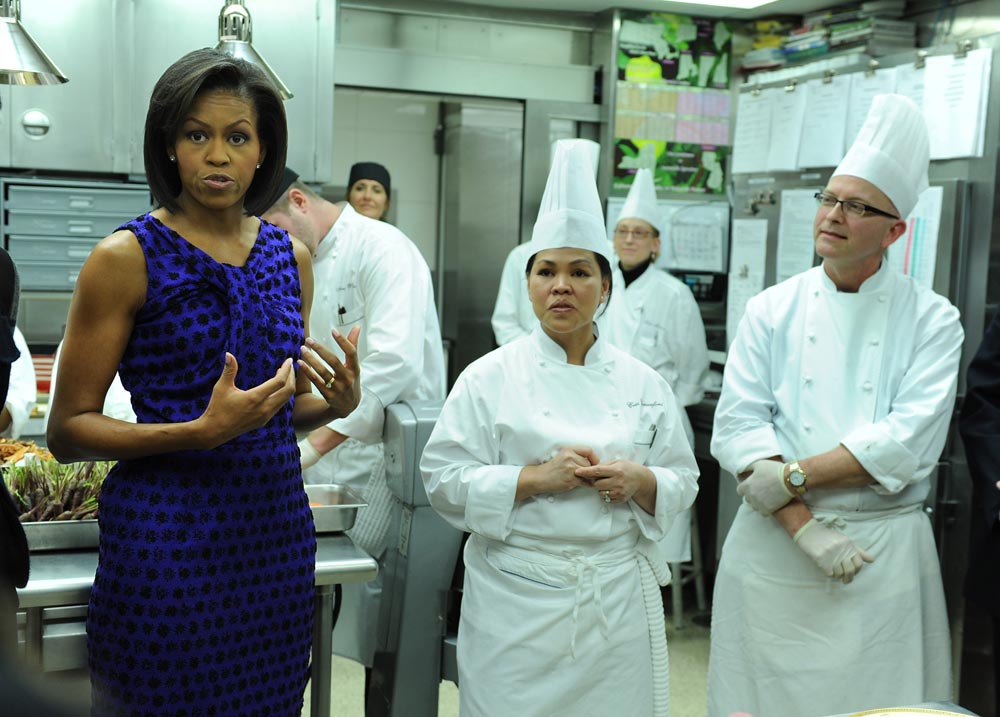 People are not happy with Michelle Obama. She has brought change to America, and that change is sleeveless winter fashion. People are pissed. From the New York Times, to the Chicago Tribune to the Los Angeles Times, major newspapers are running snotty articles about the First Lady's fashion sense… or lack there of.
Where did it start, really? Perhaps it was Michelle's appearance on the cover of Vogue, dressed in a beautiful sleeveless dress. Follow that with Michelle's balcony appearance at President Obama's Tuesday speech to Congress. It's really, really cold in Washington right now, but Michelle arrived on camera in a beautiful sleeveless plum satin blouse. That's when people really started to freak out. But Michelle isn't giving in! She's the cover girl for People Magazine next week – and she appears on the cover in yet another sleeveless dress. The horror! The Chicago Tribune has more on Michelle's People cover:
You'd think sleeveless were akin to topless in the setting of President Brack Obama's speech Tuesday.

While first lady Michelle Obama already had made exposed arms one of her signature styles, her choice of a Narciso Rodriguez sleeveless plum-colored dress in this venue ignited some indignation among the citizenry. "Does the lady not understand that these Big Speech Events are serious and important? Not a cocktail party?" e-mailed one Tribune reader, who said she scanned the crowd for other bare arms and spied none. "The season is winter. The occasion is business. Dress was wrong place and time."

The cover of People magazine hitting newsstands Friday shows Obama in another sleeveless dress. But it's one that should silence a separate fashion complaint: that Obama had not worn a dress by an African-American designer.

The deep-pink lace confection is by Tracy Reese, a moderate-priced designer who happens to be black. The dress retails for $395 at tracyreese.com
From The Chicago Tribune
But that isn't even the worst of it. On the LA Times' gossip blog "The Dish Rag", they even compare Michelle Obama and her toned arms to… gasp… Madonna's gristle. For the record, Madonna spends like four hours a day, every day to get those arms (shudder). Michelle Obama's arms aren't beefy or gristly or veiny. Her arms are simply lovely and toned. Read The LA Times and weep:
It's freezing in Washington, D.C., in February.

But despite the chill, First Lady Michelle Obama is still exercising her constitutional fashion right to bare arms.

The first lady is becoming known for her casual sleeveless styles and impressive muscular arms, which we've glimpsed along the campaign trail and even on the cover of Vogue.

And she was bare-armed again last night when President Obama was addressing Congress for the first time.

"Oh my God," Cindi Leive, Glamour editor, e-mailed the New York Times last night. "The First Lady has bare arms in Congress, in February, at night!"

Obama's super-sculpted arms are reportedly well-earned. She started working out with a personal trainer a few years ago.

In recent years, she's kept up her exercise regimen a few times a week — cardio and lifting weights, or doing Saturday training sessions with the same trainer who kept her husband in shape on the campaign trail.

Now her strong arms getting international attention as they slowly come to symbolize the inner strength of Americans, particularly American women.

Either that or Michelle is just a big fat Madonna copy cat. What do you think of Michelle Obama's bare arms? Is it proper or disrespectful? Is it admirable or shameless?
From LA Times
Who knew that a First Lady's sleeveless fashions could freak out so many people? I noticed that she was wearing sleeveless the night of Obama's speech, but my only thought was "I bet she's cold." So, is this a new era of First Lady fashion? Will it be known as The Sleeveless Era? The Toned Arm Era? What was Jackie Kennedy's fashion era known as? Probably something about French fashions coming to America, The Chanel Knock-Off Era. And for the record, Michelle really rocks that plum color. She should wear it more often – preferably sleeveless.
Michelle Obama is shown in a green sleeveless dress on 2/25/09 at "an evening of celebration at the White House in honor of musician Stevie Wonder's receipt of the Library of Congress Gershwin Prize for Popular Song" (UPI Photo/Ron Sachs/Pool). She is also shown on 2/24/09 hugging "eighth-grader and special guest Ty'Sheoma Bethea of Dillon, South Carolina before President Barack Obama addresses a joint session of Congress" (George Bridges/MCT) and with the President on 2/22/09 "after a black-tie dinner at the White House for the nation's governors." (UPI Photo/Mike Theiler). She is also shown in the White House kitchen giving a tour on 2/22/09. (UPI Photo/Kevin Dietsch)