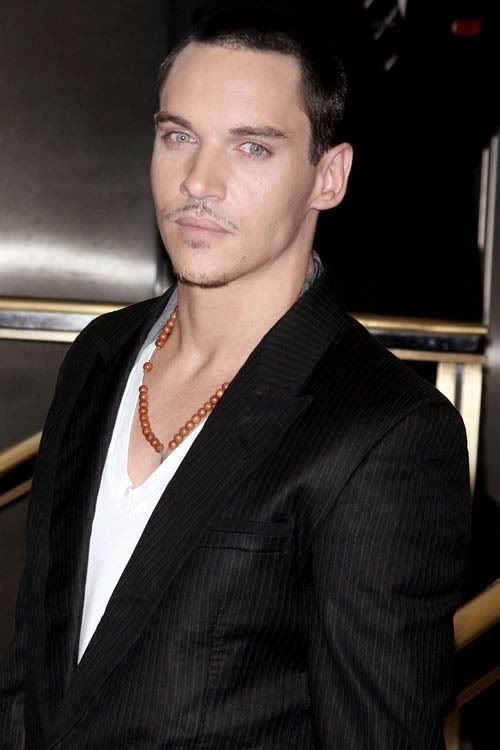 Jonathan Rhys is back in rehab. By most estimates, this is the third time that Jonathan has seriously tried to deal with his alcohol (and drug?) problems by checking into some kind of formal facility, this time in England. Irish Independent was the first paper to announce Meyers' rehab stay – it's his hometown paper, and they seem to use the guy's biography as a way to explain the multiple rehab visits. It's interesting though.
Irish Independent claims that Meyers' first rehab stint was in America, years ago. Then came a second, brief two-week stay in England. Last year, Meyers was arrested at an airport for a "drunken outburst", but it was later explained that his mother had just died, so most people gave the guy a break. In most of his public appearance in the last year, Meyers has been looking coked out of his mind. Although, that could just be the way his eyes are. Irish Independent has more details:
It's an all-too-familiar tale: a star goes off the rails with a bang and has to hit rock bottom before he or she can finally help themselves…some celebrities have found that their biggest battle is with their own demons.

Irish actor Jonathan Rhys Meyers is now a fully paid-up member of the club. The "The Tudors" star is reported to have recently checked into rehab in the UK in a bid to deal with a drink problem.

Suspicions arose when the Cork-reared actor failed to show at the IFTAs in Dublin earlier this month, where his acclaimed TV series The Tudors won 10 awards. The day before, he was allegedly spotted buying spirits in London. He also missed the Oscar Wilde Awards in LA, the annual celebration of the Irish in Hollywood, which is staged just before the Oscars.

Before filming the last series of The Tudors, producers insisted that he steer clear of alcohol, with his behaviour monitored by minders.

"He is one of the nicest guys in the world, he's a pleasure to work with," revealed a Tudors insider. "He has his demons all right, and he's trying to cope with them as best he can. I couldn't have coped with even 2pc of what's being written about him. He is also great with children. If any kids ever come on the set he's really nice to them. He gets down and talks to them face to face and makes sure they get autographs and whatever they want. He's brilliant that way."

The next series of The Tudors won't start filming here until June, which should give him a chance to get back on track. His natural father John O'Keeffe, who lives in Spain and separated from Jonathan's mum when he was a child, has appealed to Jonathan to sort out his problems. Part of the problem may be his upbringing. John left Jonathan's mum Geraldine when the boy was just three. He moved to England, taking two of their four boys with him, leaving Geraldine to raise Jonathan and another brother.

He had a troubled childhood, spending time in an orphanage and being expelled from school. His mother, who he loved dearly, drank a lot and didn't seem to be able to cope with him properly.

[His] career took off but problems soon surfaced. A friend said: "Jonny had always been on the brink of going off the rails. He had a difficult childhood and he's screwed up and wild." He later spent time in rehab in both the United States and the UK.

"I didn't start drinking until I was 25. Since then I've been drunk maybe a dozen and a half times. When I do I'm like Bambi. I'm all over the place, hopeless, like a 16-year-old kid. People notice," said Jonathan.

And they did indeed notice when he turned up in Dublin in November 2007, after apparently enjoying an all-night session. He was arrested by Gardai and charged with being drunk and in breach of the peace.

In London the next day he was pictured with an early morning can of cider in his hand. Then came the news that his mother had died in Cork County, aged just 50. Heartbroken Jonathan flew back for the funeral, where he was comforted by, among others, his old acting pal Colin Farrell.

Jonathan has also been linked to a long series of beauties from socialite and model Cha Cha Seigne, who friends say remains the love of his life, to actress Toni Collette and an on/off affair with heiress Reena Hammer.

He is also a huge gay icon, and has no trouble playing gay roles. He said: "I'd actually love to do more gay parts. I want to play people like Rock Hudson and Montgomery Clift."
From Irish Independent
I hope this visit takes, but something tells me it won't. I really believe that as far as drug and alcohol addiction goes, the addict truly has to hit rock bottom before they really take their addiction, rehabilitation and life-long struggle seriously. I've always thought that was one of the biggest problems successful actors have with their addictions – they are often trying to battle while still having a job, getting good press, making money. It's hard to hit rock bottom when you've got everyone supporting you and doing for you. Just my take – and I hope I'm wrong. Meyers is a gifted actor, and I hope we can enjoy his work for years to come.
Note by MSat: If you've watched "The Tudors," you know how great Meyers is as Henry. He absolutely loses himself in the role. Not to mention, he's totally hot. Hopefully, he will get the help he needs while in rehab and find better ways to cope with his loss. By the way, does anyone who gets treatment at Promises Malibu EVER stay sober? Didn't Ben Affleck, Matthew Perry, Lindsay Lohan and Britney Spears make their first tries at rehab in that place – and wasn't it the place that Chris Farley actually broke out of shortly before he overdosed? Not such a great track record.
Jonathan Rhys Meyers is shown on 1/30/09 at Macys in NY launching the new fragrance by Hugo Boss: Boss Elements for Men. Credit: WENN.com