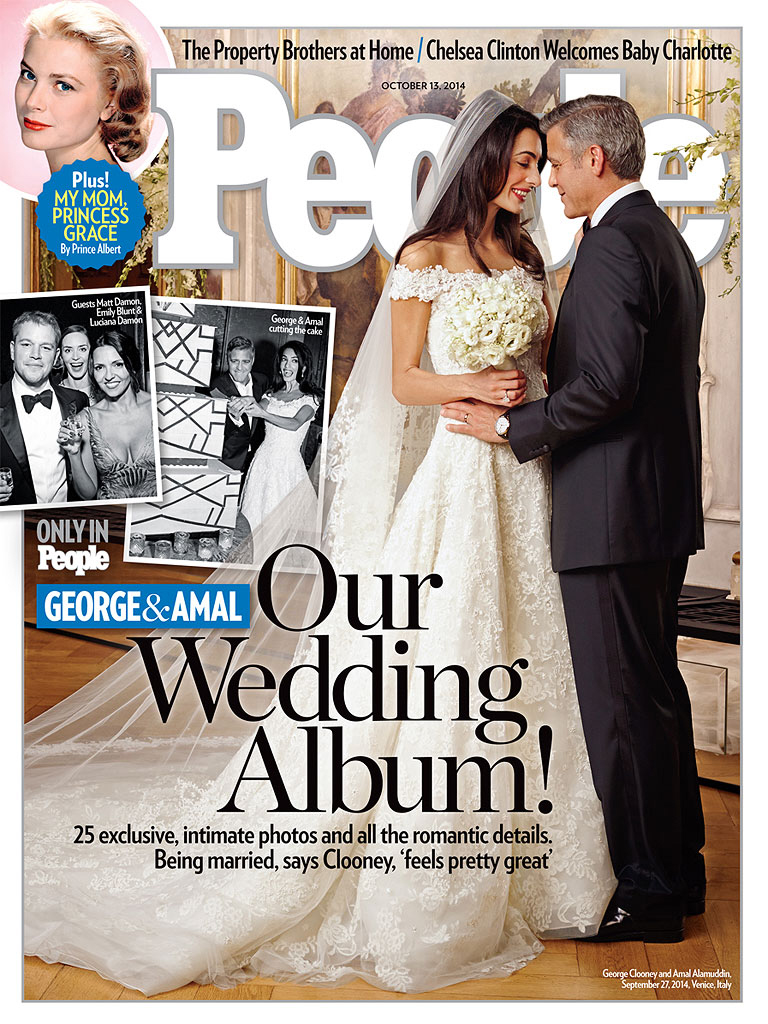 Lainey at LaineyGossip was right! George Clooney and Amal Alamuddin did not give/sell their first wedding photos to Vogue. Sources told Lainey that George and Amal negotiated some kind of Brangelina-like deal with People Magazine and Hello to publish the official photos. And here we are! People and Hello released their covers early this morning – People chose the photo of George and Amal looking at each other and Hello chose the photo of them looking at the camera for their cover. Brangelina got something like $3-5 million for their wedding photos. I wonder how much George and Amal got? FOR CHARITY! I will donate $5 to their charity if they name it The Alamooney Foundation. Here's some of People's write-up:
After George Clooney and Amal Alamuddin exchanged traditional vows, platinum bands and, yes, a lengthy kiss at their 30-minute wedding ceremony on Sept. 27 in Venice, Italy, the newlyweds turned to their family and friends. And the place went wild. Cheers and applause filled the gilded hall at Italy's historic Aman Canal Grande Venice as around 100 guests, many with tears in their eyes, celebrated the much-anticipated union of the Oscar winner and his barrister bride. The intimate wedding – including 25 exclusive photos of the emotional ceremony, star-studded parties and all the sweet candid moments – is featured in this week's issue of PEOPLE, in conjunction with Hello! magazine internationally.

Marriage, Clooney, 53, tells PEOPLE, "feels pretty damn great."

"George and Amal radiated love all night," Alamuddin's mother Baria tells PEOPLE. "The wedding was so unbelievably special, it was legendary. These three days – the friends, the families, the atmosphere, everything – will stay with me all the rest of my life."

One of four loved ones to deliver heartfelt speeches during the short ceremony, Baria, an editor at the Arabic newspaper Al-Hayat, addressed Clooney at one point. "I said, 'George, we love you truly, deeply and sincerely. We enjoy your charm, your wit, intelligent conversation and generosity. You are simply perfect.' "

His tux wasn't so bad either. Created by Giorgio Armani as part of his Made to Measure collection, the black tuxedo in ultra-fine wool/cashmere was paired with a white shirt, black bow tie and oxfords in smooth, brushed black leather. (To finish off his look, Clooney wore customized cufflinks, a gift from his bride, with "George" inscribed in Arabic.)

"It is a privilege and a pleasure for me to dress him for this occasion, in which he stars in the most important role: that of the groom," Armani tells PEOPLE.

"[Giorgio is] the class act of all class acts," the actor says. "He's been a good friend for many years and the night wouldn't be complete without him."

Of course nothing could upstage the bride, stunning in a custom Oscar de la Renta French lace wedding gown, hand-embroidered with pearls and diamanté accents, featuring an off-the-shoulder neckline and a full circular train.

"He's such an elegant designer and such an elegant man," Alamuddin, 36, tells PEOPLE.

With three days of parties followed by a civil ceremony, the festivities took center stage in Venice, which the actor calls "the most romantic city in the world" and a natural choice for their wedding locale. "We met in Italy," says Clooney, who has long owned an estate on Lake Como. "We have a home there. We knew that was where we wanted to get married."

While the guest list included famous pals like Matt Damon and Bono, the couple kept the celebration intimate and sentimental. They tapped Nora Sagal, the daughter of friends, to sing the Irving Berlin standard Always at the ceremony – which happened to be the song Clooney's parents, Nick and Nina, danced to at their wedding – and Cole Porter's "Why Shouldn't I?" for their first dance at the reception.

As Nick Clooney said in his speech during the ceremony, "George and Amal present us with … belief that in this place and at this moment, love is alive and well."

The bride's close friend Jae Kim couldn't agree more. "I had never seen her smile like that," Kim said sweetly during the ceremony of witnessing her Alamuddin find the love of her life. "She has had that smile now for almost a year straight!"

Besides the afterglow of an unforgettable weekend, did the guests take anything home? "Other than a hangover? Yes," cracks Clooney, whose favors included iPods loaded with a playlist chosen by the couple. And what's next for the newlyweds after a brief honeymoon? Quite simply, Clooney tells PEOPLE, "We're looking forward to everything."
Yes, it's all pretty over-the-top. Thoughts on Amal's dress? I don't hate it. It's a classic, lovely, traditional wedding gown and it looks very pretty on her. I'm glad she wore her amazing hair down.
Other random details, from other sources… Page Six says the wedding probably cost about $13 million, which is pretty interesting considering Amal's parents supposedly paid. I didn't know Amal came from that kind of wealth. I mean, I figured her family was probably upper-middle-class, more like an academic family rather than a wealthy family. Oh, and sources claim that George and Amal went from Venice to Marrakech for their honeymoon. That's really cool! I've always wanted to go to Marrakech.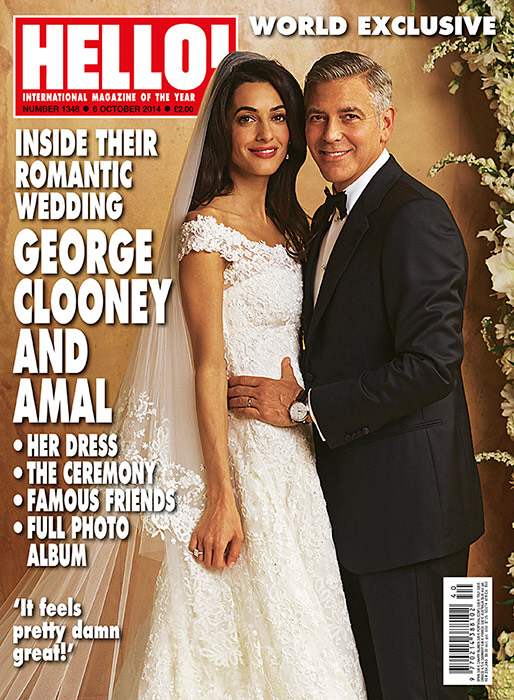 Photos courtesy of WENN, Fame/Flynet.