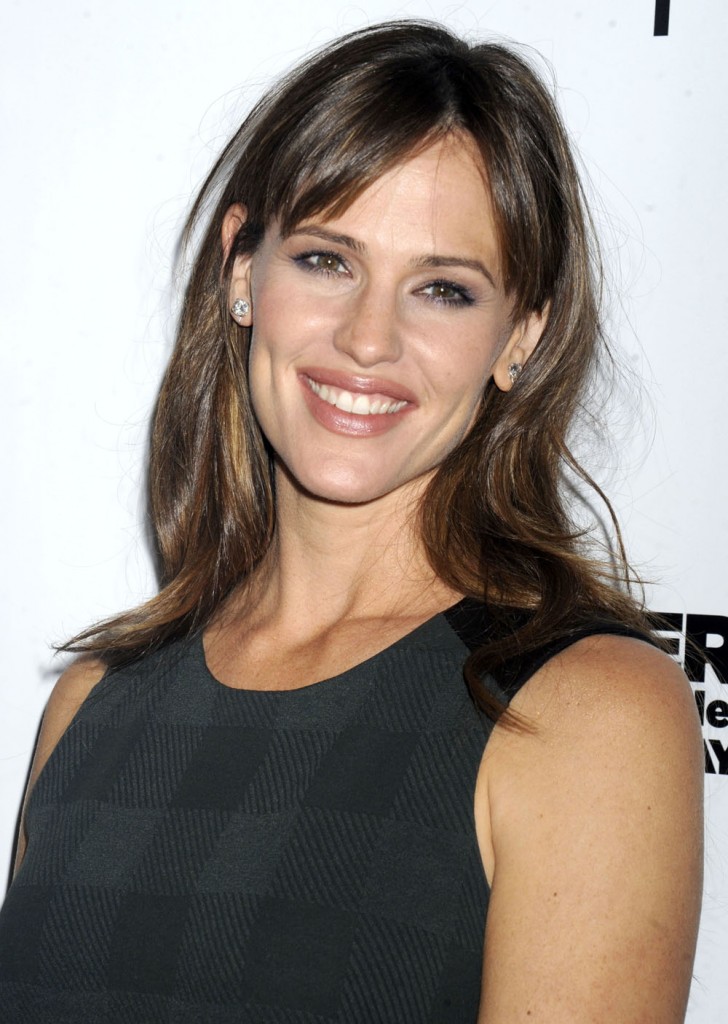 The people at Hallmark's Home and Family show sent us a link to this interview their panelist Debbie Matenopoulos did with Jennifer Garner and Steve Carrell on the press junket for their new film. Garner and Carrell star in Alexander and the Terrible, Horrible, No Good, Very Bad Day, a film based on the bestselling children's book of the same name. (My kid has already told me he doesn't want to see this movie despite liking the book. That's fine with me, I just sat through Box Trolls.)
Matenopoulos asked Garner and Carrell if they can relate to their characters' parenting foibles, and if they share responsibility with their spouses for getting the kids ready for school. Carrell said he shares duties with his wife, and Garner added "Ben Affleck can do a good ponytail. He might not have any tangles brushed through, but he can do it. I taught him." That's not exactly high praise, but at least Affleck helps. He should ask Chris Pratt for hair braiding lessons.
Later on, pregnant Matenopoulos told her co-hosts on the show that she and Garner go way back, since they share the same OB/GYN. Supposedly Garner told Matenopolous to talk to their mutual doctor for her. "Let her know I'm not having any more kids so stop pressuring me."
Garner also did Jimmy Fallon's show last night, where she told some parenting war stories. She said that her kids have been sick all month basically. Since Affleck was just on earlier this week, Fallon joked that Affleck was banned from the show since he was going to get everyone sick.
Then Garner told a story about her kids getting lice at school. My kid hasn't brought that home yet, knock wood, but I remember going through this as a child. It was my brother's fault! Here's some of what she said, thanks to E!
That's not even the worst of it," Garner continued. "You could come home and get The Call from school. You could get The Call. It is coming your way! The Call is, 'Hi, Mr. Fallon. Um, this happens a lot, so don't freak out, but if you could come pick up Winnie. Your daughter has a very treatable case of lice.'" Making fun of Us Weekly's long-running photo spread, the actress joked, "Stars are just like us!"

After one kid got lice, Garner said, "We all got lice. It's making me itchy just to talk about it." After scratching her scalp, she clarified, "This was years ago. It's not right now. I'm totally fine right now."

"They have people like the Lice Lady, and they come over and they comb painstakingly through your hair, and then they put something on your hair…It looks like the put Crisco in your hair but you smell a little bit like a mixture of sulfur and rosemary," Garner explained. "And you do it everyday for a month!"

"Actually, the first time—the only time! The only time our family had this problem, it was a day I had been combed through. I was getting the kids happy while they did them and whatever. Ben had gone early and he'd showered. He came out and he said, 'Hey, um, there's a party. I wanna go. Let's go.' And I said, 'I can't. I need to shower.' I mean, I'm in, like, cargo pants. I'm nasty in a thousand [ways]. He's like, 'Come on! I mean, we have a babysitter. I want you to come with me.' So, I get in the car and I go with him because he acted like I was going to be high maintenance. I don't ever want to be called high maintenance. I am not a high maintenance chick! So I'm like, 'What's the big deal? No one's gonna notice,'" the star of Alexander and the Terrible, Horrible, No Good, Very Bad Day recalled. "We show up and the first person I see is George Clooney, and I'd never met George Clooney. I was kind of like, 'Ah, he's so handsome! Like, oh, my God!' So, I see him and I walk up to him and I'm chatting with him, just trying to act like it's cool…and I can see that he smells me, you know? But he's trying to be polite."

"So, anyway, people keep asking why we weren't at George's wedding and we were both 'working' but I think he didn't want Licey there," Garner joked. "He's like, 'No, we don't need the Afflecks. We're OK!'"
That was a good story about how she met George Clooney but she still didn't address whether they were actually invited to the Alamooney wedding. (I think they were, I think just about all the A listers were.) Also, they have a LICE LADY?! Of course they have someone who specializes in that, it's LA. When we got lice as kids my parents had to do it all. I remember it vividly.
Garner also played a rousing game of Catchphrase with Fallon. That was fun to watch and you can see it on E! Online. Alexander and the Terrible, Horrible, No Good, Very Bad Day comes out next week.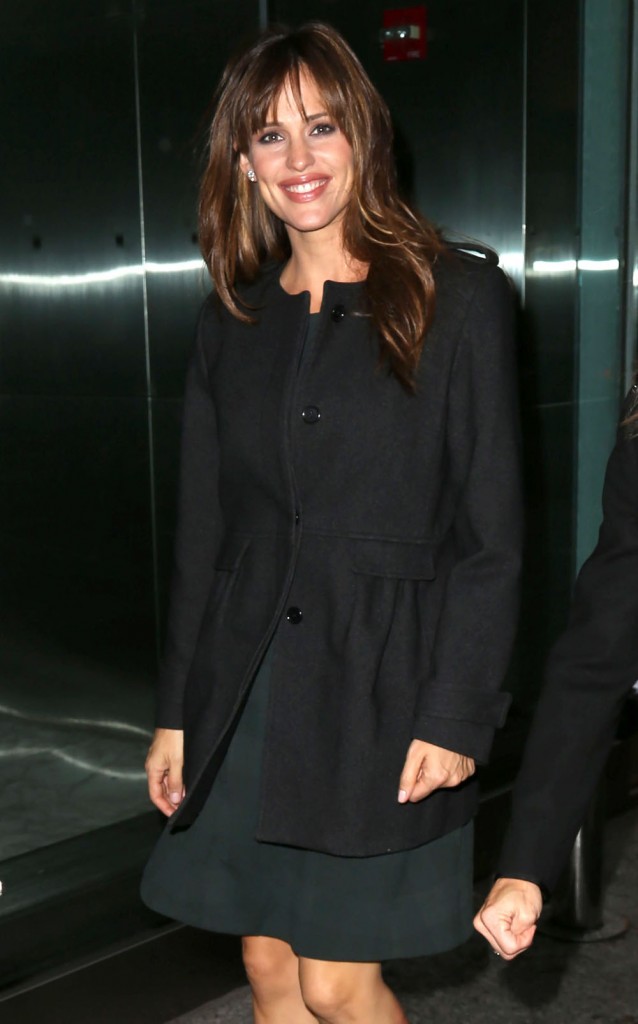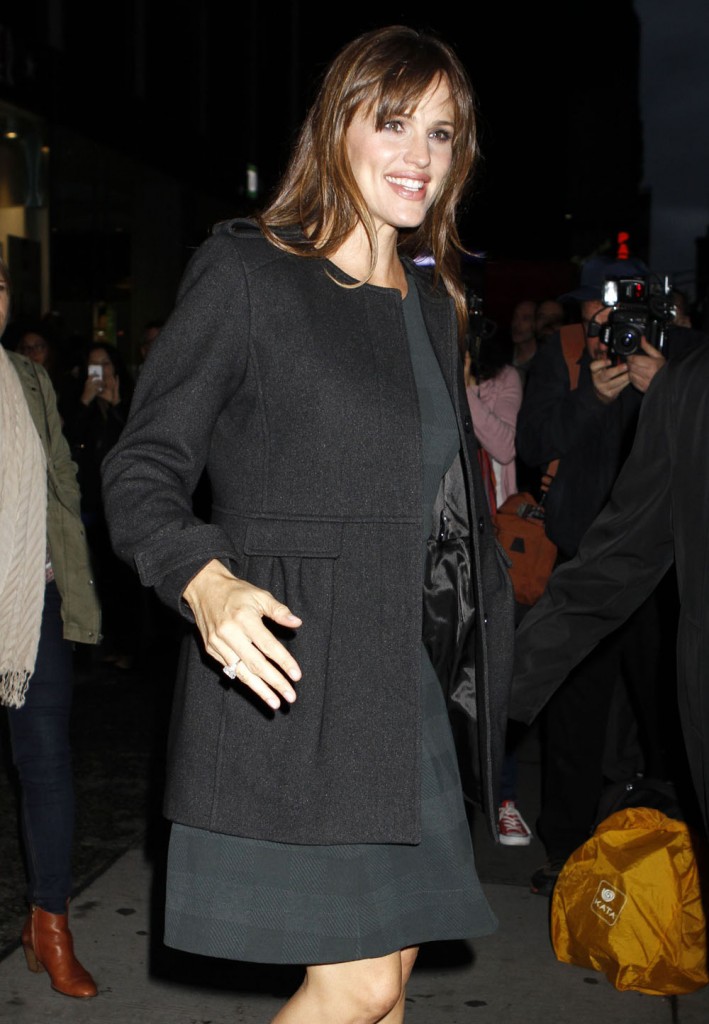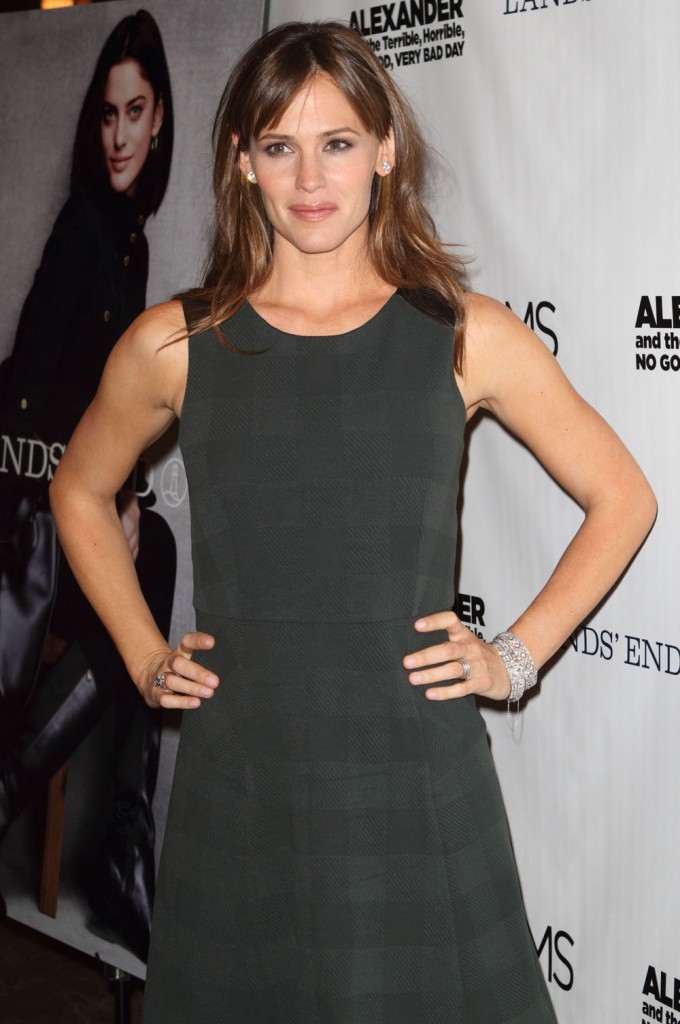 Garner is shown out in NY yesterday. Credit: WENN.com and FameFlynet