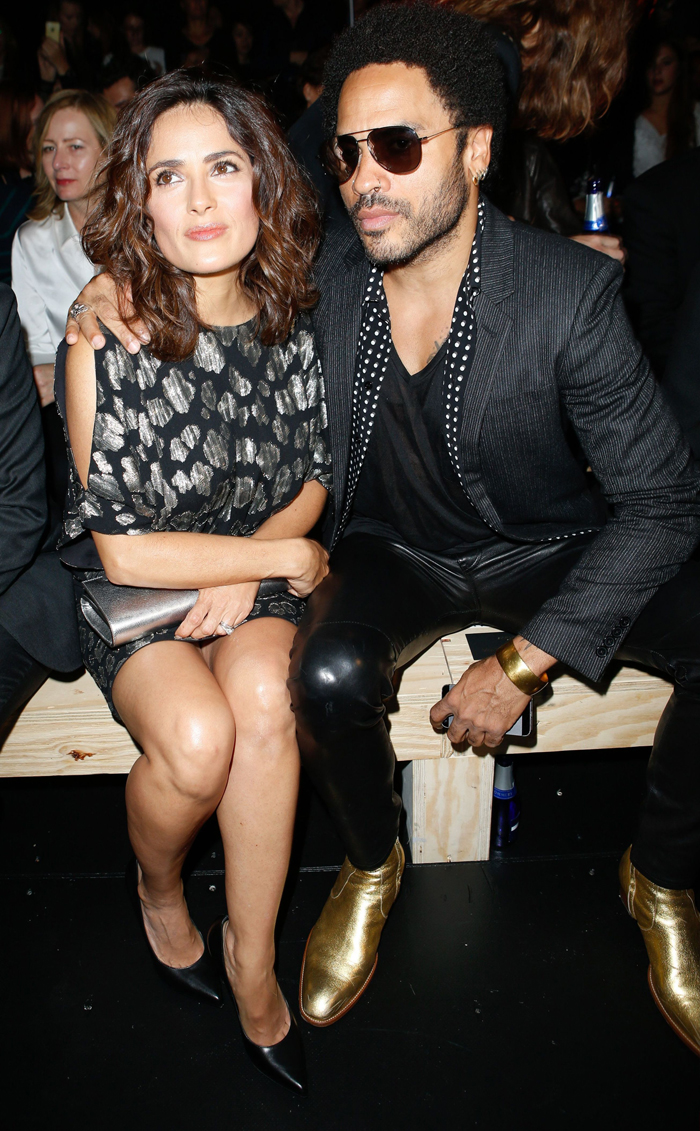 Here's a photo of Lenny Kravitz snuggling up to Salma Hayek at Paris fashion week. Lenny's wearing his magnificent gold boots that are his favorite lately. (He wore the boots to perform for Letterman last week.) Francois Pinault (just outside the frame) must be the most secure husband in the world to let the most sensual man in the world touch his wife.
Lenny oozes raw appeal, and he's promoting his new album, Strut. He's done several interviews, and I'm going to highlight a few of them here. Starting with a quick mention of The Telegraph's silly headline: "Jennifer Lawrence inspired album, says Lenny Kravitz." This must be the clickbaitiest headline of the month. What Lenny actually says is that he wasn't planning on writing a new album for years. He wanted to concentrate on acting instead. He had downtime during The Hunger Games and spontaneously decided to write some songs. The music "just poured out of him."
Lenny did a "This Much I Know" feature for The Guardian, which came out really well. Lots of lovely little tidbits here:
Growing up, I had no knowledge of prejudice. My father is Russian Jewish, my mother is from the Bahamas. I was raised in both the Brooklyn hood and the Upper East Side, in Christianity and Judaism. It was the road map for my life.

I grew up around Miles Davis, Maya Angelou and Nina Simone. This was New York in the late 60s and my mum was a hugely respected theatre artist. Everyone hung out at our house.

Profound moments can start at an early age. I remember being at my grandmother's house and a balloon I was playing with slipped out of my hand and floated into the sky. It was the first thing that left me and was never coming back.

I miss my dreadlocks. I see old pictures and think: "Damn, why did I cut them?" But change is healthy.

Learn your craft, whatever it is. Today everybody tries shortcuts, always choosing instant gratification. It doesn't work that way — it's about building a solid foundation.

Sex is best when it's rooted in love and commitment, but it's always powerful.

I was scared of my father. He was a former Green Beret, and a heavy disciplinarian. But as you get older you soften, and later on in life we got close.

There comes a point in any relationship where you're tired of it, or bored, imagining things better or different. That's when the work comes in. Devotion is willingness to work, to grow something.

I don't cry much. I internally process things. But when I put down my dog, Otis, because his heart was too big, oh man, I lost it more than I do for people.

It's a privilege to become a parent. My daughter [actor and singer Zoe Kravitz] is my best friend. If we're not together we're on the phone several times a day. I'm so proud of the human being she's become.

I don't think about being a sex symbol or being "cool." At school I was not the guy getting the girls, believe me. And I don't see myself as cool. Generally I'm goofy and ridiculous.
[From The Guardian]
Damn, the balloon quote hits hard. I still remember the little red balloon my daughter lost to the wind when she was 4 years old. She watched it disappear into the sky and wept bitterly. My dad felt so bad that he went and bought her another balloon that evening. The part about his dog was a hard read too. Lenny's answer is a simple one, but he infuses his words with so much emotion. By the way, I don't believe that he's not "cool." He's the coolest of the cool. He can wear a hallway rug as a scarf and still look cool. Lenny is fooling nobody with this "uncool" talk.
Lenny also sat down with Rolling Stone to discuss the new album. He takes the journo on a walk through his old Brooklyn neighborhood. Lenny raves about the cherry cheesecake of his youth. Then he watches Zoe at a gig with her band. Anne Hathaway shows up and fangirls Zoe. It's pretty cute. Lenny reflects, "That is the life I lead. All these contrasts."
Back to fashion week pics. Seriously, Salma Hayek must be made of steel.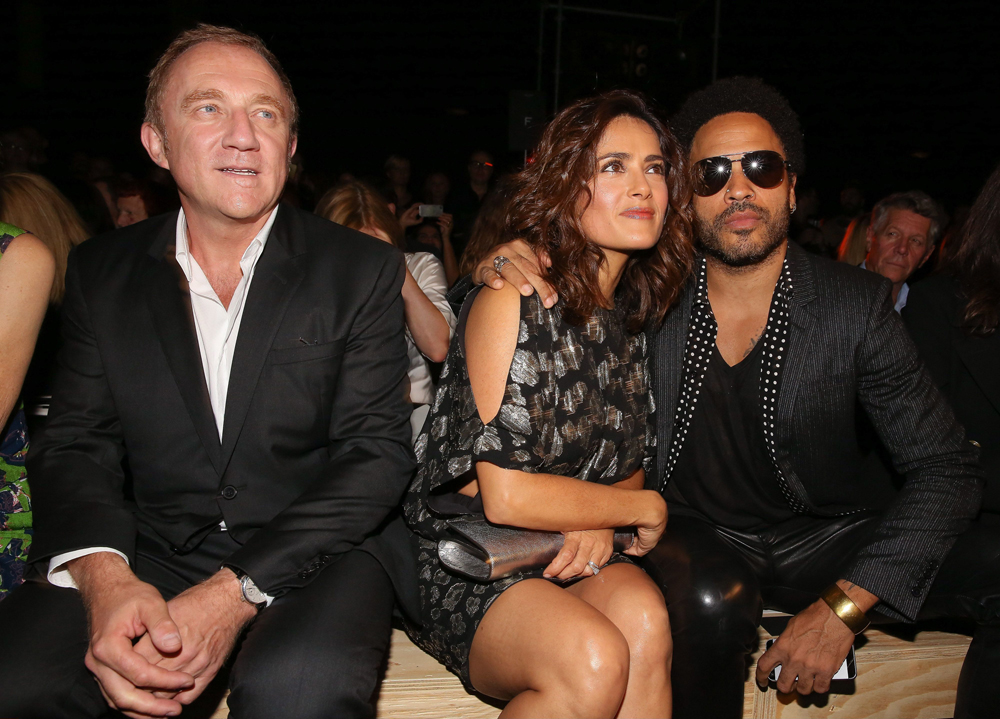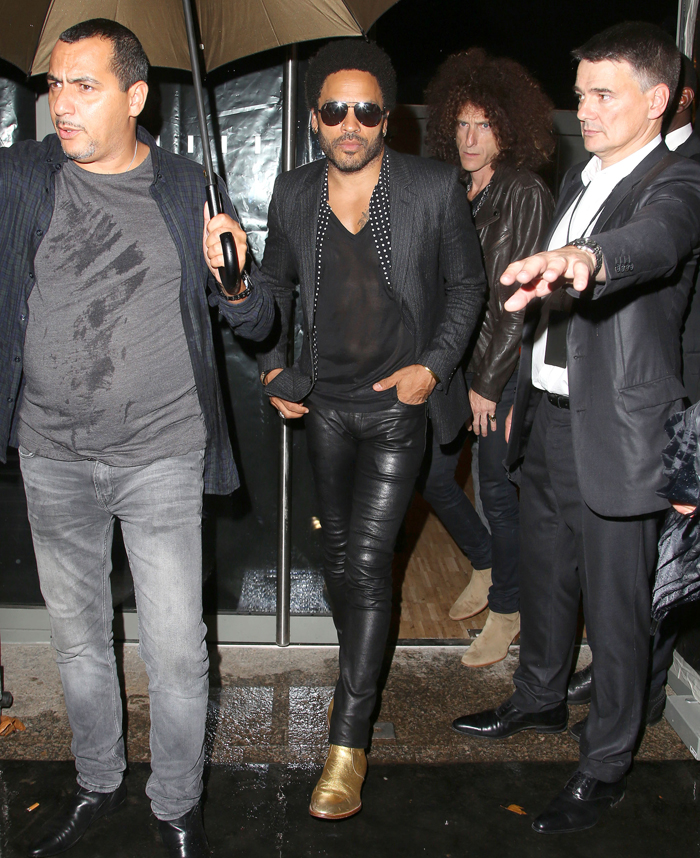 Photos courtesy of Fame/Flynet & WENN