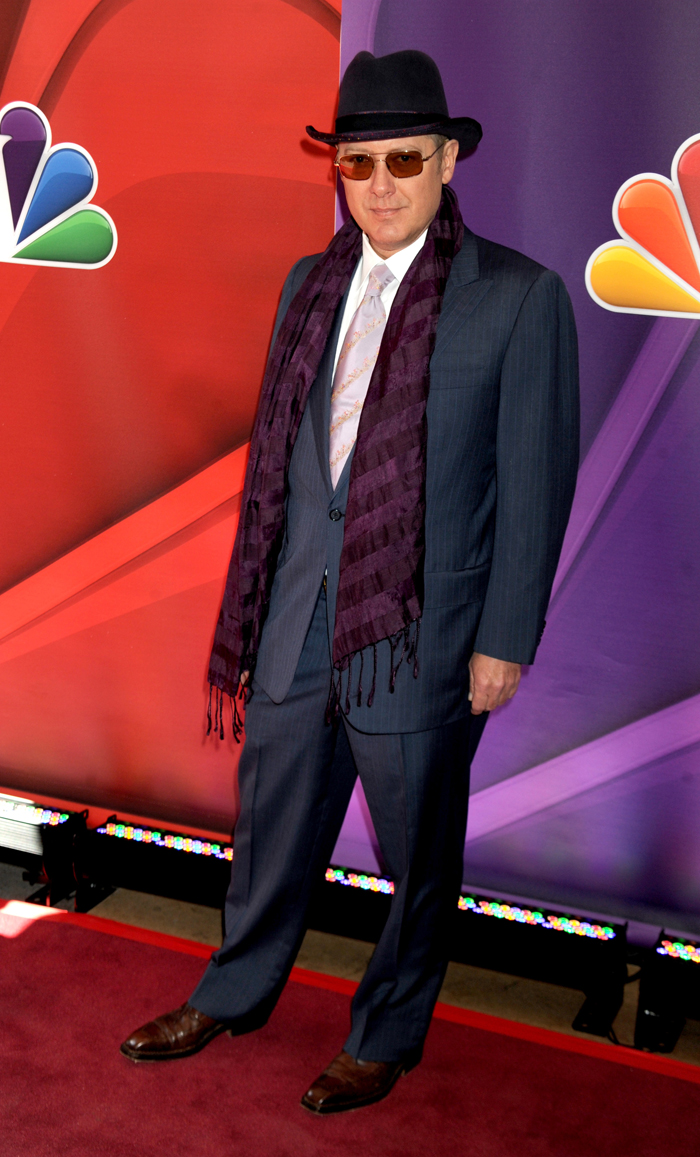 James Spader did an interview with the Guardian to promote the second season of The Blacklist. I've caught a few episodes, but the show hasn't grabbed me. Spader plays Red, an ex-government agent who turns into one of the FBI's Most Wanted. He cuts a deal to help the agency catch really bad guys. The show is immensely popular and a solid hit for NBC. What's even better is that the audience skews young, which is unexpected. Spader has always appealed to children of the 1980s, who loved watching him play the bad boy Pretty in Pink. Now he appeals to a new generation, who will also flock to see him as the biggest baddie in Avengers: Age of Ultron.
I once fell in adoration with Spader after watching him as a yuppie douchebag, a dirtbag lawyer, and a guy who loves to spank women. Somwhere along the line, he lost his luster for me. Maybe it's the newfound fedora and scarf fixation? Not sure. He still has some interesting things to say in this interview:
On the death of cinema: "There is no legacy in film any more. I am not so sure that even classic films really live on now — and that means ultimately that maybe film is really an entertainment, or a provocation, just for a specific time. People don't have access to classic films, but it is worse than that. A few channels on television still play classic films, but with the closure of revival picture houses and the closure of video stores with classic film sections, there is no film heritage. The era of classic films has ended."

His film education: "I grew up on a boarding school campus and there was a guy there who ran a film club that was available to students on campus and to faculty children of a certain age. Every other week he would rent a print of a film and screen it. So I was able to watch a broad spectrum of films from different eras, from an English film like Hobson's Choice to a western like Hud. It was fantastic and completely informed my film-watching experience."

His villainous typecasting: "When I was first finding my way there was a spate of coming-of-age films, but I had already come of age. I didn't find a place in them, except to play the antagonist or the one character in the film who felt like he wasn't an innocent."

Red of The Blacklist: "He is either a good guy who is capable of very bad things or a bad guy who is capable of good things, and that depends on the day."

Violence in The Blacklist: "There are times that I have suggested a level of ruthlessness, or a certain form of decisive action that might be jarring, because I feel that is the world in which this show exists, but there are times when we change something because we feel it is gratuitous. We are very aware that it is extreme at times but, in for a penny … That is the show. That is the world we are depicting. That is this guy."
[From The Guardian]
Is Spader telling the internet to get off his lawn with his talk of classic movies? He laments the loss of video rental stores and revival theaters. I understand missing the revival theater experience, but AMC theaters often schedule matinee screenings of classics. The internet certainly hasn't killed classic cinema either. Netflix, Amazon, and other streaming services have helped many people watch classics they otherwise wouldn't be able to access. Even without a subscription streaming service, the Turner Classic Movies website recycles plenty of classics for free. If anything, the internet has helped extend "the era of classic films." Now if we could only get Michael Bay to stop polluting our multiplexes, cinema could be grand again. Maybe.
Here's Spader on the set of The Blacklist yesterday.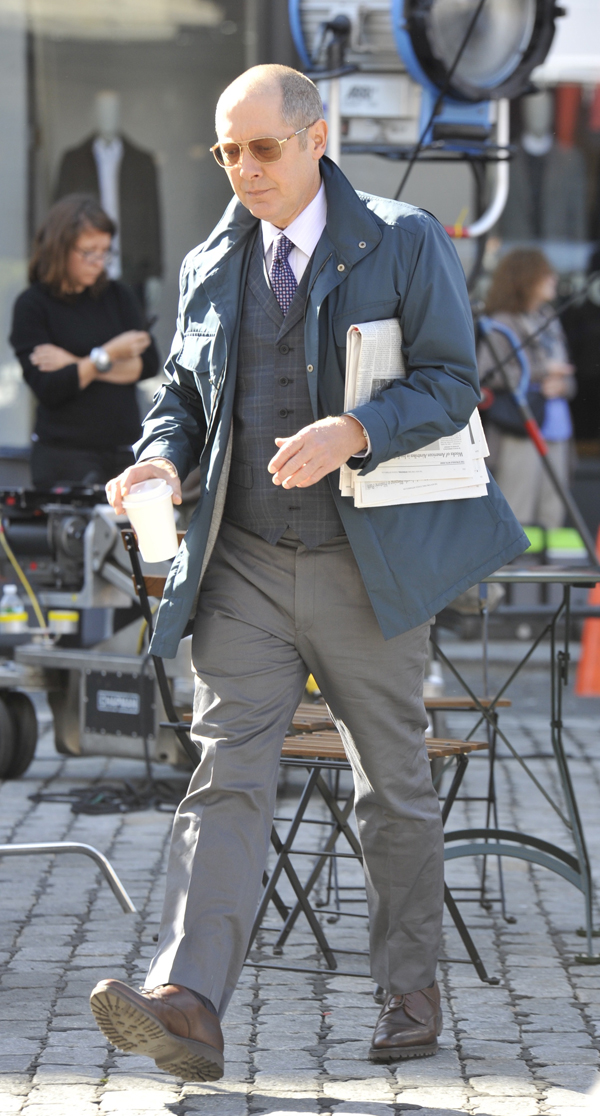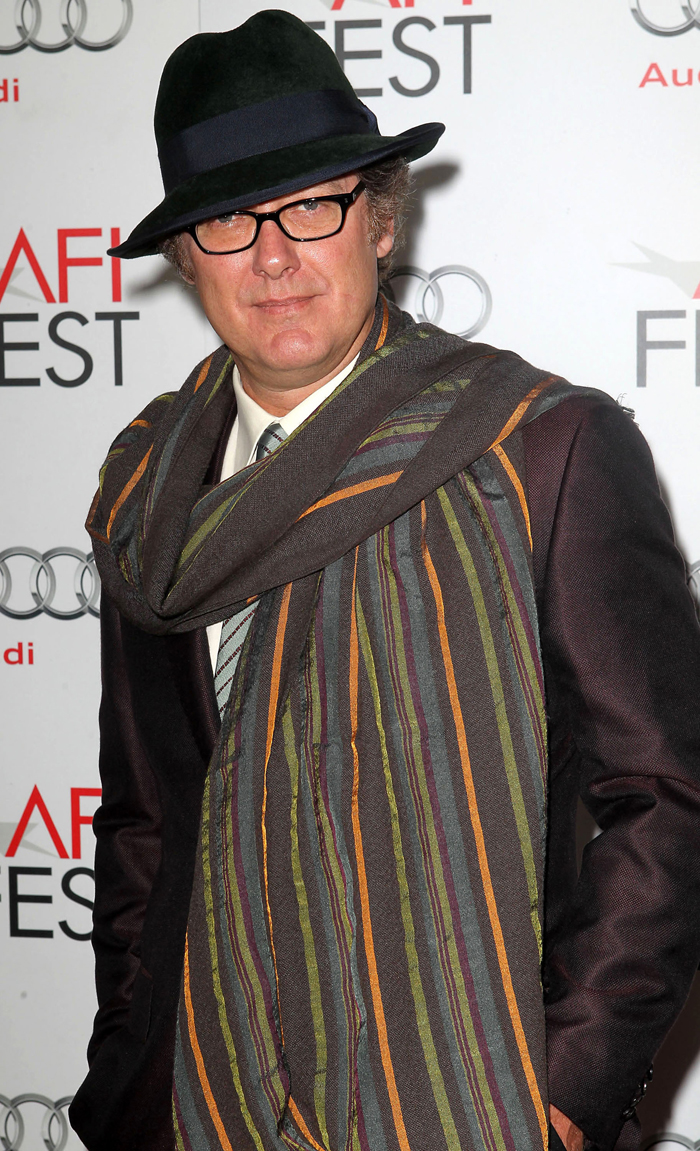 Photos courtesy of WENN