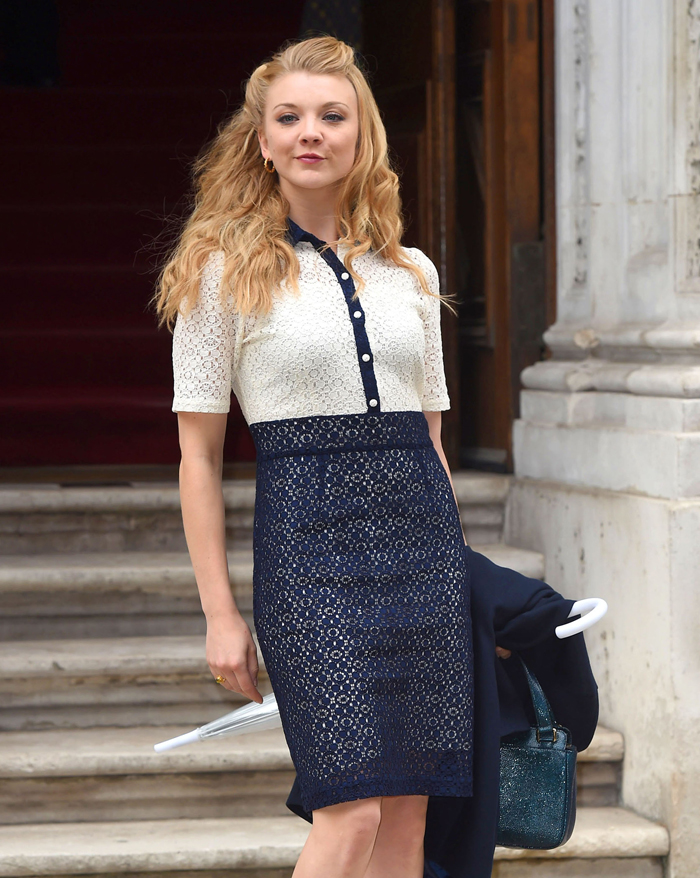 Natalie Dormer has a new interview with The Sunday Times to promote her role in next month's Mockingjay: Part I release. (I can't wait for this movie.) Natalie always delivers, and she looks super fierce with her half-shaved head for this role. She says taking on the part of Cressida is a welcome change to playing queens and random, smoking hot blondes.
Natalie rails a little bit in this interview. She talks about how drama school doesn't teach actors to deal with interest in their private lives. That's a common complaint. I think most actors are thrilled with initial fame before reality sets in. What I find more worthy of discussion is Natalie's sensitivity about her looks. This is completely understandable because actors are under such a microscope. Natalie was always taunted for her "lopsided mouth," and it remains an issue in her career. Her publicist even told her to stop "doing that smile." Really? That's awful. Natalie's wry smirk-smile is one of the coolest things I've seen on a red carpet. She's a natural badass, but she's not immune to criticism:
Criticism of her smile: "It really bugs me the way people criticize how actors look. We're not models. Models exist. I get accused of having a haughty smugness. I have a lopsided mouth. I can't help it. I was born with it. It looks as if I am smirking. I have had my publicist tell me, 'Don't do that smile on the red carpet.' I'm, like, 'That's my smile.'"

Life as an actress is terrifying: "It's not luck. You have a lot of heartache. The public has a misconstrued idea of how easy it is for an actor to get a job, especially if it is outside their casting remit. I danced until I was 16, so I hold my shoulders back and I'm reasonably articulate. Suddenly people think I can only play strong women. I'd love to play a really weak, pathetic, vulnerable woman, You'd be surprised how much of the industry would then turn and say, 'Oh, Natalie Dormer can't play that kind of role. She only plays queens and strong women.' I'm meant to be a chameleon. This is why I was so happy to get The Hunger Games and run around with a shaved head and a semi-automatic rifle in a dystopian future."

On interest in celebs' private lives: "There is this sense of entitlement, of ownership, that you should know everything about everybody. They don't sit you down at drama school and say, 'OK, you wanna be an actor? You wanna hold the mirror up to nature? And, oh, by the way, the press and 50m people on Twitter will think they have the right to know the details of your private life.'"

Why GoT is popular: "Sopranos in Middle-earth. It deals with all these human truths and absolutes at a safe distance of fantasy."
[From The Sunday Times]
Natalie keeps her private life under wraps, mostly. She's been engaged to Irish actor Anthony Byrne since 2011. They've been too busy to plan a wedding, so we'll see what happens.
It's terrible that Natalie has had to deal with so many rude attitudes about her infamous smile. She says one of her sisters has the same smile, and they've both been bullied for it since childhood. I think Natalie's smirk is awesome! It sets her apart from the mile-wide grins that run throughout Hollywood. Or even worse, the open-mouthed Kris Jenners of the world. Keep on smirking, Nat.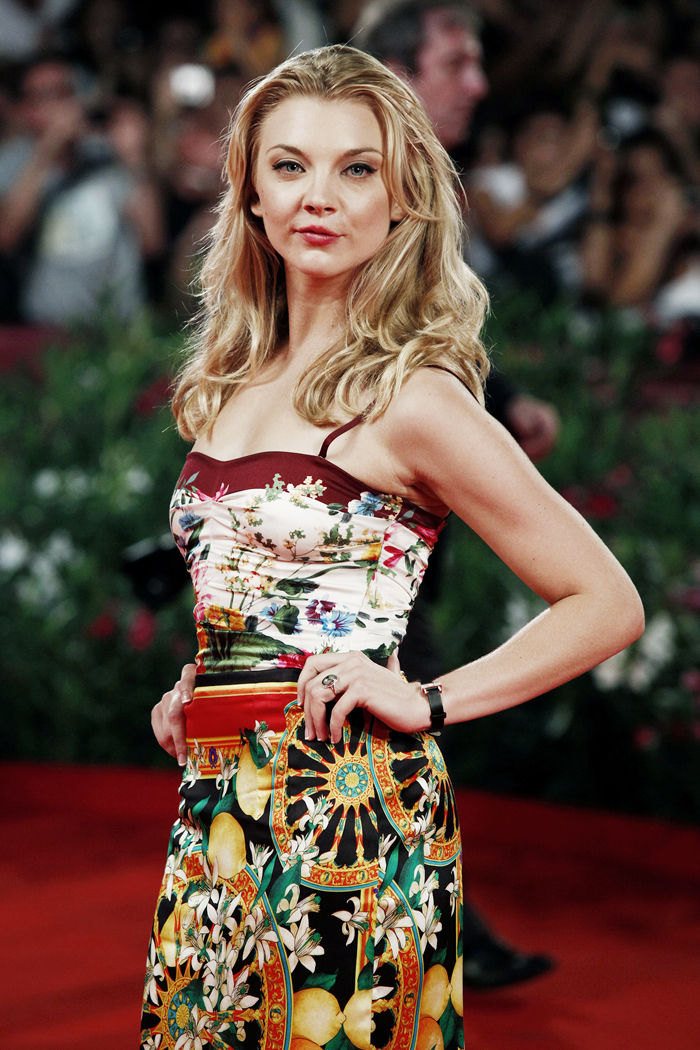 Photos courtesy of Fame/Flynet & WENN