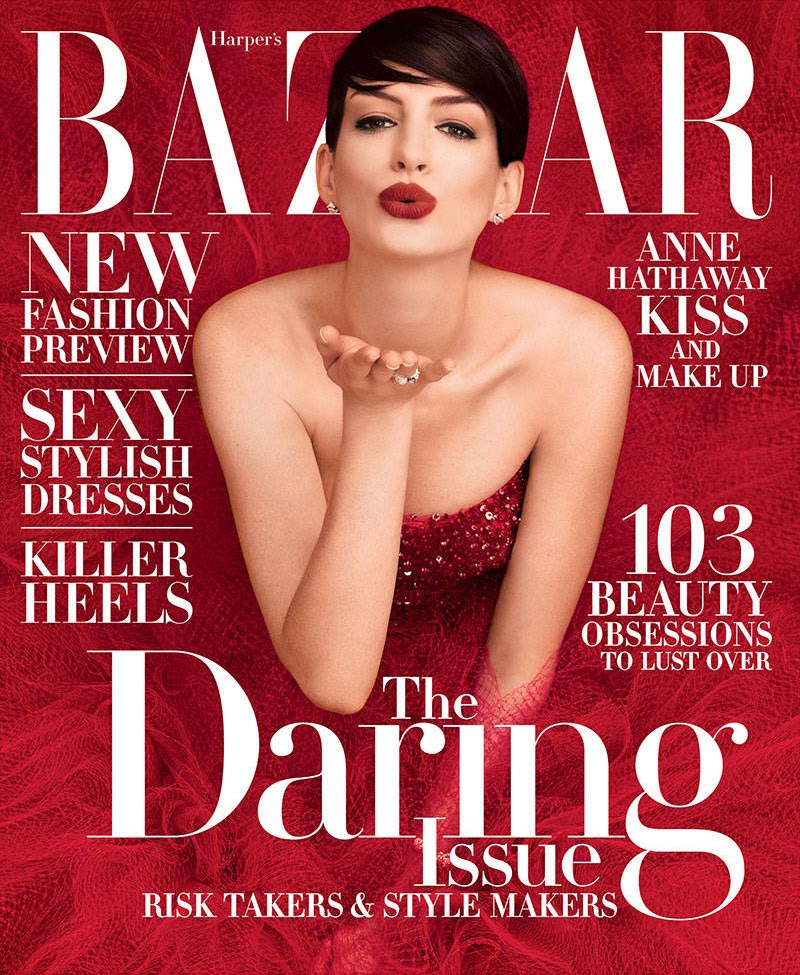 I had forgotten how much I enjoyed a good Anne Hathaway press tour! In addition to covering the November issue of ELLE UK, Anne also covers the American edition of Harper's Bazaar. The editorial blows. Sorry, Bazaar. Anne is pretty, but she's styling-dependent and Bazaar styled her to look like some kind of Katy Perry-Audrey Hepburn hybrid – you can see the slideshow here. In the interview, Anne talks extensively about the 2013 awards season and all of the backlash against her twee-ness, Annie-ness and Oscar Biscuit. Here are some highlights:
Dealing with Hathahate: "What are we supposed to do—pretend like it didn't happen? People treated me a certain way. But I've grown from it. This whole thing has made me a way more compassionate and loving person. And I don't feel sorry for myself."

The awards season for Les Mis: "I damaged my health during Les Mis, which I didn't want to mention in case it seemed like I was courting sympathy," she says. She was exhausted, flu-ridden, and frustrated about the lack of interest in the character and in the issue of sexual slavery. So when Hathaway won the award for Best Supporting Actress, she was "weirdly presentational. One of the things I've been accused of is being inauthentic. And they were right—but not for the reason they thought. I couldn't tie this moment to what I really wanted to say. And that's on me, because Lupita did it."

Learning about the backlash: "Punched in the gut. Shocked and slapped and embarrassed. Even now I can feel the shame. I was in crisis. Now I'd be fine. I really would be. I'd let it roll off my back, but at the time I was still partly Fantine. I was still identifying with being a victim."

The Oscar dress controversy: "I found a dress, like a month before. It was the most beautiful, reflective, shimmery dress—rainbows were going to dance off me." However, the day before the ceremony, Hathaway was called by a tearful stylist's assistant saying that the dress had already been worn. So she regrouped, choosing a gown by Valentino. "I love the house, and he's my buddy. One of my favorite people in the entire world. It all made sense." But that night, at Oscar rehearsals, her Les Misérables castmate Amanda Seyfried showed Hathaway her Alexander McQueen dress. "And it's a lilac version of my dress. Two completely different designers." At 10 o'clock the night before the Oscars, "I didn't have a friggin' dress, which I normally wouldn't care about …" Long pause. "But I really needed a dress, and everybody hates me, and I just really needed a dress."

Directors didn't want her: "I had directors say to me, 'I think you're great. You're perfect for this role, but I don't know how audiences will accept you because of all this stuff, this baggage.'"

She's not a vegan anymore: "I just didn't feel good or healthy, not strong."
There's even more about the dress issues and all of that. I don't know you guys… was it really that bad? Were people really like "OMG, Anne Hathaway is the worst person in the world"? No. They weren't. Last year, we talked a lot about how she was trying too hard and how she was extra-annoying during the Oscar campaign. That's it. It was a matter of degrees and I don't get how an adult woman (she was 30 at the time) would feel "punched in the gut, shocked and slapped and embarrassed" because some people on the internet were like "settle down, chica, you're embarrassing yourself." And if her cardinal sin is that she's dorky and try-hard and "not cool," then just OWN THAT.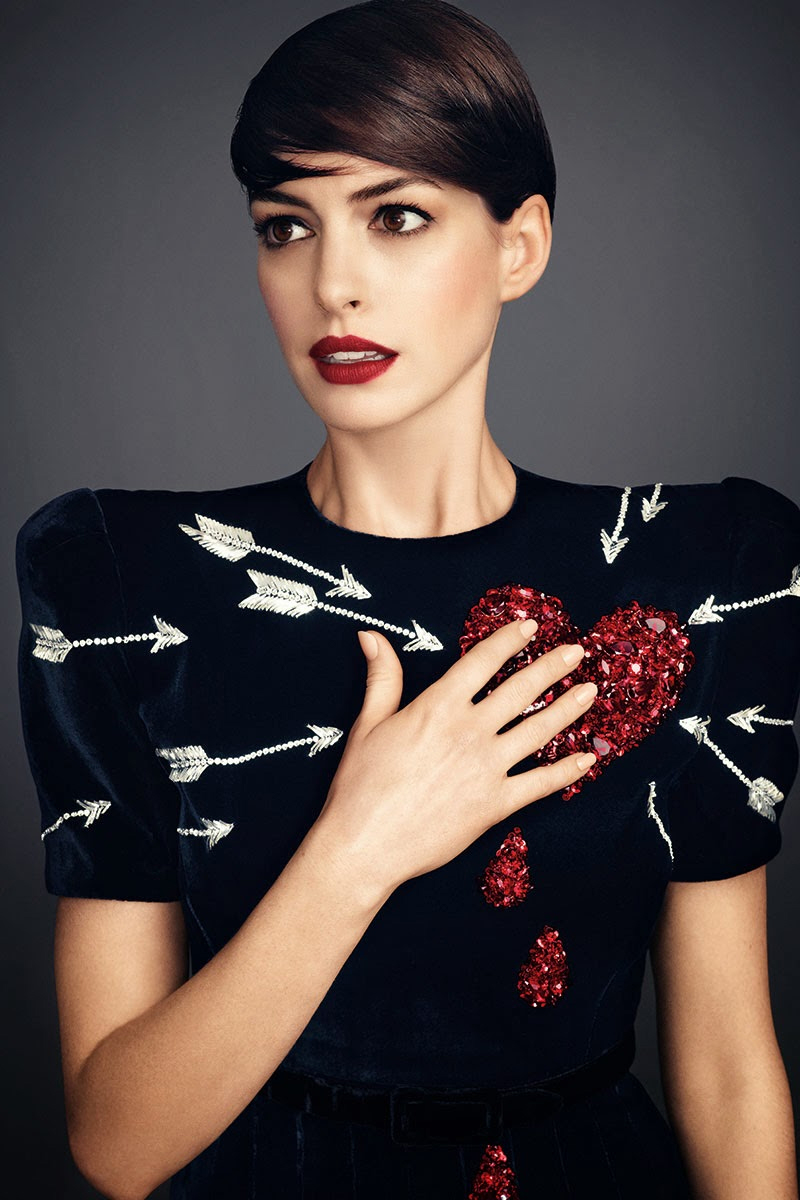 Photos courtesy of ALEXI LUBOMIRSKI/Harper's Bazaar.