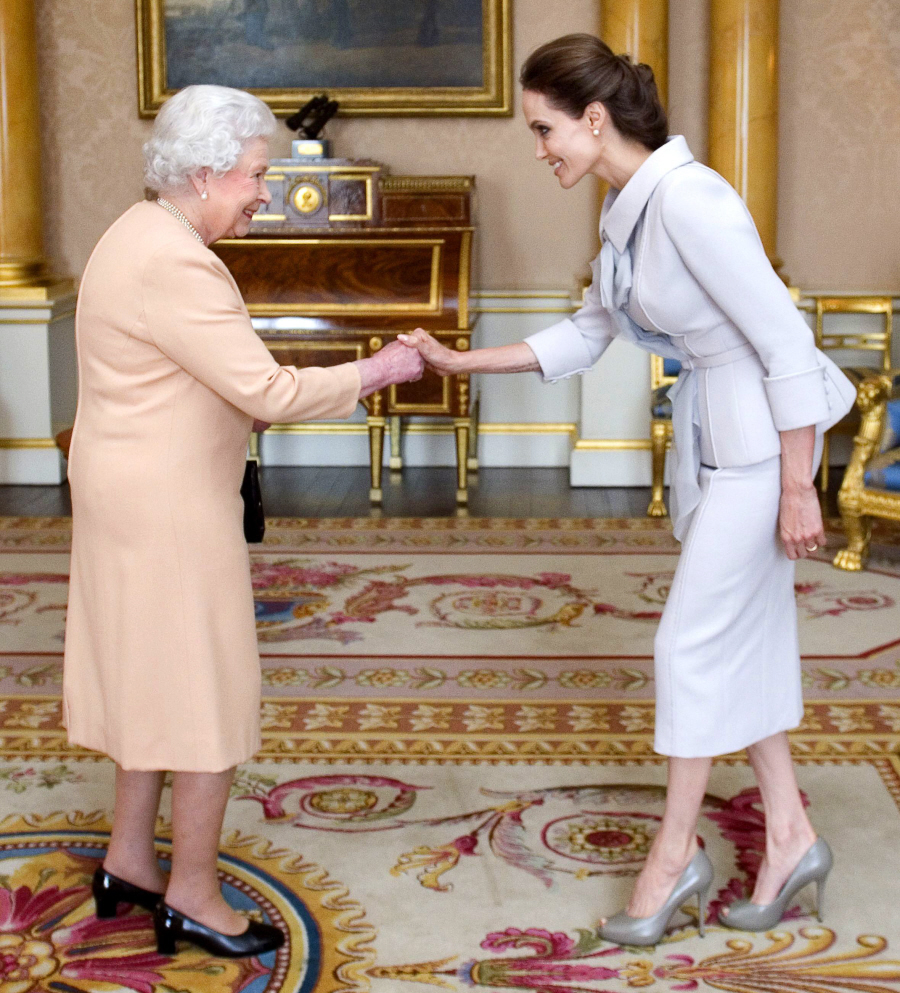 Back in June of this year, Angelina Jolie hosted the Global Summit to End Sexual Violence in London. It was a high-profile event which drew wide media attention and raised awareness to vital issues like war-time rape and sexual assault in conflict zones. In the middle of the summit, the announcement came: Queen Elizabeth was anointing Angelina with a "Dame" title. To be more specific, Angelina became an honorary Dame Commander of the Most Distinguished Order of St. Michael and St. George for extraordinary service to U.K. foreign policy. The Queen gave Angelina the title on the recommendation of William Hague. At the time, Angelina met with Camilla, the Duchess of Cornwall, and I thought that was as good as it was going to get. BUT NO. Today, Angelina went to London to receive her honorary title from the Queen.
Angelina Jolie, the Oscar-winning actress, has been made an honorary dame by the Queen for her campaigning work fighting sexual violence and for services to UK foreign policy. The film star, best known for her role in Hollywood blockbuster Tomb Raider, was presented with the award during a private audience with the Queen at Buckingham Palace.

Jolie was recognised in the Diplomatic Service and Overseas Birthday 2014 Honours list and received the honorary damehood (DCMG) for services to UK foreign policy and the campaign to end war-zone sexual violence. During the audience, the Queen presented the actress with the insignia of an Honorary Dame Grand Cross of the Most Distinguished Order of St Michael and St George. As a foreign citizen Jolie, the co-founder of the Preventing Sexual Violence Initiative PVSI, cannot be addressed as Dame, but receives the award on an honorary basis.

The award was first announced in June during the week when Jolie was co-chairing the End Sexual Violence in Conflict (ESVC) global summit in London with then foreign secretary William Hague.

She said at the time: "To receive an honour related to foreign policy means a great deal to me, as it is what I wish to dedicate my working life to. Working on PVSI and with survivors of rape is an honour in itself. I know that succeeding in our goals will take a lifetime, and I am dedicated to it for all of mine."

Her work as a committed humanitarian runs parallel to her career as a leading actress who has been a huge box office draw for more than a decade. The 39-year-old star has been described by US Secretary of State John Kerry as a "fierce and fearless advocate" and he said her dedication to campaigning could overtake her successful film career as her lasting legacy.
You know what I love? I love that Angelina couldn't get away from the Maltese film production to go to George Clooney's wedding in Venice, but she managed to find the time to fly to London for a one-on-one with the Queen. Dear Angelina: you are perfection!!! She totally curtsied to the Queen too. As one does.
UPDATE: I just added better quality photos! And everyone's saying Brad Pitt and the kids were at the Palace too!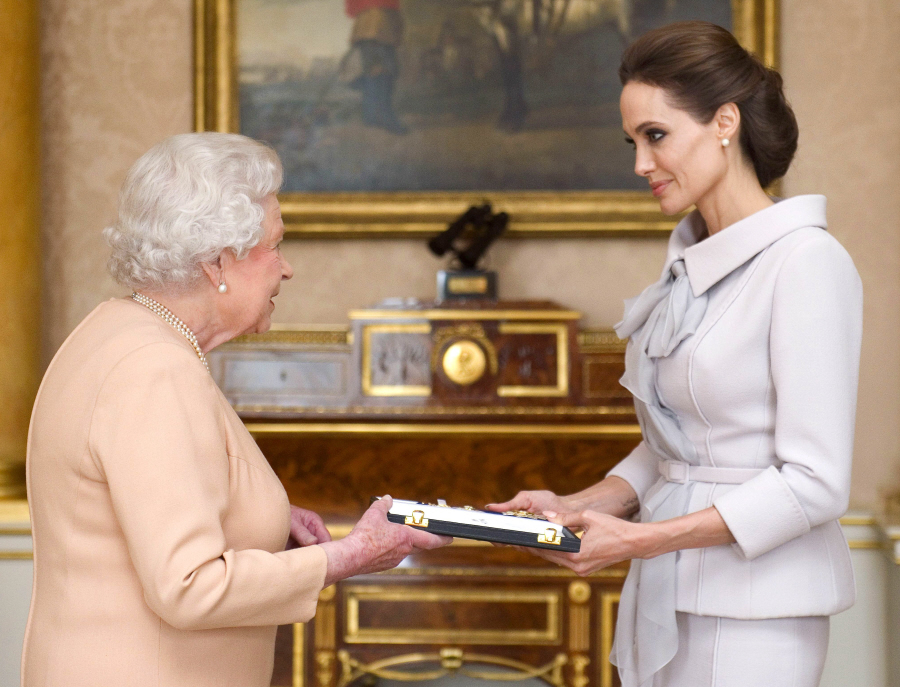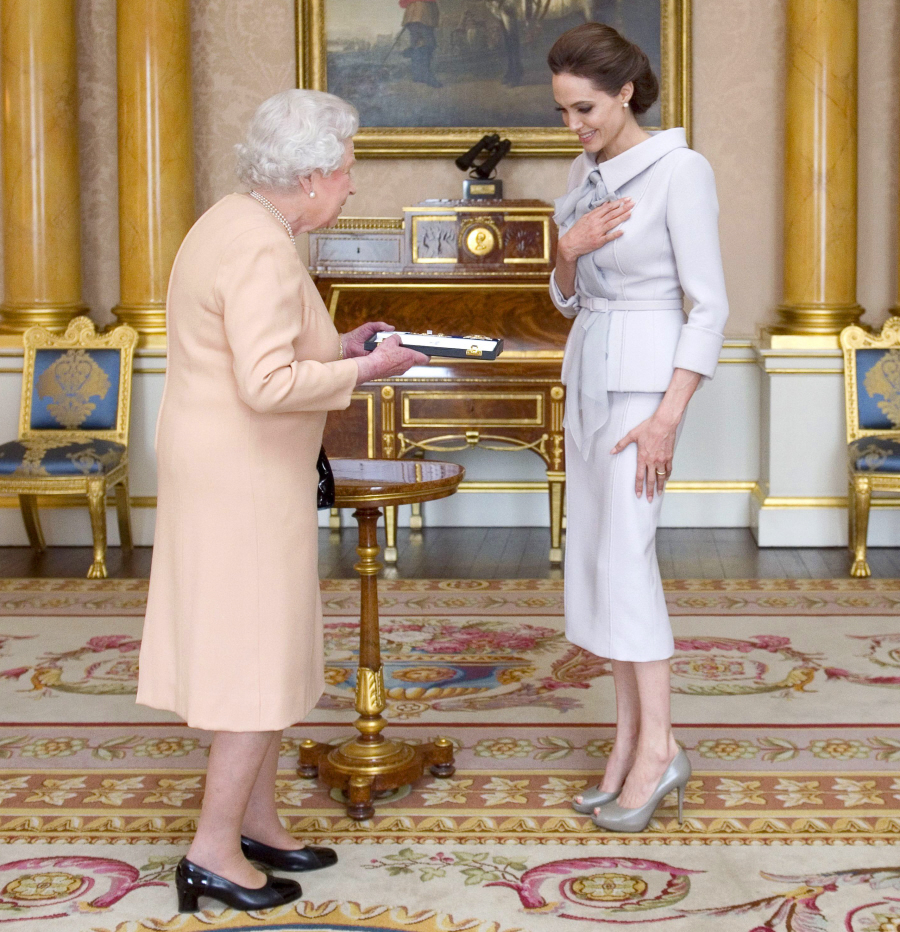 Photos courtesy of Getty, WENN.