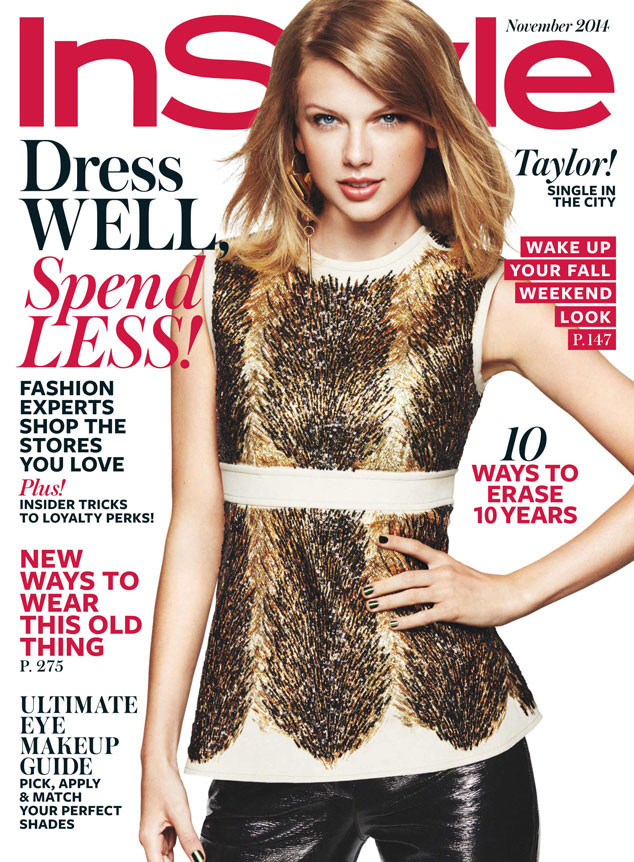 Do you guys remember, back in the day, when Lady Gaga and Beyonce would put out new albums and they would blanket every media outlet with wall-to-wall promotion? Neither of them does that anymore. But Taylor Swift still does. She's probably going to be on a dozen major magazine covers this fall alone, all to promote her new album. Here's the latest: Swifty covers the November issue of InStyle. The cover is blah but the pictorial is decent. The interview is sort of interesting too – Swifty talks about whether she's ready for marriage and babies. Spoiler: she's not ready.
Whether she wants kids: "I don't know if I'll have kids. It's impossible not to picture certain scenarios and how you would try to convince them that they have a normal life when, inevitably, there will be strange men pointing giant cameras at them from the time they are babies."

Marriage: "I'm too young to get married. Not agewise, but I know myself, so why try to meet someone right now when I know I'm too young to do something serious?"

Her girlfriends: Her "group of friends" are "the most important thing to me right now…They are so fun and know me and like me for who I actually am. It's really wonderful to have someone like Lena Dunham in my life. We have the same responsibility and the same pressure that's on you when you write every single word you end up performing. The last couple of years have been about defining life on my own terms. Being on my own, prioritizing my girlfriends, my family and my music above everything else and trying things I never thought I'd try. It's a really liberating and freeing time."

What it would take for her to start dating again: "It would take an astonishing human for me to even consider getting back into a relationship. It would take something really, really, really, really different—a kind of a one-in-a-million person for me to face all that. I don't have any kind of idea who I'd want to be with, because I don't have any pieces missing from my life right now. I'm not looking for anything to complete. I think that's a nice place to be."
I agree that she's not ready to marry anyone right now, because her brain is still set on "middle school" and that's not great for marriage. But I think her answer about kids is somewhat disingenuous: plenty of super-famous people manage to become parents and raise their children without the paparazzi interfering. Granted, for every low-key Matt Damon, there are like twenty celebrities openly wanting their kids to get photographed. But my point still stands: if Taylor wanted to keep her children private, she could. But right now she's in a "courting the media" phase, so we'll see where she is in five or six years.
Meanwhile, Swifty appeared on Graham Norton this weekend and John Cleese was also a guest. Guess what they have in common? They're both cat people. What happened was hilarious – Cleese does not think much of Swifty's Scottish fold kitty and as it turns out, Cleese is obsessed with his Maine Coon. His Maine Coon is HUGE. That's one of the biggest cats I've ever seen in my life. My mom has two Maine Coons and they're big, heavy girls, but they look dainty compared to Cleese's kitty.
Some photos of Swifty out in London last week – cute sweater, terrible pants.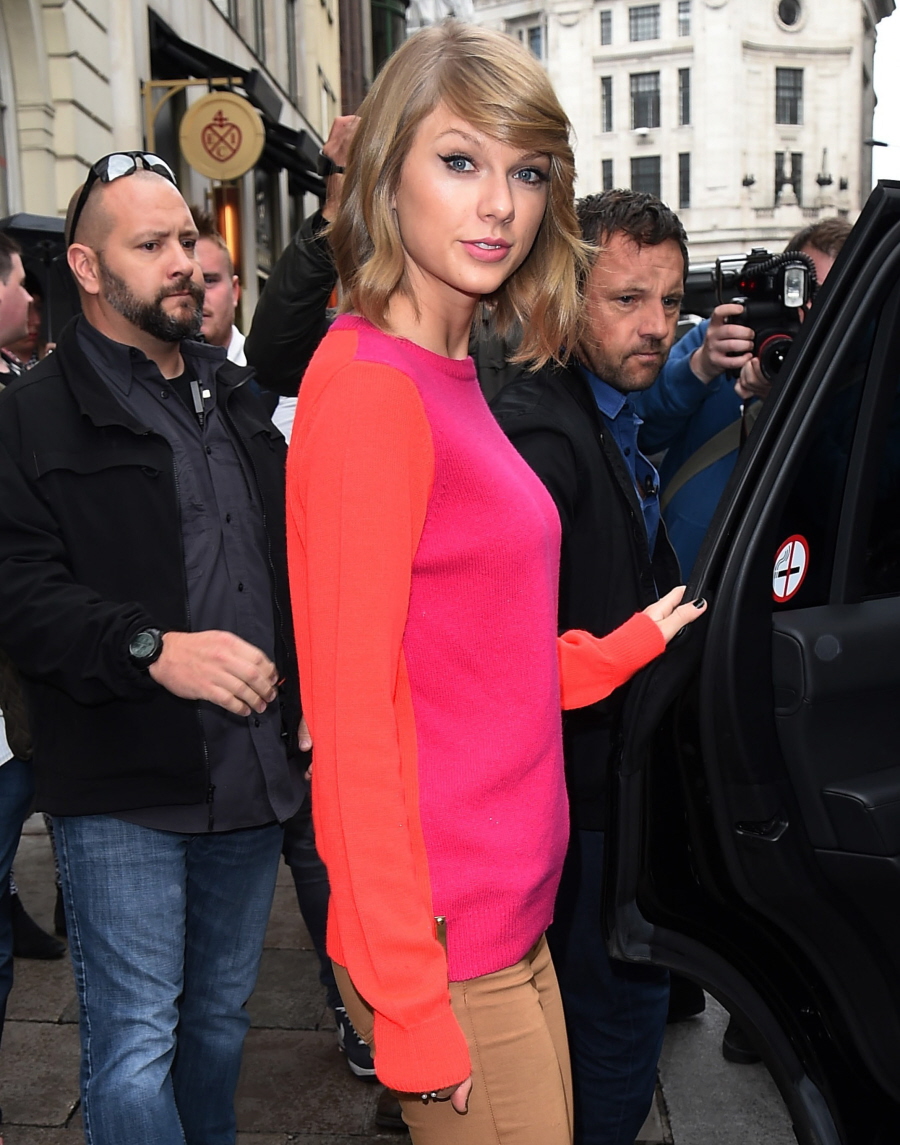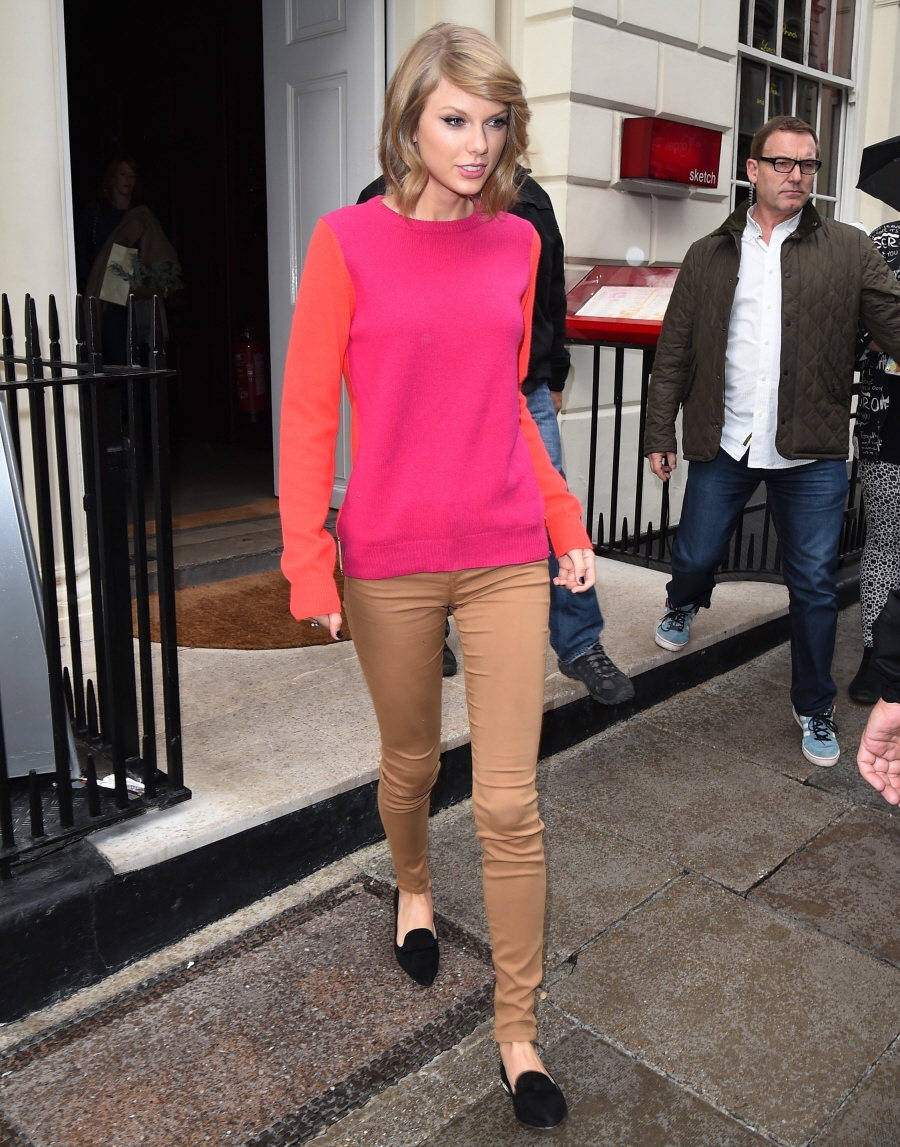 Photos courtesy of Fame/Flynet and InStyle.