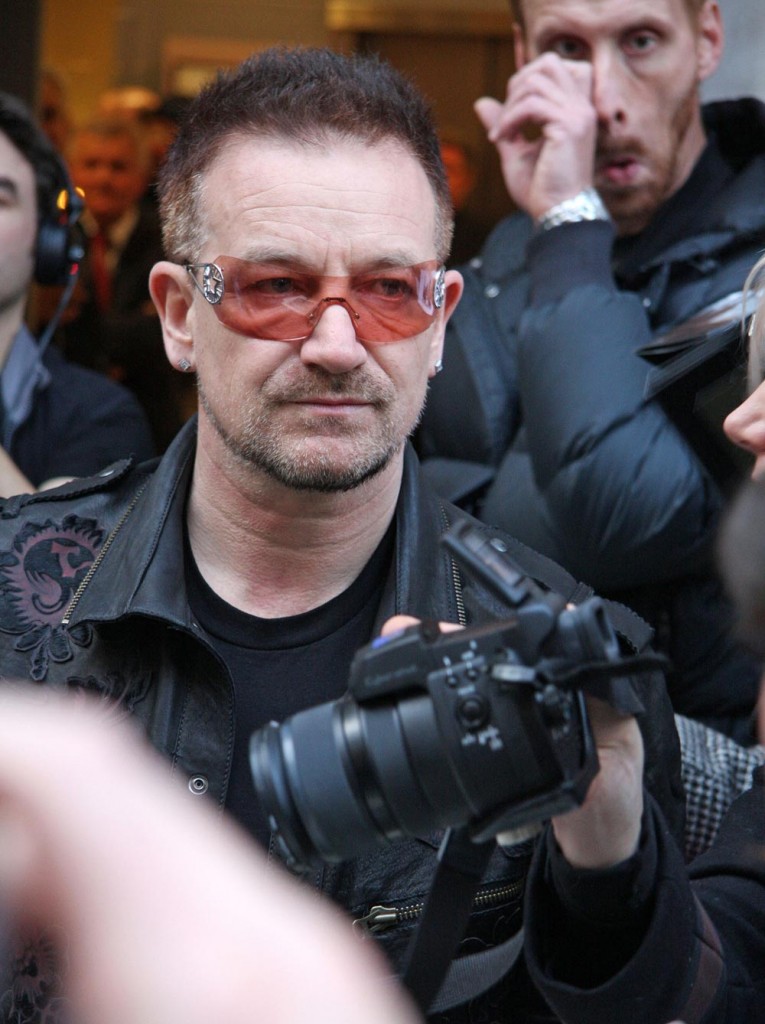 U2's new album "No Line On The Horizon" is receiving rave reviews. Bono's activism, not so much. Reuters reports that in many of the glowing album critiques, critics make not of how Bono's activism annoys them, and takes away from the music. The band did a rooftop concert (like The Beatles, only U2's was announced ahead of time) on Friday that had London at a standstill. The band played some new songs and some old hits, and reports indicate it was a good show.
So if U2 can still come up with good music and give good performances, why all the anger and derision towards Bono and his Africa campaign? This Reuters piece cites a Washington Post column in which the critic blasts Bono's attitude as "strident, sanctimonious swirl of idealism, agenda and ego". Ouch.
Irish band U2 releases its 12th studio album on Monday and while reviews are generally glowing, critics argue that lead singer Bono's dual role as rock star and campaigning "saviour" may be meddling with the music.

"No Line On The Horizon" hits the shelves in Europe on Monday and in the United States on Tuesday, and, as one of 2009's biggest record launches, will be closely watched by a business seeking to reverse deep declines in album sales.

No one believes U2 alone can save the music industry, just as no one believes Bono alone can alleviate global poverty. But there is plenty riding on the group's first album in over four years being released by Vivendi's Universal Music Group label.

An early contender for biggest record of the year before it even goes on sale, No Line has been described as the band's most experimental album since 1991 and possibly its best since then.

"Simply, what all of this amounts to is the best U2 album since Achtung Baby," wrote Q magazine at the end of a five-star review. "With time it may prove to be better still."
Rolling Stone magazine also awarded it five stars, Mojo magazine four.

U2's last record, "How To Dismantle An Atomic Bomb", sold nine million copies worldwide.

The band spent Friday on a hectic promotional campaign, giving radio interviews, playing a gig to a small number of fans at the BBC's central London offices and later playing on the roof before thousands of fans, some of them from abroad.

U2 played "Get On Your Boots" and "Magnificent" from the new album and, appropriately, "Vertigo". Bono earlier announced the group would go on tour in the summer.

The 11-track album was recorded in Morocco, Dublin, London and New York and the songs tackle familiar themes of love, war, hope, and, perhaps more than ever, being Bono. The U2 frontman has long juggled a dual career of rock superstar and high-profile campaigner, badgering world leaders and businessmen to fight everything from AIDS to poverty.

There are those who feel his mission is beginning to hinder the harmony, alienating potential fans and colouring everything that U2 does.

"It's becoming increasingly difficult to hear U2's music without filtering it through your feelings about the other Bono, that strident, sanctimonious swirl of idealism, agenda and ego," J. Freedom du Lac wrote in the Washington Post. He does, however, say No Line is "at times magnificent".

In a mixed review, Pete Paphides of the Times goes so far as to say: "Next time…Bono might want to use his powers of diplomacy to the benefit of his band."

The singer is aware of the criticism and reports that his own bandmates can find his tireless campaigning irksome.

"It's annoying," he said in a recent radio interview, when asked about his public support for former U.S. President George W. Bush after he pledged money to fight AIDS. "It's not becoming is it? I can take the bottles and the rocks and the embarrassment to my bandmates here, but I'm staying that most annoying of things, a single-issue protagonist."
From Reuters
I remember an interview Bono and Bob Geldof did with CNN International at the 2005 G8 Summit, the one right before the London terrorist bombings. Both Bono and Geldof were basically taking credit for everything relating to anything good (funding, additional medication, microloans, debt relief) that was happening in Africa. That's simply not the way to do it, even if their work contributed, however much, to the charity accomplishments. It was sanctimonious and egotistical, even if I agree with everything that Bono says.
For me, the issue isn't the work the Bono is doing, it's his attitude about the work. It's whether he takes credit for it, or leverages his accomplishments to push world leaders to do more. It's rough to bring up Bono's attitude when reviewing U2's album. If it's Bono's attitude the pisses people off, criticize that, not the music or the issue advocacy.
Bono and U2 are shown performing "on the roof of Broadcast House for a live gig, which closed Regent Street" in London on 2/27/08. Credit: WCI/bauergriffinonline.com