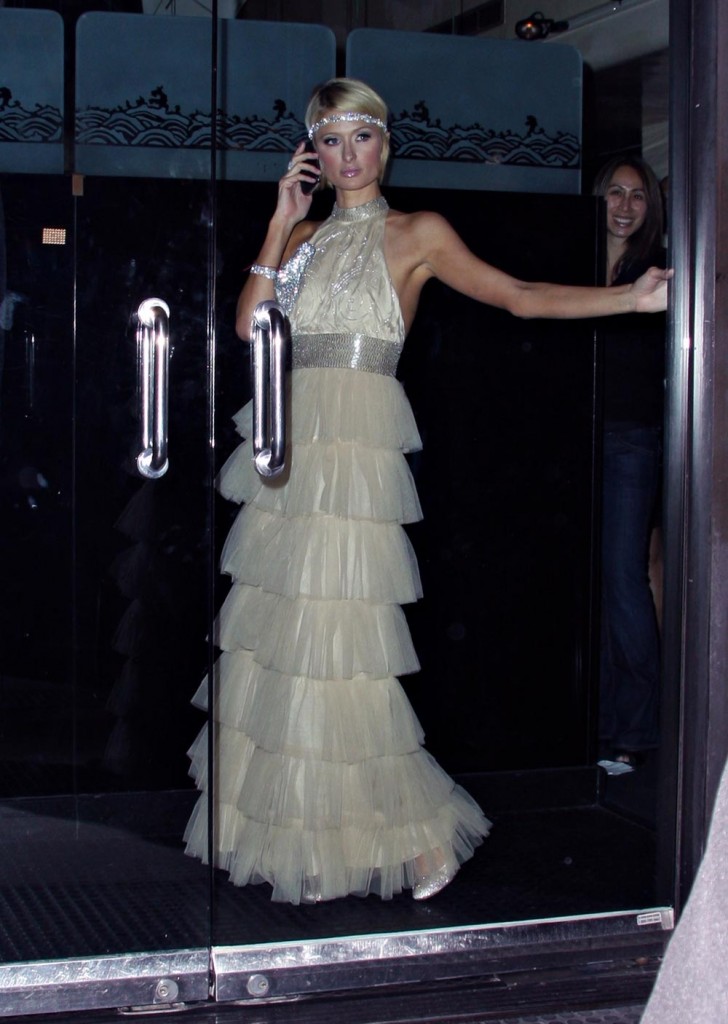 Paris Hilton turned 28 on February 17th, and celebrated (in true Paris fashion) with two parties. The first was at the New York club Butter, which Mickey Rourke unintentionally gatecrashed. He walked into the nightclub with a lady friend, and when a partygoer told him that it was Paris' birthday bash, he replied: ""Who's party? I'm having my own party!"
Paris then flew back to LA and hosted a party in the private club in her Beverly Hills mansion, which is complete with a stripper pole. At least it wasn't installed in her bathroom. She required that all the guests wore pink, though from the pictures it seems few followed her directions, including her sister Nicky. The cake, food, and everything else was also pink.
Stavros Niacharos, Paris' ex, was also present at the party and the two were apparently all over each other until 5 am, when the partying ended. If nothing else, throwing a party at your house makes booty calls convenient.
Noticeably absent from the festivities: Paris' now ex-BFF, Brittany Flickinger.
She gave party-goers only one rule, telling everyone, ' you have to wear pink to get in'.

Revellers ate food and pink cotton candy served by waiters wearing pink wigs.

Among the guests, were Paris Hilton's sister Nicky and her ex Kevin Connolly, American actress and singer Hayden Panettiere, and Justin Timberlake's business partner Trace Ayala.

Paris, who turned 28 on February 17, was also joined by Nicky on the pole for Madonna's Like a Prayer.

To add even more spice to the evening, the birthday girl left raunchy pictures of herself around the room, including one of her tied up nude holding a microphone.

'I had the most incredible birthday party of my life,' Hilton told America's In Touch magazine.

'It was a really special night filled with memories I will cherish forever.'
[from The Daily Mail]
In almost every photo of Paris' party seen on the Daily Mail's site, Paris is swinging on the stripper pole or similarly acting like the center of attention. The party-goers, on the other hand, look almost bored.
Paris reminds me of one of those girls from elementary school who were so bossy on the playground that no one ever had any fun. But unlike those girls in elementary school, people are still paying attention to her twenty years later. Everyone knows that Paris is self-absorbed, but hanging naked S&M- inspired photographs at your birthday party reaches a whole new level. She can't keep doing this forever. But I have a feeling that we're still going to be hearing about her pink-themed pole dancing parties into her 30s.
Paris Hilton is shown outside Mr. Chow on 2/20/09, Credit: Fame and outside Teddy's nightclub with rumored flavor of the week, Doug Reinhardt, on 2/28/09. Credit: WENN