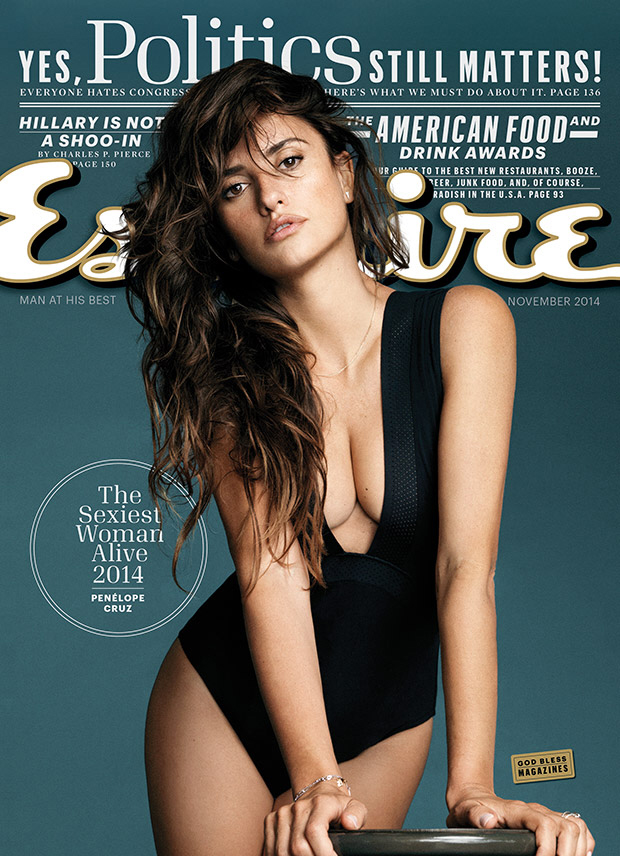 Penelope Cruz has become the 2014 Sexiest Woman Alive, according to Esquire Mag. Esquire's Sexiest Woman Alive feature is usually pretty good – they tend to skew to women in their 30s and 40s, women with a little bit of life experience under their belts. Previous winners include: Angelina Jolie, Mila Kunis, Scarlett Johansson, Kate Beckinsale, Charlize Theron and more. You can see Penelope's sexy slideshow here, and read her interview here. I'll admit… I like Penelope a lot and I think she's gorgeous and sexy. But I hate reading her interviews, especially when it's an interview done by the overwrought writers at Esquire. So I barely skimmed the Esquire piece, only reading enough to know this isn't a typical profile with, you know, quotes. I'm only going with the barest of highlights:
Penelope on her darkness: "I've played a lot of tricks on myself. I've made it hard for me sometimes, especially in my teens and twenties. I had an attraction to drama. Most of us have that, especially if you are an artist—you feel like you are tempted to explore the darkness. I could not be less interested now. For me, the most attractive, charming, cool, fun, interesting thing—how could I call it? A plan."

On her family: "That is for us," she says. She declines to talk about her recent motherhood (a three-year-old son and a daughter who just turned one) except to say that family is everything to her and the reason we have not seen much of her lately.

Her anti-Israel stance: She has asked not to be asked about one of her rare public demonstrations of anticalculus, her controversial signing of an open group letter in the Spanish media condemning the Israeli bombing of Gaza, referring instead—at the table, in person— to a statement released by her publicist as her final word on the subject. ("My only wish and intention in signing that group letter is the hope that there will be peace," it reads in part.)
Sure, okay. As I said, I could look at Penelope all day long but don't make me sit through her interviews! Plus, the Esquire piece was written by some dude who thought he was Hemingway and he spent half the interview talking about a bullfight. Because of course.
As for the Israel thing – Penelope did sign a letter denouncing "Israeli genocide" of Palestinians – you can read more about it here. After several studios threatened to blacklist her for the stance, Penelope issued a clarification that she was merely pro-peace.
Oh, and Penelope turned 40 years old in April. To me, she still looks like she's in her 20s. Crazy.