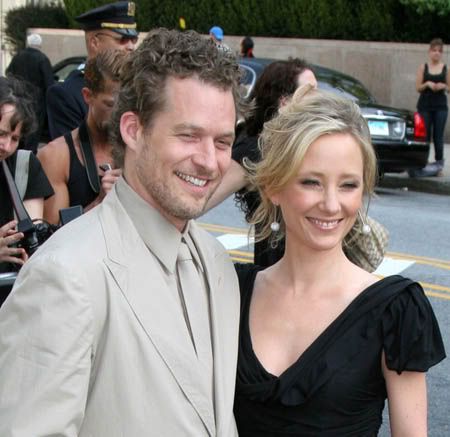 Anne Heche's divorce just got interesting. Her husband has filed for joint custody of their five year-old son, Homer, in a petition which details Anne Heche's poor parenting skills. Her estranged husband, Coley Laffoon, says he's been taking care of Homer since he was born and that Anne doesn't really know how to be a mom and meet his basic needs.
Laffoon says he feeds Homer, makes sure he gets to school and goes out with friends, and ensures that he has a consistent routine while Anne just plays with him and doesn't know how to be a caregiver.
Laffoon says that Heche is delusional and described an instance where she got confused at the LA airport before she was supposed to change planes for Vancouver, where she's filming her show. She called him up and said she didn't know where she was. Lafoon sent Heche's publicist, who was in LA at the time, to find her. She couldn't located Heche, who just showed up in Vancouver the next day and acted like the incident never happened. He wants Heche examined by a psychiatrist to see if she's a fit parent.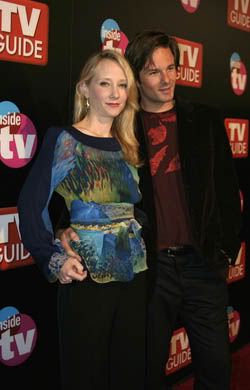 He also details a couple of instances when Anne tried to pit the boy against his father, reducing him to tears and upsetting him. Anne misses scheduled calls with her son frequently, and when she does call it's often hard for the boy.
Homer is just not happy with his mom, he says, and he was particularly distraught after spending 10 days with her in Vancouver with her boyfriend. He had nightmares afterwards, was particularly clingy, and even his preschool teacher said that he wasn't himself.
On March 20, 2007, I telephoned Respondent to advise her that Homer was not going back to Vancouver [after the 10 day visit in which he returned upset and clingy] Respondent then asked to speak with Homer. She asked Homer, "Do you want to go to Vancouver tomorrow?" Homer responded, "Yes." Then, Respondent stated, "OK, then tell your daddy you want him to take you," at which point, Homer began to cry. Respondent then stated, "Your father is mean and doing whatever he can to hurt me. I will lay down my life to make sure this never happens again. I'm sorry your Dad is taking us away from each other."
[Transcribed from court papers available on TMZ.com]
I read through the court papers and they were convincing to me. He doesn't seem to be trying to smear Anne as much as make a point that the little boy needs his dad and is used to being with him most of the time.
He's asking for a whopping $33,000 a month in support from Heche, and she states he's making these claims because she wouldn't meet his demands for $45,000 a month. According to the papers, his expenses alone are at $37,400 a month. Their home is worth $3.15 million and they have two car leases and a housekeeper, gardener and other help.
Heche makes $81k an episode for "Men in Trees," and she should pony up the spousal support. She's the one who cheated on Laffoon, and if he's been staying at home taking care of their son he should be compensated. It also sounds like she wants the boy when it's convenient for her. It's not like her husband is asking for full custody, either, he just wants joint custody.
Meanwhile the National Enquirer reports that Anne Heche isn't doing that well with her new boyfriend, her "Men in Trees" costar James Tupper. Mike Walker's column last week reported that they were arguing loudly over dinner at a Vancouver restaurant, with Anne screaming "You care more about your ex-wife and your damned dog than you do about me!" She was then said to have thrown Tupper's cell phone at him and to have stormed out.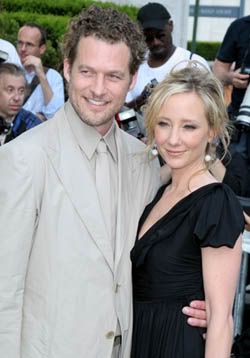 Anne Heche and James Tupper are shown at the ABC Upfronts this week. Heche and Lafoon are shown in an inset image from the NIP/TUCK 3rd Season Premiere in September, 2005. Pictures from Photorazzi.