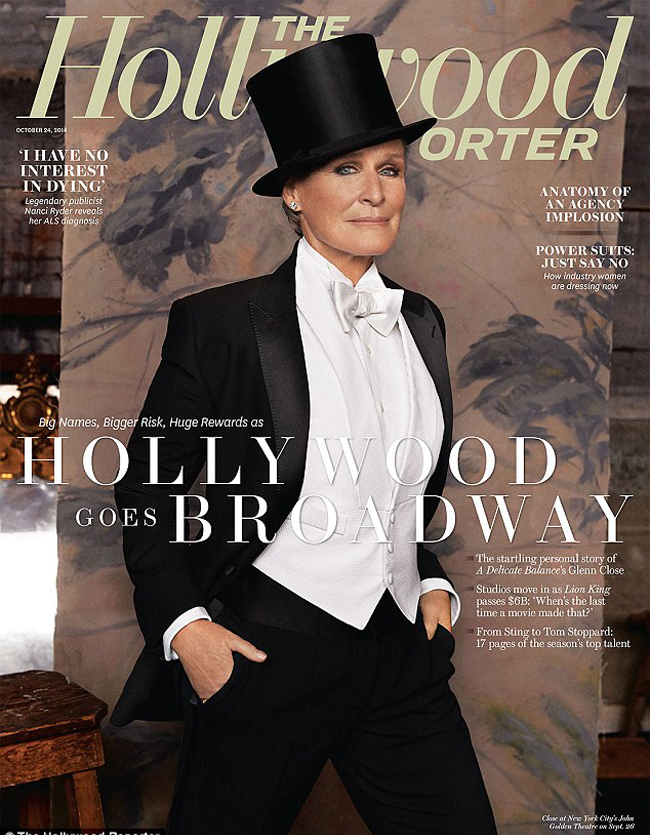 Glenn Close covers this week's issue of the Hollywood Reporter. She's hitting Broadway for the first time in two decades and is promoting her role in Edward Albee's A Delicate Balance. Glenn has already won three Tony awards in her lifetime, and she'll probably land a few more. Glenn is, of course, also a legend in cinema. Most people hear her name and instantly think of Fatal Attraction or 101 Dalmations. My favorite Glenn Close performance was in Dangerous Liasons.
This interview is interesting but not as sensational as I'd hoped. Glenn reveals that her family got sucked into a cult when she was 7 years old. Her dad, a brilliant, Harvard-educated doctor named William Close, somehow fell for the Moral Re-Armament (a right-wing religious cult that went by "MRA"). William was one of the doctors who fought Congo's first major Ebola epidemic in 1976. In that epidemic, 300 people died before the virus was contained. We know what's happened in the years that followed.
Glenn talks a lot about her time in the MRA cult. She also reveals how she was able to forgive her father:
Her muted love for flowers: "I love peonies. I'm not a gardener, so I try to keep it as simple as possible with perennials so there's not a phalanx of gardeners going through the house."

Returning to the stage: "[Producer] Scott Rudin sent me piles of scripts — Noel Coward, everything. He thought rather than a 'star' vehicle, it would be best to come back in a really challenging ensemble. I liked that idea. We honed it down to A Delicate Balance because it's everything we wanted: an incredibly challenging play, where you have to have a seamless ensemble to pull it off. And it's about language. It's challenging and risky."

Life in the MRA: "You basically weren't allowed to do anything, or you were made to feel guilty about any unnatural desire. If you talk to anybody who was in a group that basically dictates how you're supposed to live and what you're supposed to say and how you're supposed to feel, from the time you're 7 till the time you're 22, it has a profound impact on you. It's something you have to [consciously overcome] because all of your trigger points are [wrong]."

The cult's aftereffects: The cult's impact was so great, says Close, that for years "I wouldn't trust any of my instincts because [my beliefs] had all been dictated to me. I haven't made a study of groups like these, but in order to have something like this coalesce, you have to have a leader. You have to have a leader who has some sort of ability to bring people together, and that's interesting to me because my memory of the man who founded it was this wizened old man with little glasses and a hooked nose, in a wheelchair."

Why she's an actor: "I'm compelled to do what I do. Just like my father was. He was never taught how to express himself emotionally or was never around anyone who let him know that was OK. As children, you don't love naturally. You have a natural sense of survival, but love has to be taught."

On forgiving: "I always thought, the way life works, the burden of forgiveness is on the child. That's the way it goes. Forgiveness is probably the most revolutionary concept there is right now in our world. Because without forgiveness, you just perpetuate what has been before. You [have to] say, 'It's going to stop with me.'"

Her anxieties: They're there when she admits to being "kind of a recluse" who immerses herself in books, rarely watches television, and notes, "I wouldn't say I'm naturally social." They're there when she discusses the years she has spent in therapy herself. "I've had it over the years. And there's still somebody I talk to if I need to. It's very helpful."

Lifelong effects of a cult: "I'm very gullible."
[From Hollywood Reporter]
What a sad portrait that Glenn has painted. Her experience in a cult sounds very hollow and filled with anguish at the same time. I'm glad she and her family got out. Glenn says that once she found the strength to leave, the MRA did not follow. That's a relief.
What do you think about Glenn's statements on how children must learn to love? I can't identify with that because every baby I've known has been happy and instantly full of love. But these are children that were loved from the very beginning of their lives. Glenn's childhood was interrupted by an insidious organization, so she had to relearn to love. And to forgive. She says she wrote a very long letter to her father before they were able to mend their relationship. Thank goodness it was possible to do so.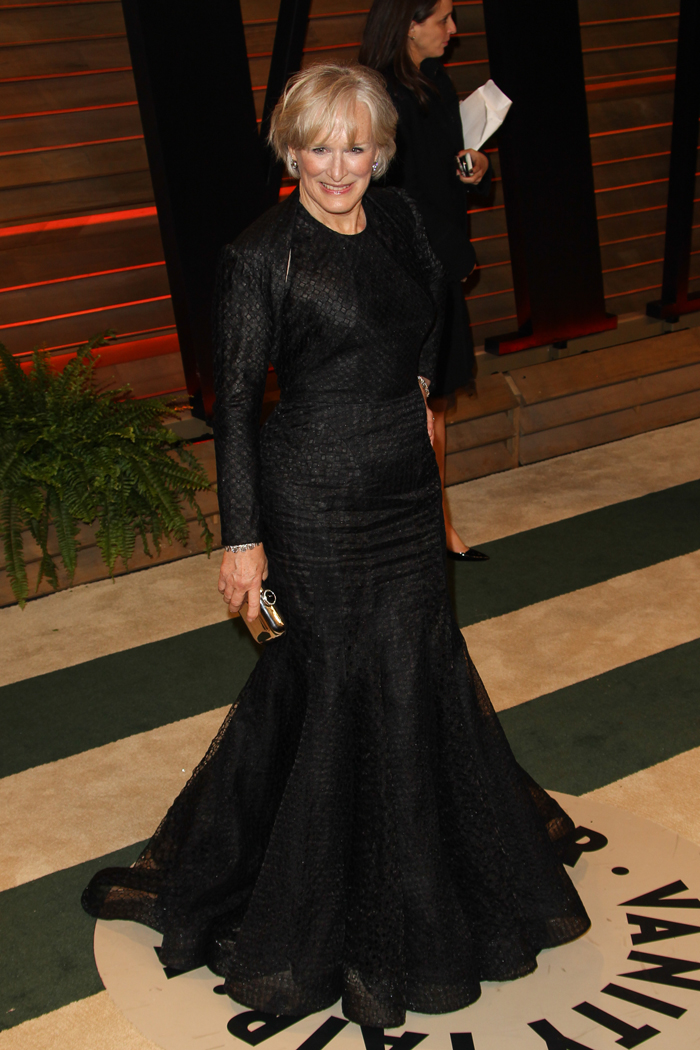 Photos courtesy of Hollywood Reporter & WENN