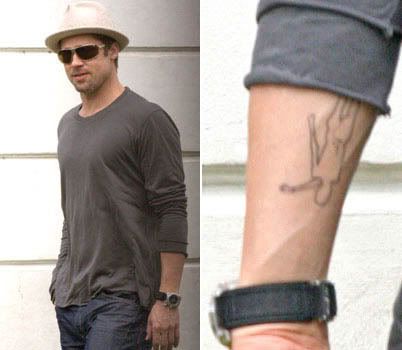 Brad Pitt sported a new tattoo on his inner left forearm of an outline of Angelina Jolie's Tomb Raider character. Sky Showbiz points out that he was seen out with the tattoo yesterday, and I've tried to find the high resolution versions to no avail. I did find some pictures from 5/14 that show that same arm without the tattoo, so it seems to be recent. Note: This is no longer true, I found pictures from 5/14 with the tattoo, as shown below.
Last March Pitt was seen with a tattoo on his lower back that was said to be a Sanskrit Buddhist blessing meant to protect his adopted son, Maddox. It is similar to a tattoo that Angelina has on her back.
Angelina has many tattoos, including the coordinates of Zahara and Maddox's birthplaces, a large tiger on her lower back, and the inscription "Know your Rights" on the back of her neck.
That's a cute new tattoo that Brad's sporting and I'll be looking for a better picture of it.
Yesterday a story came out that Angelina said "Parents do separate" when talking about Brad Pitt. The quote was taken out of context, and she said a lot of flattering things about Pitt and their family in the interview, so it seems to be the tabloids making up a story where there is none.
Thanks to SkyShowbiz for the pictures and story.
Update Here's a picture from 5/14 in which the side outline of the tattoo is visible on his forearm. I've been pouring through pictures and he's been wearing long slevees so it's hard to find. The tattoo is real and is not Photoshopped, as someone speculated in the comments. Thanks to Splash News for this picture. There are three versions with closer views below.
Update 2: Thanks to eagle-eyed commentor Alison, who points out that the tattoo is an outline of the iceman, Ötzi, who was found in an Italian glacier in 1991. He is thought to be around 5,300 years old and is Europe's oldest natural human mummy. A picture of the outline of Oetzi from the South Tyrol Museum of Archeology website is show to the left. Thanks again to Alison for this link.
The tattoo does bear a resemblance to the swinging ponytail image of Angelina Jolie's Tomb Raider character, and maybe that was deliberate.