Angelina Jolie to break up with Brad Pitt once the baby is born?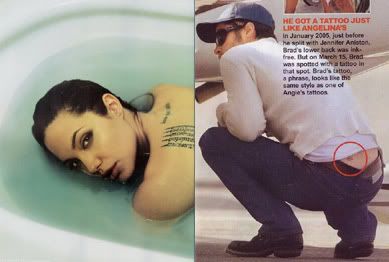 This doesn't sound true to me, but I didn't think that Angelina and Brad would move their family to Africa, either, so it might be more than just a rumor. Angelina Jolie is said to be thinking of getting rid of Brad Pitt once their baby is born:
Here's the report according to the Enquirer. There has been another blow up with the couple – this time it reportedly happened when Brad found out that Jolie had been secretly corresponding with actor Colin Farrell.
"It's basically over between Brad and Angelina," says a friend of the couple. They can't agree on anything – even where to have the baby."
Once Brad confronted Angie over her e-mails with Colin – she told him that if he couldn't trust her – perhaps they shouldn't be together, the report details.
Brad eventually backed off – but the damage was done.
There reportedly was never even a meeting with Angie and Colin, according to the story in the weekly magazine – but still the seeds of doubt appear to be planted in Brad.
And worse – the story claims Jolie is concerned that Brad is too jealous.
While this could be true, she is also due soon and is probably more sensitive than usual. Hopefully she will change her mind once the baby arrives.
Meanwhile their over-agressive security forces are pissing off the locals and threatening people, and the new tattoo on Brad's lower back has been revealed as a Sanskrit Buddhist blessing meant to protect his adopted son, Maddox. It is similar to the tattoo that Angelina has on her back. Will the guy ever get an identity of his own? No wonder Angelina's tired of him.
Written by Celebitchy

Posted in Angelina Jolie, Brad Pitt, Brangelina, Relationship trouble

- Zach Galifianakis is awesome [Buzzfeed]
- Prince at the Billboard Music Awards [D-Listed]
- Bieber's Billboard look [Go Fug Yourself]
- Married to Medicine recap [Reality Tea]
- Celebrity first marriages [Pajiba]
- The last Mad Men baffled a lot of people [Lainey]
- Karolina Kurkova's crazy hot dress [Moe Jackson]
- Jennifer Garner on set [Popsugar]
- Kitten vs. Lizard [CDAN]
- Doetzen Kroes' great butt [Celebslam]
- Shameless star Jeremy Allen White [OMG Blog]
- RIP Ray Manzarek [Bossip]
One Response to "Angelina Jolie to break up with Brad Pitt once the baby is born?"