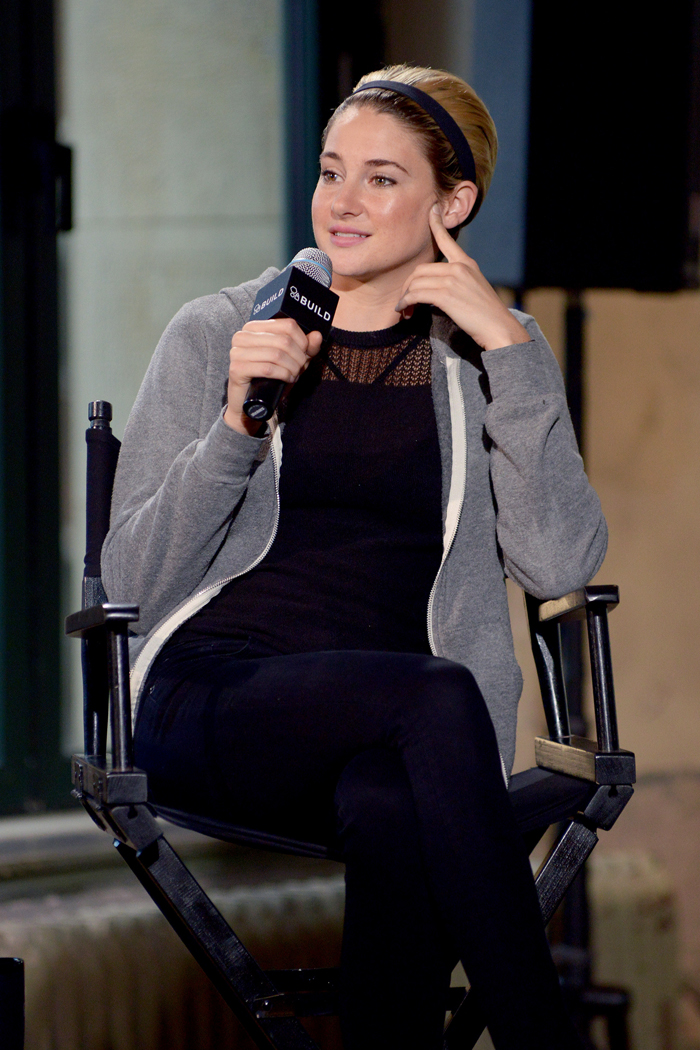 Here's a photo of Shailene Woodley at an AOL talk to promote White Bird in a Blizzard. She dressed down for the event, to say the least. Her hair, pulled back in a sweatband, is still very awkward. Shailene used to have long, luxurious locks. She cut it all off to play a cancer patient in The Fault in our Stars and because she wanted short hair too. Now it's in that growing-out phase. I wonder if we'll see her go the extension route.
Anyway. I'm very excited to watch Blizzard even though it's gone straight to VOD. Not a good sign, but Eva Green is supposed to be magnificent as a hysterical woman who suddenly disappears. Her family discovers secrets, etc. It will be a nice drinking movie, I think. The director, Gregg Araki, directed the insane Doom Generation in the 1990s. Just let me point my browser in the right direction.
In the film, Shailene's character is hell-bent upon losing her virginity. She sets her sights upon the neighborhood meathead — played by Shiloh Fernandez — and they have some spicy make-out scenes. The guy ends up being a great kisser, but not much else. (Ha!) Here are some assorted Shailene interview excerpts:
Shailene on losing her virginity onscreen: "I've lost my virginity four times onscreen — I'm a pro at it, apparently! One of the things I have been very keen on in doing those scenes is that they feel real because, I don't know about you, but I do not personally think losing your virginity is a fun experience. It's not glamorous — for some people, I think it is, but it wasn't for a lot of people on this planet — so for me, it was a matter of, if we're gonna do a scene that deals with that, it's not gonna be, 'Her back arches and she gasps in excitement.' No, no, it's gonna be messy and it's gonna be real."

The pressure of losing it: "I think a lot of people feel pressured into it — not by a man or a boy in particular, but because of comparing themselves to other girls in their school. So when they actually get the deed done, they don't feel any sort of satisfaction because it wasn't for themselves. It was for others in a way."

The awkwardness of on-camera encounters: "It's always an awkward situation when you have to pretend to be intimate with someone that you're not actually intimate with … I think the awkwardness probably lends itself to these great virginity scenes."

Shiloh Fernandez loved the sex scenes: "It was really just sort of fun for us to dive into this and just laugh at the whole silliness of not having anything sexual happen, and having to wear these pads on your private areas."

On Blizzard: "You look at the house and its got the green lawn and no dust on the table, and it looks beautiful, but then you go inside and it's completely broken and all in shambles. I think that's how a lot of people live in this world."

Gregg Araki on Shailene: "She's not really interested in riding the YA train to fame. There's something so natural about her acting, because she does understand a depth of humanity that most people don't. … It's just a joy to be around someone who represents what we do so purely."
[From Hollywood Reporter & Page Six]
Do girls pressure other girls into losing their virginity? I don't remember any of my high school pals doing so, but there's an unspoken pressure. It's easy to feel like you're missing out on something when everyone else is raving about how great it feels … which I'm still convinced is a lie for most teenage girls. Dudes don't know what they're doing in high school. Teenagers tend to embellish how great a backseat experience was when it was really just disappointing and awkward. It's true. Don't lie to me, girl.
Here's Shailene in a printed Dior dress for last week's premiere. Hair.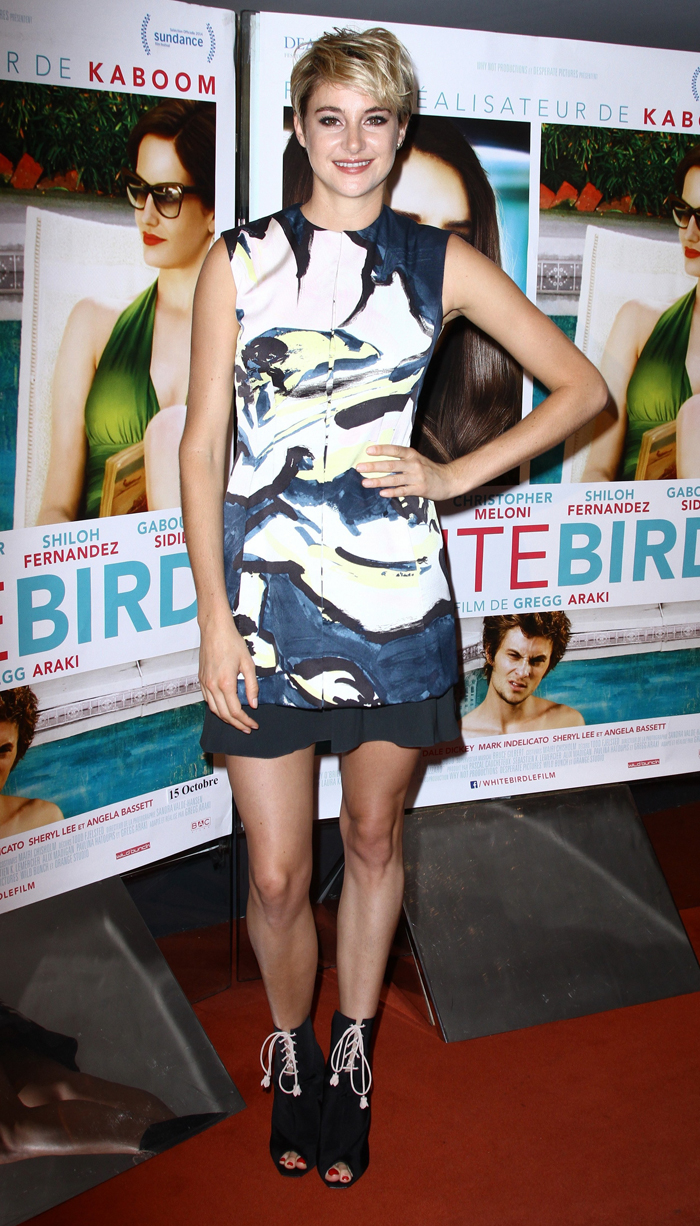 Photos courtesy of WENN