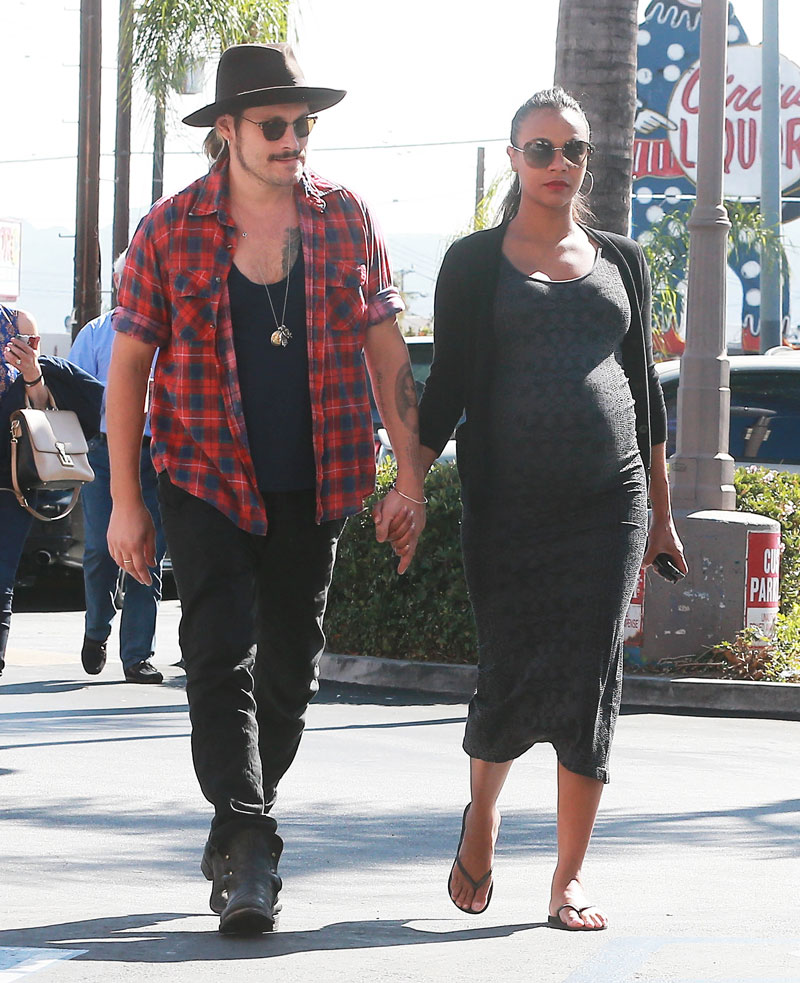 Here are some photos of Zoe Saldana with Marco Perego (and his interesting 'stache) out for lunch on Sunday. Zoe hasn't stopped for even a moment during her pregnancy. She's not filming, but she's been promoting her work like crazy. Soon after she gives birth, all of her franchises — Avatar, Star Trek & Guardians — will come calling for sequels. The workload sounds rough with twins on the way, but Marco will probably be a hands-on dad. He seems like he would be, right?
Zoe appears in an episode of AOL's brand new web series, My Hero, and she did an interview with Popwatch to promote the appearance. Zoe said that her hero is her mother, who taught her daughters how to be tough. Her mom sounds pretty rad, and I love what Zoe has to say about the film roles she chooses to pursue. I really like that part of the discussion because she expresses herself so clearly. Zoe drops some f-bombs when the subject changes to her distaste for the word "ethnic." Let's do this:
Zoe's hero is her mom: "As a parent, she put us first–and we lost a parent, so she had to become those two anchors in our lives. She's not perfect, but she always did her best and that's something that's worth recognizing. And [she] really let us find our own voice. My mom never manipulated us to become something that she wanted us to become because it was better for her. She always just told us the best advice–'I just want you happy.' That's also very hard to find."

On playing badass women: "I don't choose strong over–I choose real women. I feel like that's different way of looking at it. In order for me to choose strong roles for women, that means that I'm noticing weakness–and it's not the weakness that I'm noticing. It's an inaccurate interpretation, [a] portrayal of female characters in stories that I'm naturally against. I have, like, an allergic reaction to it. The moment I read a story and I go, 'Oh okay, well, she's serviceable. There's nothing special that she's contributing to the story besides just being there to make the man comfortable, soothe him, fight for him, die for him–and he clearly doesn't give a f— about her, because he's trying to find his own self.' You kind of go, 'Eh, no I don't want to promote that anymore.' I want to be a part of stories where women are important. It doesn't have to be bigger roles; it doesn't have to be action-driven. That is a desire of mine, because I'm a very active, athletic person, and that is something I purposely go after because I enjoy it. I also know that there's a strong message for young females… Don't just think of yourself as a delicate petal. You can jump, you can climb, you can punch, you can throw balls. Just think of yourself as all these other things as well."

Balancing baby with her sequels: "I know that we will work everything out. I have to say, I'm very lucky. They've been very understanding, especially with what's happening in my personal life. I've gotten nothing but support. To know that we are getting to that place where women can have that support from male driven workforces is–I have to say, it's very inspiring. And also, they don't have a choice! I'm not going to rip my child off my tit to go work. Like, you just cannot do it. What kind of mother would I be? There's no choice. It's like, 'What, you want me to leave my newborn so that I can work 16 hours on your set? He's only a month old, are you out of your mind?' And the good thing is that half of the people you work with are all parents, and they get it."

Zoe's tired of the word "ethnic": "I don't know what it would be like to grow up in a house where you heard words like 'black,' 'white,' 'ethnic.' You know what I'm saying? Where everything is just a 'cultural this' and a 'cultural that.' My mother knew people by name, and that was it. It always freaks me out when I see people that don't consider themselves ethnic just use the word 'ethnic.' It's going 'oh, because ethnic people…' What are you trying to say? You mean people not like you? What are you, then? It just doesn't, I don't… f— off. f— you. Like, it's 2014, America. We're all ethnic here in America; let's be f—ing real. None of us are aboriginal people, okay? Did you attend your history classes in third grade, fourth grade, fifth grade, you bigot? There's a big elephant in the room, and it's crowding my space now. And I'm done with it."
[From Popwatch]
I need to take a nap after the last paragraph. Zoe broke me. She's going to town on a subject she feels passionate about. I could certainly take her more seriously without all of the profanity. I curse all the time, but there's a time and place for it. When Zoe's trying to make a point (and she does have one) and wants to be taken seriously … yeah, it would help if she didn't pepper her points with f-bombs. But I'm tired of arguing. Zoe tires me out.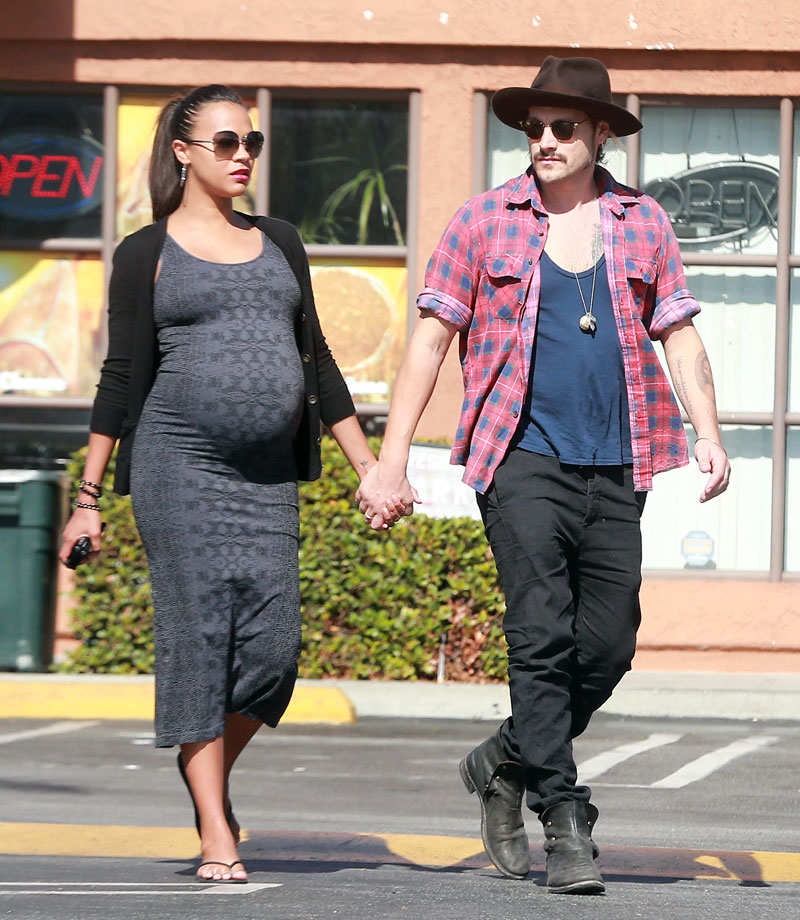 Photos courtesy of Fame/Flynet & WENN