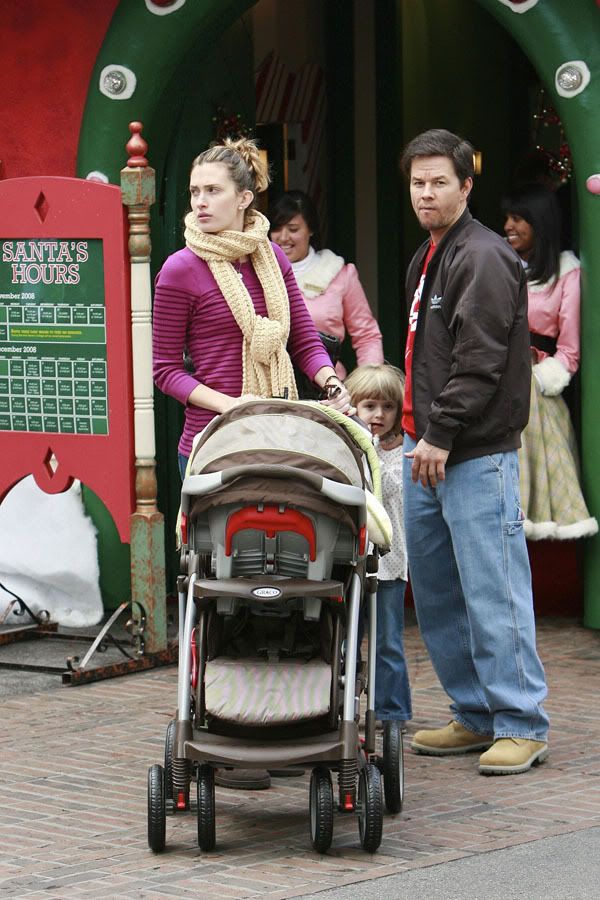 This week's Star Magazine claims that action star Mark Wahlberg has been staying at a hotel along right near his home. Mark has a five month old son and two other children at home and his excuse for staying at a hotel is supposedly that his son is teething and that he needs to sleep for work. His latest project isn't filming at this point, though, and it seems like there should another bedroom or a couch he could sleep on that's far away enough from the noise. Maybe their house is smaller than you would expect, though:
Is there trouble on the home front for Mark Wahlberg and his fiance, Rhea Durham? On Feb 15, the former rapper was spotted checking into the Beverly Hills Hotel, just minutes away from the house he shares with Rhea and their three children, Ella Rae, 5, Michael, 2, and Brenda, 5 months. One insider reveals that Mark has been telling friends he's sleeping away from home because Brendan is teething and he needs a good night's rest while working on his movie The Fighter – but the movie hasn't even begun shooting! "Mark really dotes on his kids, so for him to leave and stay in a hotel less than five miles away seems strange," says the insider.
[From Star Magazine, print edition, March 9, 2009]
This is Star Magazine, so it's likely they're only going on some photos that show Mark outside the hotel with a bag. The photo they include with the article has Wahlberg looking scruffy and grumpy in jeans, a jacket and work boots while carrying a small bag. It's hard to tell if that photo was taken at the time they're claiming. Mark looks annoyed to be photographed, but that's how he always looks so who knows what's going on with him.
The last we heard about Mark's planned nuptials to Rhea, he said that they would have a small Catholic wedding in LA, maybe in late summer. You wonder if they're going to make if offiical, though, if Mark is staying at a hotel right near his house. That seems more like relationship trouble than any kind of issue with a crying baby.
Mark, Rhea and their kids are shown out on 12/22/08. Credit: WENN